CMAT 2023 Preparation Strategy and Tips by Toppers: Strategy and Tips
CMAT Preparation Strategy and Tips by Toppers 2023: CMAT is one of the most accepted entrance exams after CAT and XAT to get good marks and get admission to a good B-school. One of the challenging questions facing students is how to prepare for CMAT 2023? Is there any CMAT Preparation Strategy and Tips by Toppers?
Stay up-to date with CMAT News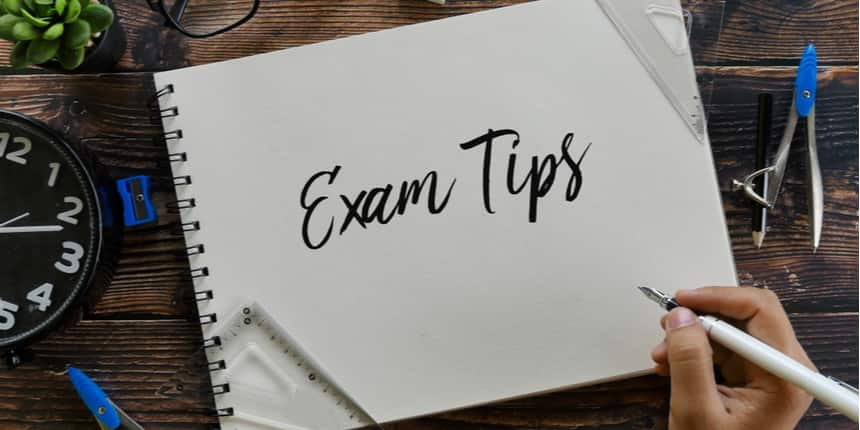 Experts say that six months of habituated preparation for CMAT is enough to get a good percentile. For the benefit of students, CMAT toppers share their preparation strategy and tips to do well in the CMAT entrance exam.
CMAT 2023 Preparation Tips - Highlights
First and foremost, it is important for candidates to be aware of CMAT 2023 exam pattern before starting their exam preparation. Details such as marking scheme, number of questions, the time duration of the CMAT exam are provided under CMAT 2023 exam pattern.
Over the years, the basic structure of the CMAT exam has not undergone many changes and was stable except in 2023. An additional section of innovation and entrepreneurship is included in CMAT 2023 exam pattern. Preparation tips for CMAT will remain incomplete if the CMAT exam pattern is not discussed.
CMAT 2023 Exam Pattern
Particulars

Details

Duration of the CMAT

180 minutes

Sectional Time Limit

No

Number of Sections

Five (One Optional)

Name of the Sections

Quantitative Techniques and Data Interpretation

General Awareness

Logical Reasoning

Language Comprehension

Innovation and Entrepreneurship

Marking Scheme

+4 marks will be awarded for right answer

-1 mark will be deducted for wrong answer

No mark will be deducted for unanswered questions

Total number of questions

100 questions

Options per Question

4 options per question

Type of Question

Multiple Choice Questions (MCQs)
CMAT Toppers List with Percentile
As per the previous years trends, we provide the CMAT toppers list with percentile and also the preparation tips and strategy has followed by them. By going through the preparation strategy, the candidates can also get a good percentile in CMAT 2023.
| | |
| --- | --- |
| Name | Percentile |
| Gopaljee Jha | 100 |
| Jeet Mukherjee | 99.99 |
| Archit Kottapalli | 99.99 |
| Fahad Nizam | 99.99 |
| Sushant Kumar | 99.99 |
| Divyansh Tiwari | 99.98 |
| Yash | 99.98 |
| Sadhwani Nikhil Harish | 99.98 |
| Haridev C | 99.98 |
| Supreet Gupta | 99.97 |
| Siddhant Nair | 99.97 |
| Saurav Tyagi | 99.97 |
| Narayan Sharma | 99.97 |
CMAT Preparation Strategy and Tips by Toppers
Previous CMAT toppers shared their personal experience and suggestions for CMAT 2023 aspirants.
Reading the newspaper on a regular basis is very important when trying out the General Awareness section, and Norman Lewis can greatly help improve your vocabulary.

While preparing for CAT at the same time, students do not have to make any extra effort for CMAT because their basic structure is similar.

GA sections take some time and other sections are very basic so candidates can cover time within them. Aim for higher goals and convince yourself to achieve them.
Practice Previous Papers: Time is an important factor when taking any competitive exam, so try the previous year's CMAT question papers, do frequent mock tests to determine how much time you spent trying on a paper and what aspects of the exam you need to work on.
Prepare a Schedule: Incorporating a complete syllabus for CMAT with minimal time is a challenging task. Prepare a bespoke study schedule and make sure that each of the four sections of the CMAT paper is properly covered, leaving no aspect of the syllabus. This will prevent any rush in the final days before the CMAT exam.
Avoid Referring Too Many Books: Nowadays, there are hundreds of books that claim to have the best syllabus suitable for preparing CMAT. But mentioning them all will create doubts and ambiguity in your mind, so choose your reference books wisely, one or two will suffice. But you need to make sure that the books you choose have all the knowledge needed for a great CMAT preparation.
Seek Toppers Advice: Various interviews are published each year acknowledging CMAT's topper's for each session. Read them and keep track of their valuable advice on how they prepared for the exam and the strategies they followed.
Coaching Institute: Although it is not necessary to choose a Coaching Institute when preparing for the CMAT exam, most students believe that well-planned self-examination is sufficient to excel in this exam. However, Coaching Institutes usually have promising experience in preparing for competitive exams on a regular basis. So when choosing a Coaching Institutes, keep the following in mind:
Modes of education provided (Online & Offline)

The curriculum followed by the institute.

Institute's previous track records.

Time-slots were available as per your requirements.

Faculty of the institute.
Quick links:
CMAT Preparation Tips and Trend Analysis
What are the Best Books for Preparation of CMAT
Some of the best books and study material for CMAT recommended by Toppers are:
| | |
| --- | --- |
| Name of the Books | Author/ Publication |
| Quantitative Aptitude for Competitive Examinations | RS Agarwal |
| How to Prepare for Quantitative Aptitude for the CAT | Arun Sharma |
| General Knowledge | Disha Experts |
| Quantitative Aptitude for the CMAT and Other MBA Entrance Examinations | Jaimin Shah |
| Quantitative Aptitude Quantum CAT Common Admission Tests for Admission into IIMs | Sarvesh K Verma |
| Quantitative Aptitude for Competitive Examinations | Abhijit Guha |
| General Knowledge | Manohar Pandey |
| The Pearson Guide to Verbal Ability | Sujit Kumar |
| Verbal Ability & Reading Comprehension | Ajay Singh |
| Word Power Made Easy | Norman Lewis |
| How to Prepare for Logical Reasoning for CAT | Arun Sharma |
| Analytical Reasoning | M K Pandey |
| The 3 Edge Advantage Series: CMAT Practice Sets | Ayush Gupta, Ashwani, Diwakar Sharma, R.K. Behl |
| CMAT Entrance Guide with 5 Mock Tests | Disha Experts |
How to Prepare for CMAT 2023? - Step by Step Planning
How to prepare for CMAT 2023 is not a big question because the preparation method can be kept the same based on the previous year's exam pattern and syllabus. The CMAT exam is divided into four sections and requires an equal focus on these four key categories with the same weightage as the CMAT preparation strategy. Accordingly, your CMAT exam preparation should focus on the following key points:
CMAT Preparation Online

CMAT Preparation Tips by CMAT Toppers

Which are the CMAT Preparation Books?

When and How to prepare for CMAT?

Strategy - how to crack CMAT 2023 Exam with a High score?

Whether to Prepare with CMAT Coaching or Self prepare - which is better?

What CMAT preparation material is available apart from the books?
CMAT Preparation Strategy 2023
Focus on practicing. Make sure you solve a lot of CMAT mock tests and go through the CMAT previous year's question papers. After completing any mock test of CMAT 2023 or paper, explore your performance and find the areas where you are strong and weak. Give most of your attention to your strong areas. However, do not completely ignore your weak areas.
Go through the CMAT exam analysis and look at the frequently asked questions in the exam. Look at the most important topics and make sure they are covered.
Choose your CMAT study material wisely and do not take more than is necessary or possible to cover it. When looking at books, make sure you are trying out training sets.
Get the help of tips and tricks that will help you reduce calculations and achieve answers faster. Find the best tips that work for you. Don't just rely on other sources and suggestions, practice and find out what works best for you.
You can also identify how long any type of question will take. This will help to develop the ability to choose the right question in the actual CMAT 2023 exam.
How to start CMAT preparation at home?
The CMAT preparation should start at home without waiting any longer. CMAT toppers studying in colleges that accept the best AICTE recognized CMAT scores are advised to start self-preparation at home without relying on any training. CMAT preparation strategy and tips to start a CMAT preparation at home:
Read thoroughly the CMAT syllabus 2023

Go through the revised CMAT 2023 exam pattern

Select your strong and weak areas in all four categories

Collect the best books and preparation materials for CMAT preparation

Improve your weak areas and keep track of progress

Take several CMAT mocks during your CMAT 2023 preparation and do an analysis of each mock. Without mock analysis, it would not be useful to try a mock test.

If you are weak in VARC, reading different articles and novels, conversing with friends in English, and even watching English TV series and movies can be helpful.

Write down the new words you encounter after reading at least 5-6 newspaper articles each day.

Data Interpretation (DI) is thought to take some more time. Start practicing on DI questions. Use approximate techniques for quick calculations.
Statistics of previous CMAT Exam
Below are the previous CMAT statistics by category.
CMAT Applicants
Category and gender-wise, the number of applicants for previous CMAT exam:
| | |
| --- | --- |
| Category | Number |
| Male Candidates | 32475 |
| Female Candidates | 26480 |
| Third Gender | 1 |
| Total | 58956 |
Candidates who appeared in CMAT
Category wise and gender-wise number of candidates who appeared in previous CMAT exam:
| | |
| --- | --- |
| Category | Number |
| Male Candidates | 28513 |
| Female Candidates | 22630 |
| Third Gender | 1 |
| Total | 51144 |
Top MBA colleges accepting CMAT scores: Location-wise
Candidates can check from the below list, their preferred top MBA college in their preferred city for admission through CMAT score.
Questions related to CMAT
Showing 3177 out of 3177 Questions