CMAT 2023 Exam Day Checklist - Do's & Don'ts, What to Carry & What Not to Carry?
CMAT Exam Day Checklist 2023: NTA will conduct the Common Management Admission Test (CMAT 2023) in online mode. With the CMAT exam, the candidates have to fast-track their preparations for the same. Candidates should be solving the CMAT 2023 mock tests, getting the most out of the best books for CMAT 2023, and solving the question papers to get a better grip on the CMAT Syllabus and CMAT exam pattern 2023. But, with all the preparations going on, the candidates must not forget some important do's and don'ts which will simplify and/or smoothen out the experience of CMAT exam-giving. Continue reading the article to know more about the CMAT 2023 exam day checklist.
Stay up-to date with CMAT News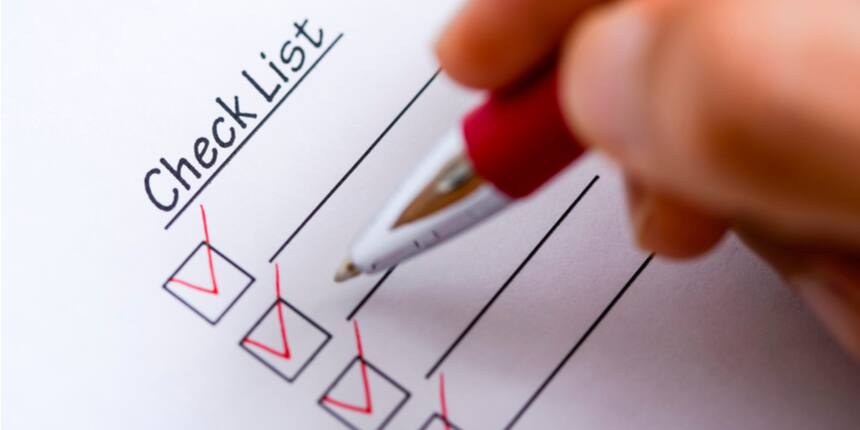 CMAT Exam Day Checklist 2023
The candidates should know the importance of creating checklists. With the help of a checklist, the candidates save time and brainpower. Not only that, but it also allows them to get more done. A good checklist helps in accomplishing goals quickly. So, candidates who are preparing for any entrance exam must create a checklist prior to starting their preparations, in order to make the most out of it.
CMAT 2023 Exam: Do's and Don'ts
Don't eat unhealthy food
It is important to stay healthy when an important event, like appearing for the CMAT exam is around the corner, otherwise one may not be able to appear for the exam. In order to avoid such a situation, the candidate should stay healthy, eat well and get adequate sleep.
CMAT 2023 Exam Day Guidelines
The National Testing Agency (NTA) has issued certain guidelines which one need to follow on the day of CMAT 2023. Checkout the video to know all the instructions and guidelines pertaining to CMAT 2023.
Practise mindfulness
Having the mind in peace is one of the best methods to confidently answer a question. When a candidate's mind is not running around a million places, it becomes easier to concentrate and answer the questions of the CMAT exam 2023.
Don't forget to carry important things
It is extremely important to carry all the necessary items to the CMAT 2023 exam centre. Not doing so may lead the candidate to lose their candidature, which will be a loss of the whole year. So prepare a night before the exam to avoid such a consequence.
Stay calm and confident
It is quite common and natural to get rushed when things slip out of your hands or when you feel a bit nervous. So, to avoid that, try to stay calm at all times, like, when you don't know an answer, don't get stressed over that question, leave and move forward. This will not only save your precious time but will also help you divert yourself from the stress. Along with that, you can try a few breathing exercises if you are feeling a bit tensed or anxious.
CMAT 2023: What to Carry & What Not to Carry
Carry CMAT 2023 admit card
The CMAT exam hall ticket is a mandatory document that has to be carried to the exam centre. Without the admit card for CMAT 2023, no candidate will be allowed to appear for the CMAT exam. It is advised to keep all the necessary documents ready a night prior to the exam day.
Only carry the permitted items
Along with the CMAT admit card, the candidates must not forget to carry valid photo ID proofs. Candidates will be allowed to carry items like
Personal transparent water bottle

Personal hand sanitiser (50 ml)

Simple transparent BallPoint pen

Admit card along with self-declaration (undertaking) downloaded from the NTA website (a clear printable on A4 size paper) duly filled in

Additional passport size photograph for pasting on the attendance sheet

Original valid ID proof (PAN card/ driving licence/ voter ID/ passport/ aadhar card/ ration card)

Sugar tablets/ fruits (like apple/ banana/ orange) in case the candidate is diabetic, and mask and gloves
Don't carry forbidden items to the CMAT 2023 exam centre
The following items are not allowed inside the premises of the CMAT exam centre:
handbag

purse

geometry

pencil box

papers

stationery

eatables

textual materials

mobile phones

electronics

watch

camera
Questions related to CMAT
Showing 2455 out of 2455 Questions