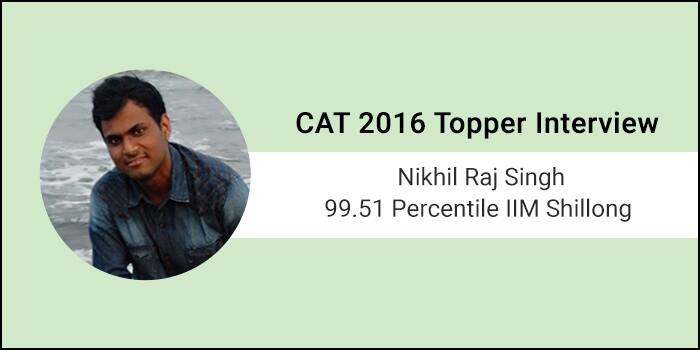 Nikhil Raj Singh scored 99.56 Percentile in CAT 2015 but remained on the waitlist. He then again appeared in CAT in 2016 and secured 99.51 Percentile. And this time, Nikhil Raj Singh didn't have to wait, he got an admission offer from IIM Shillong. While explaining his journey from preparing for the exam to topping it, Nikhil says that challenges were there and accuracy was the issue in the initial stage of the preparation but it was his dedication and ambitiousness that opened the doors of IIM for him.
CAT Sample Paper
Download Free Sample Paper for CAT
Download Now
Recent Posts:
If you're appearing for CAT second time, the story of Nikhil Raj Singh will definitely inspire you. In this interview with Careers360, he shares his CAT experience in detail and tells us what all he did to reach the top spot.
Read the full interview here:
Careers360: Congratulations on your admissions to IIM Shillong. What was your overall and sectional score in CAT 2016? Did you appear for any other entrance exam? If yes, please share the score.
Nikhil: Thank you so much for your wishes. My overall score in CAT 2016 was 167.48 (99.51 Percentile). Here is the section-wise score and percentile:
VA & RC – 46.06 (83.11 Percentile)
LR & DI – 53.70 (99.57 Percentile)
QA – 67.72 (99.87 Percentile)
Apart from CAT, I appeared only for IIFT 2016. My score was 99.68 Percentile.
VA/RC – Verbal Ability/Reading Comprehension
DI/LR – Data Interpretation/Logical Reasoning
QA – Quantitative Analysis
Careers360: Which was the most challenging and the easiest section in the test?
Nikhil: QA was the toughest and the most challenging section of the test followed by DI & LR and then VA. Though I scored lesser percentile in VA as compared to QA & DILR, yet I would say that VA section was the easiest of all the three.
Careers360: Please share your preparation journey. How did you strike a balance between your academic/professional life and preparation for an entrance exam?
Nikhil: Talking about my preparation journey of CAT, I took CAT 2015 and I scored 99.56 percentile that year. I was waitlisted in older IIMs and all new IIMs. I completed my topics last year itself. So, I focused only on my mock tests this year. I knew that I had to be in touch with the mocks and that helped me a lot.
About the balance between my professional life and my preparation, I used to ensure that I give sufficient time to mocks. From September onwards, I started taking mock tests and maintained decent percentiles throughout (In the range of 99.5+). On weekdays, I used to sit in my office after my work and take either sectional or complete mock tests. And on every weekend, no matter how much busy schedule it was, I used to take one full mock test on both Saturday and Sunday. I feel that one needs to have a balance between one's professional life and studies while preparing for an entrance exam.
Careers360: Were you a part of any coaching institute? Do you think coaching is necessary for aspirants to bag the top rank in CAT?
Nikhil: Yes, I was a part of the mock CAT Test Series of both Career Launcher and IMS. It helped me a lot in analysing my weak and strong points and also helped in building strategy on how to take the test on D-day.
Joining a test series always helps the aspirants. Analysing a mock test is one of the most important things to do while preparing for a B-School entrance exam. I would say that even though coaching is important to bag the top rank, yet it is not always necessary. Dedication and ambition are two important etiquettes for achieving top rank in any entrance exam.
Careers360: Please share your specific section wise strategy for VARC, DI & LR and QA.
Nikhil: For VARC, I used to read newspapers daily. It was like killing two birds with one stone. On one hand, my reading skills and speed were improving and on the other, I was getting familiarised with the current affairs and trending topics. Apart from this, I used to read online articles on various topics and write their summary.
For DI & LR, my entire focus was on trying a variety of questions as much as possible. The more variety of sets of questions you try, the more idea you will get on how to approach a question. Practising different sets gives an idea on which question set to attempt and which question set not to attempt.
For QA, I solved the Arun Sharma Quantitative Aptitude Book (All the three levels) first. I, then, used to solve online questions topic-wise and try to work on my speed along with decent accuracy.
Careers360: How did you tackle the challenging sections and topics?
Nikhil: The only way of tackling any challenge in life is to face it with full courage and try to defeat it.
VA&RC was always the most challenging section for me. My percentile in this section always used to fluctuate and I was worried about this section. I faced challenges while solving Reading Comprehensions on Philosophy, Psychology and Literature. What I did to come up with this issue was I read as many RCs on these topics as I could have. The more you study about a topic, the more you gain interest in it and then suddenly the topic becomes very easy for you.
Careers360: Mention section wise books and study materials you referred for CAT 2016.
Nikhil: VA & RC – I referred to Arun Sharma's "How to prepare for the Verbal Ability and Reading Comprehension for CAT". I also used to read newspapers daily (The Economic Times).
DI & LR – I referred to "Logical Reasoning and Data Interpretation for the CAT" by Nishit K.Sinha.
QA – I referred to "How to prepare for Quantitative Aptitude for the CAT" by Arun Sharma.
Apart from these books, I relied on the Career Launcher and IMS Study Materials and online tests for my practice.
Careers360: What is the significance of mock tests in your success? When did you start taking mocks and what was the frequency?
Nikhil: Taking mock tests and analysing them played a very crucial role in my performance in CAT 2016. It helped me create a strategy for the D-day and gave me an idea about my weak and strong areas.
I started taking mock tests from September onwards. In the beginning, the frequency of the mocks was around 1-2 per week. In October, I increased the frequency to around 3 per week. During November, I ensured no matter what happens, I take a mock test daily to be in continuous practice. And I didn't take any mock test during the last 3-4 days, only revised all the topics.
Careers360: How did you get the mock tests analysed and how did you modify your strategy after that?
Nikhil: While analysing the mock tests, I used to find out the questions that I couldn't solve or made mistakes while solving them. I, then, try to find out a proper solution for those questions. And, for the questions I solved correctly, I used to look for other ways of solving them to find out the best possible solution.
After analysing the mocks, I used to make a strategy for the next test and ensure that the same mistakes do not get repeated. After several mock tests, the frequency of committing mistakes reduced and my accuracy level increased because now, I knew which question I should attempt and which question I shouldn't.
Careers360: What was your time management strategy for section wise preparation vis a vis exam day?
Nikhil: My basic strategy for the D-day was to attempt as many questions as possible. Even though there was a slight compromise with the strategy but it ended up attempting 90% questions with around 70% accuracy.
For VA & RC section, my plan was to attempt all the RC questions irrespective of their difficulty level. Then, I would go for Odd One Out and Summary/Essence of Paragraph. And, in the end, I planned to attempt the Para Jumbles.
For LR&DI, my strategy was to go for Logical Reasoning part first. During the mocks also, I used to solve LR first and then go to DI part.
For QA, my strategy was to first solve the easy questions, the ones I felt were doable within a minute. After that, shift to higher difficulty level questions.
At last, I would say that no matter how many strategies you have made for the D-day, it can't be executed properly until and unless you remain cool and calm throughout the exam.
Careers360: How did you utilise the features like calculator and non-MCQs in CAT?
Nikhil: Calculators were quite helpful for the DI section and for lengthy calculations of QA. I didn't use a calculator for small calculations because I felt that it would be convenient for me to calculate those manually. This was an advantage for me as I am good with calculations.
For Non-MCQs, I tried to attempt as many as I could have because it was non-negative. So, even if I get any question wrong, it will not reduce my marks.
Careers360: Any suggestion that you would like to share with aspirants?
Nikhil: With my experience, I would suggest that no matter how much you read about other people's successes and their way of achieving success, your style is going to be different than others. So, try to learn from them as possible, but never try to imitate them. They have their own set of attributes and you have your own.
Last but not the least – Try and try harder. And never lose hope. Be determined and one day, you will go to your dream B-School. Good luck to each CAT 2017 aspirant!
Also Read
Stay tuned to bschool.careers360.com for more information on CAT toppers
Get real-time alerts on exam & colleges at your fingertips with Careers360 App!
Click Here to Install or Give a missed call on 08080944727 to get app link.