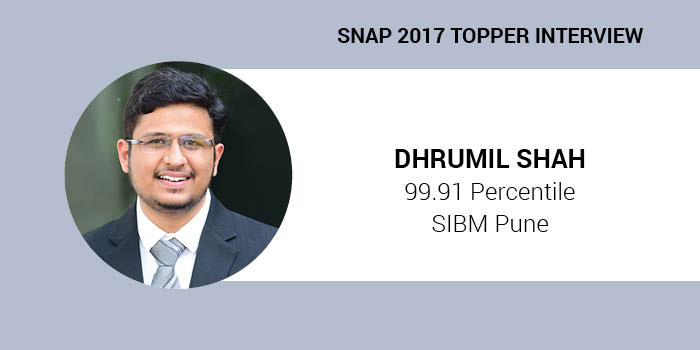 SNAP 2017 Topper Interview - Dhrumil Shah, SNAP 2017 Topper, believes that the journey of preparation for MBA entrance exams is like a roller-coaster ride. Aspirants may feel nervous while preparing for the weak areas or with low scores in mock tests, and there would be moments when their confidence would boost after the syllabus is complete. Read this SNAP 2017 topper interview to know about his road to success of securing 99.91 percentile in the exam.
MBA/PGDM Admissions Open 2019
IFIM Business School
SNAP Pathfinder
Know your call chances for Admissions
Use Now
Dhrumil believes that studying for other MBA entrance exams prepares you for Quantitative Ability, Verbal Ability, Logical Reasoning and DI, but SNAP is different as it has a Current Affairs (GK) section as well. He used the GK part to his advantage to give leverage to his SNAP score and started preparing for it early on. As he shares his phase-wise preparation strategy for SNAP 2018 aspirants, the topper says "Get your basics correct in the first place, learn to be strong hearted and keep working; you will be through." Dhrumil finally went on to secure admission in SIBM Pune.
To Apply for SNAP 2018 - Click here Or Apply from the window given below:
He further enunciates how he balanced his preparation along with his job, which demanded a lot of his time. To aid his preparation in the right direction, he took a core-interactive course at a coaching centre which helped him stay constantly motivated. He also mentions how he tackled taking exams in English despite coming from a vernacular education background. Dhrumil is of the opinion that "If you are someone with ample time and enough discipline you don't need coaching, but joining coaching will always help you." Read on for more insights on his SNAP preparation mantras.
Excerpts from the interview:
Careers360: What was your SNAP 2017 overall percentile? Apart from SNAP, which other entrances you appeared for and what were your scores?
Dhrumil: My SNAP 2017 overall percentile score was 99.91, SNAP does not provide section-based percentiles.
Apart from SNAP, I applied for CAT and XAT, my scores in them were 97.79 and 97.9 respectively.
Careers360: What was your preparation strategy? Please share section-wise strategy in detail.
Dhrumil: SNAP is an examination where you can play with your strengths but you don't know which section will turn up to be a cakewalk and which will turn up to be a nightmare. So for a serious aspirant, it is mandatory to prepare for all the sections regardless of it being your strength or weakness.
After taking other entrance exams you are most likely to be prepared with Verbal Aptitude, Quantitative Aptitude, Logical reasoning and Data Interpretation.
But SNAP is different with its section on Current Affairs. Now I took this to get a competitive advantage, you need current affairs to crack your subsequent phases of admission process, GD/GE/WAT-PI, from whichever exam you go through. So it would be better for you if you start preparing for this from the beginning. I used to read about latest updates, articles and current affairs during my job whenever I would get some free time. I downloaded several news-based applications on my phone so that I can be best prepared before this phase arrives. This also helped me in getting better reading speed which helped me in RCs. Due to this practice, I was ready with the fourth section of current affairs without any efforts during that precious time.
Careers360: How did you prepare – Self-study or Coaching? Please explain which one you think is better?
Dhrumil: I took a core-interactive course at a coaching centre, which was just a single class per week course where I revised my concepts and took three mock tests per week from August.
Between self-study and coaching, it totally depends on the what kind of student you are. I was involved in a very time-taking project at my work and attending coaching classes and mocks at scheduled time motivated me to leave office on time, otherwise, it would have become difficult. The competitive environment at coaching helped me in having continuous motivation.
Revision of concepts at a certain interval helped me memorise them. So if you are someone with ample time and enough discipline you don't need coaching, but joining coaching will always help you.
Careers360: When did you start preparing for SNAP? Please share in detail your month-wise
preparation strategy for SNAP.
Dhrumil: Current affairs was a daily habit and hence it didn't require any special efforts. But I started preparing for Quantitative Aptitude, Verbal Aptitude, Logical Reasoning, and Data Interpretation from the month of July. Brushing up the concepts, gaining traction for giving online tests and that too after a day at office requires time. I remember my first few mocks which I could not complete owing to lack of focus. But I overcame those in the month of September after which I started preparing seriously.
Strategy with three months left: Go through all the concepts, take about three to four mocks, build an ability to take the test and maintain focus during Reading Comprehension. Don't focus on scores, this is not the correct time to do so. Just get an idea about your strong and weak areas. Start preparing on your weak areas without being lethargic. Most people, as I have observed become over-happy or sad with their scores and keep doing the same thing that they are good at. But believe me, this is the time to acknowledge your weaknesses and work upon them.
Strategy with two months left: Start taking mocks more often, you will have ups and downs with every mock you give, as this requires both speed and accuracy both. But if you have really worked upon your weak areas you will realise that your score is now not due to your content weakness but due to your test taking. So start taking mocks with a greater frequency, work on getting right answers in a limited time. You can go for sectional tests to achieve speed and accuracy. But this time is to improve your test-taking strategy.
Strategy with one month left: This is the time to give yourself some relaxation. I took a seven-day long family trip to Hong Kong and China in late October. But yes, continue taking regular mocks, your regular habit of reading articles and updates, and revising your concepts.
Last minute Strategy: SNAP is a speed-based examination, which asks for 150 questions to be answered in a span as short as two hours. So it is important that you have a very high concentration level at the time of giving the examination. Avoid anything which distracts you. Overnight study, last minute mugging up of current affairs, taking a mock is a big no-no for this time.
Careers360: Last year, SNAP was conducted online for the first time. How do you think it's different from offline exam? 
Dhrumil: Online or offline really does not matter if you are well prepared. Offline exam has some advantages, for example, you can easily figure out questions of your interest and can start working on them immediately.
Many a time people miss marking answers in the OMR sheets - online mode is better in this aspect. Online examination also provides you with the flexibility of changing your answers once marked which is not possible in a Pen and Paper based exam. A digital clock working at a server which gives updates in terms of each second is an added advantage. This helps in maintaining transparency across all the centres of giving exactly 120 minutes without any discrepancy.
So, the benefits of online examination outweigh the benefits of offline examination.
Careers360: How did you balance your preparation with a job? Please share your timetable. 
Dhrumil: From September onwards, I had mock tests every Mondays, Wednesdays and Fridays from 6.30 PM to 9.30 PM. I used to leave office at 5.40 PM on those three days. I worked on the errors I made in the mock the very same day. During the other three days, I completed all my office work and would leave much later.
After getting home, I used to spend time in taking section tests and revising concepts. Apart from taking mock and attending a revision lecture at coaching, I used to spend my Sundays relaxing. I used to sleep at 2 AM during the six working days and yes, my reporting was at 8.40 the office next morning. So believe me, you will need a break for one day if you have worked six days seriously.
Careers360: According to you, what is the most important aspect of preparation?
Dhrumil: The most important aspect of preparation is to not get disheartened. You may diligently prepare every day, give your best shot in the mocks and still not get the desired results.
Let me tell you, this will happen. Accept it and without giving much importance to scores and comparing with what others got. Start working on the areas where you went wrong. That way you will be able to improve upon your weaknesses and get stellar results. Mocks are generally prepared at a difficulty level a notch higher than actual tests, so getting disheartened because of those scores doesn't make sense.
Careers360: What are the best study materials for SNAP or other exams? Please name some study materials you had referred to during preparation.
Dhrumil: I used the following study materials:
1.RC 99
2.Quantitative Aptitude by Arun Sharma
3.The great book of Puzzles and Teasers, George Summers
And of course, coaching material for basic concepts.
For General Reading, I utilised:
1. Live Mint
2. Inshorts
3. Magoosh for GRE
4. The Economist (Though not mandatory, I liked reading it as it helped me build perspectives and gaining reading speed).
I used to read online mostly, as the exam mode is online and you need practice for reading online. Also, it is convenient to read anytime and anyplace.
Careers360: How does one with non-English background prepare him/herself for the exam as the mode of the exam is only English? 
Dhrumil: I believe I am highly qualified to answer this question. I did my studies till Class 12 in Gujarati medium. The maximum marks I received in amongst all the section in SNAP was in English.
So, here is the secret. Start working on your basics at the early stages. For developing speed and ability to read articles, you need to have a basic vocabulary. Try to learn new words from whichever source you find comfortable (Word Power Made Easy, preparing notes of new words you find in newspaper, or even movies). You can then prepare them on platforms like Magoosh which are fun ways to learn new words through quiz. Once you have gained a decent vocabulary, it will be very comfortable for you to read abstract topics and understand them quickly.
Careers360: What was your exam day strategy in terms of question selection, time management, accuracy and sectional attempts/cutoffs?
Dhrumil: As I mentioned earlier, SNAP is a speed test. 150 questions have to be answered in 120 minutes. I was prepared for every section but one needs to gauge the level of question within few seconds and decide the strategy accordingly, one needs to mind the risk of getting negative marking of 0.25 too. If there was a question from one of my weak areas and it seemed to be difficult, I left it.
If there was a question from my strong areas and seemed to be difficult, I would leave that too. Irrespective of my comfort level, if the question seemed to be easy, I attempted it then and there. You could risk not reaching an exact answer and still mark the nearest answer if you are sure about your method. Also for me, Current Affairs and English (due to my reading speed) took very less time so I attempted them first and gave maximum time to other sections.
Careers360: How do you suggest one should keep his/her calm and confidence during the long and tiring preparation process for a management entrance exam?
Dhrumil: Take every failure as a lesson. Instead of being disheartened about your low scores you should be happy that you found new types of questions. With this attitude during your preparation, nothing will let your confidence down.
Careers360: What is your message for SNAP 2018 aspirants?
Dhrumil: This is like a journey in a roller-coaster, you will be frightened when going through it. But believe me, you will realise the enjoyment after having completed it. Get your basics correct in the first place, learn to be strong hearted and keep working; you will be through.