MAH CET 2015: Topper Tips to crack JBIMS, SIMSREE Admissions


As the MAH CET MBA exam is scheduled to be conducted on March 14 and 15, 2015, Careers360 brings to you the MAH CET Topper from Top B-School- JBIMS and SIMSREE sharing their success mantra for cracking MAH CET with a high percentile.


In these last crucial days, it is important for every student to follow a well structured study plan, appear for mock tests and develop a few tricks and strategies which helps to crack MAH CET with a high percentile. Read the B-School Toppers guide on 'How to crack MAH CET 2015'.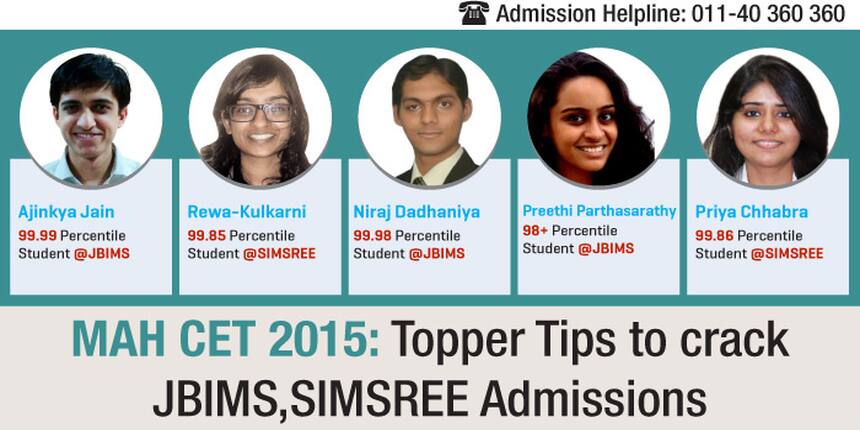 Ajinkya Jain, JBIMS
Ajinkya Jain scored an impressive 99.99 percentile in MAH CET 2014 and secured admission in the JBIMS, Mumbai. With a desire to have specialization in Finance, Ajinkya opted for the Management programme so as to acquire a comprehensive understanding of financial aspects of the corporate world. He is currently pursuing Masters in Management Studies at JBIMS. In this interview with Careers360, Ajinkya shares his success strategy including pre-planning and effective execution of his preparation journey.
Preparation Strategy: The most significant factor in cracking MAH CET was solving maximum number of mock tests. At the end of last year, DTE declared that for the year 2014, MAH CET for MBA will be conducted in the online format over 2 days in 2 slots each. So, it was necessary to get acquainted to this new format and study accordingly. I developed my strategy accordingly and gave online Mock tests for the exam.
Time Management: Since it is a time-bound test, I was practically left with no time to return back to any question in this exam. So, whenever I attempted any question, it was very important to mark and leave that question. This helped me maximize accuracy and total attempts in the exam.
Key Advice: I would advise the management aspirants of MAHCET 2015 to follow this principle: Know yourself, your abilities and the reason why you want to get into the management field. If you have a clear picture of your capabilities in your mind, you can work hard on your weaker areas and emerge as a winner in the race of MBA entrance exams.
Click here to read the interview
Rewa Kulkarni, SIMSREE
Rewa Kulkarni cracked MAHCET 2014 with a percentile of 99.85 and secured admission in SIMSREE, Mumbai. The hospitality graduate, Rewa is currently pursuing Master of Management Studies (MMS) from SIMSREE. In this interview with Careers360, Rewa shares her mantra of 'Study Hard, Study Smart' for cracking MAH CET. She also talks how she worked on time management, speed and accuracy, and consistency in daily routine to score high in MAH CET.
Section Wise Preparation Strategy: For Quantitative Aptitude the only strategy I followed was to clear the basics and practice hard.
For Verbal Ability and Reading Comprehension, it is important to focus on vocabulary and speed. I used to read newspapers, magazines, mark difficult words and write its meanings, read unseen passages and finally solve Mock tests with a Time strategy for each section.
Time Management: Time management is an important factor which needs to be followed by every candidate. I made sure that I didn't waste even a minute and practiced my Mock Tests like the actual exam. If I used to get stuck in a question, I left that and moved on to answer another question. The formula is not to get stuck in a question and waste time with it.
Advice: My only advice to the aspirants is to Practice as much as you can. It is important that you work on your speed and accuracy. Answering all questions right within the time frame is a challenge but with hard-work it can be accomplished. I would also advice students to practice as many Mock Tests as they can.


Click here to read the interview


Niraj Dhadhaniya, JBIMS
Niraj scored 99.98 percentile in MAH CET 2012 and obtained 12th rank in Maharashtra. He did B.E in Electronics from D.J. Sanghvi College of Engineering, Mumbai and has 1 year of work experience in Accenture Services Pvt. Ltd. Niraj shares his preparation strategy and advice for the candidates who would be taking the exam this year.
Strategies to Tackle Weak Area: I had identified my weak areas by analyzing the mocks that I took. I believed that an area becomes weak because of 2 kinds of problems. One could be that you don't know the concept and hence you just can't solve the question. Here, one has to go back and study concepts. Second could be that you are finding difficulty in relating concept with the problem i.e. application part. May be practicing more questions of the type could help here. Or the third problem could be speed which you achieve only after practicing enough.
Last Week Tips: In the last stage, I had focused on taking as many mocks as I could take from different coaching classes and analyzing them.
Advice: Practice as much as you can. Analyze your mocks so as to identify your weak areas and work on them accordingly. Devise a strategy that suits you for taking the test by trying different ones. Take sufficient sleep, rest and food. Keeping calm during the exam is crucial. Don't worry about the results or scores or admissions, as of now just focus on attempting the exam in way you can do.
Click here to read the interview
Preethi Parthasarthy, JBIMS
Preethi did her graduation in BMS from SIES College of Commerce, Mumbai. Currently, she is an MBA-Marketing student at Jamnalal Bajaj Institute of Management Studies (JBIMS), Mumbai. Preethi shares her preparation strategy in detail and advises the MAH CET 2015 aspirants.
Initial Preparation Strategy: My initial plan was to cover basics over again and be absolutely thorough with them. I focused on accuracy and finding shortcuts to solve questions in lesser time. I took regular mocks and analyzed them to understand the weak areas and focused on eliminating weaknesses.
Section Wise Tips: Quant – I maintained a separate booklet for formulae which I went through at the start of every day.
Verbal – I went through flashcards, one RC per day, two vocabulary exercises and some grammar every day.
Visual Reasoning – Practice and more practice. I referred to material outside of the course material given by my coaching classes.
Data Interpretation – Practice at least 3 caselets every day.
Advice: Make sure your basics are clear. Go through the past papers and familiarize yourself with the pattern of questions. Manage your time effectively such that you optimize your attempts and accuracy.
Click here to read the interview
Priya Chhabra, SIMSREE
Priya is currently pursuing her Masters in Management Studies (MMS) in Marketing from Sydenham Institute of Management Studies, Research and Entrepreneurship Education (SIMSREE), Mumbai. She has prior work experience of almost 3 years in Ericsson India. Priya Chhabra, obtained 99.86 percentile in MAH CET 2012 exam and All India Rank 26.
Basic Preparation: The more you practice the better you get in terms of speed and accuracy and that came handy for MAH CET. And I took as many mock MAH-CET papers with jumbled questions as possible.
Last Stage of Preparation: The last stage of preparation included solving timed mock papers and taking mock tests. The main strategy was to time myself and do as many questions as possible in 2.5 hours as possible.
Advice: My only advice for MAH CET 2014 takers is to be confident and take the complete time to answer. All the questions and the concepts would be already covered before.
Click here to read the interview


Must Read:
MAH CET 2015: Time management tips from Toppers
Top Questions to prepare for Personal Interview rounds
How to Tackle GD-PI-WAT Rounds of B-School
Other Feature Stories on B-School and MBA:
CAT GD-PI-WAT Topper Interview
Stay tuned to www.bschool.careers360.com for more news and updates
Questions related to MAH MBA CET
Showing 17 out of 17 Questions