MAH CET 2017 Topper Interview - Find out faster ways to solve a question to manage time, says Tigran Wadia, AI
While taking the test, neither did Tigran Wadia estimate his score, nor did he imagine in his wildest dream that he would be the AIR 1 in MAH CET 2017. A third year BMS student at HR College of Commerce and Economics, Tigran scored 145 out of 200 and 99.99 percentile in the test. He had started preparing from January by solving previous years' papers.

Tigran is quite active performer of drama, debate, speech and other elocution activities and is a known face in the Mumbai college festivals and competitions. He defines MAH CET MBA as a test which is literally race against time. In this interview with Careers360, Tigran shares his preparation strategy, dream institute and advice for aspirant.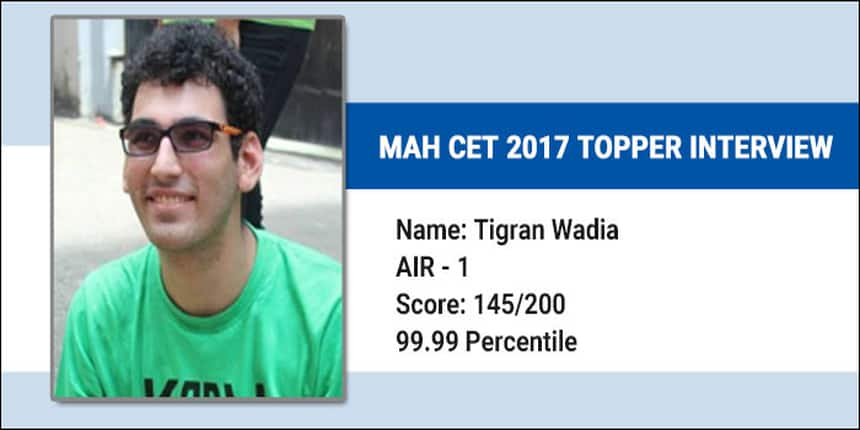 Excerpts from the interview.
Careers360: Congrats on being the AIR 1 at MAH CET 2017. How does it feel?
Tigran: It felt amazing to know that I have scored the highest marks in MAH CET 2017. It came as a pleasant surprise to me. While taking the test I did not even try to estimate my score neither did I have any idea that I would be among the toppers. I celebrated the moment with my friends and by thanking my parents and teachers.
Careers360: How did you prepare for the exam?
Tigran: The first step was the check the previous years' questions and syllabus to get a clear understanding about the question types and level. I started preparing in January. After getting my concepts cleared, I took time bound mock tests albeit in paper pencil based mode as I did not enroll into any coaching institute, but took help from one of my teachers. I had participated in different social media communities and groups to interact with fellow test takers and that helped me a lot. I came across different question types and methods to solve from those groups. I finalised my strategy and followed the same on the exam day as well.
Careers360: How was your exam taking experience? Did you face any technical glitch?
Tigran: My experience of taking MAH CET in computer based mode was delightful. Compared to paper pencil based mode, online testing experience was very convenient for me. The overall process was very smooth and the navigation process was user friendly. I did not face any technical glitches as such.
Careers360: What was your exam strategy for MAH CET?
Tigran: The only challenge I faced in MAH CET was time. Solving 200 questions in 150 minutes was very tough. I had allotted 45 seconds per question. I did not even spend time in skimming through the questions or select the ones to attempt. I just glanced at the paper and started solving one by one. I followed the following section wise order:
1. Logical Reasoning
2. Abstract Reasoning
3. Quantitative Ability
4. Verbal Ability
I also moved to and fro between sections if I felt the need to get back to a particular question. I attempted the time consuming sections first followed by the lesser time taking ones. For me, Verbal Ability was the least time taking section hence I kept it for the last.
Careers360: Which is your dream B-School where you are targeting admission in?
Tigran: JBIMS is my dream college! Now I am waiting for DTE to announce CAP rounds. Apart from JBIMS, I have not thought about any other college at the moment.
Careers360: What do you enjoy doing most when you are not studying?
Tigran: I am involved in various extra curricular activities in elocution such as drama, debate, extempore/JAM etc. My favourite among these activities is JAM. I regularly participate in inter college fests such as Malhar, Mood Indigo, Umang, Kshitij, Kaleidoscope to name a few.
Careers360: What is your advice for the MAH CET aspirants who would be appearing for the test next year?
Tigran: Firstly, practice is the key. Look up to previous years' questions and solve as many different types of questions as possible. Time is an important factor in MAH CET. Try to find out faster ways to solve a question accurately in order to yield maximum score. If you can manage speed, half the battle is already won.
Also Read
MAH CET 2017 Result Analysis - 95 per cent of 88,226 test takers score below 100
Top B-schools Accepting MAH CET Scores and Cutoffs
Stay tuned to bschool.careers360.com for more news and updates on MAH CET.
Questions related to MAH MBA CET
Showing 17 out of 17 Questions