MAH CET 2017 Topper Interview: Speed and question selection are the keys to crack MAH CET exam, says 99.97 per
The MAH CET 2018, the most crucial entrance exam conducted in Maharashtra is knocking at the door. Prospective test takers should be ready by now. To aid the MAH CET 2018 aspirants, Careers360 had interviewed the last year's toppers of the exam and brings to you, their experience and insights about MAH CET exam. Abhishek Rajadhyaksha, a commerce graduate pursuing MMS from JBIMS, Mumbai has topped the exam with 99.97 percentile and bagged an admission offer from one of the most sought-after B-schools of MAH CET. A passionate cricket player; has represented Mumbai Cricket Association at the National Level qualifies MAH CET MBA exam to be a speed test. He also states that one needs to choose the right questions to come out with flying colours.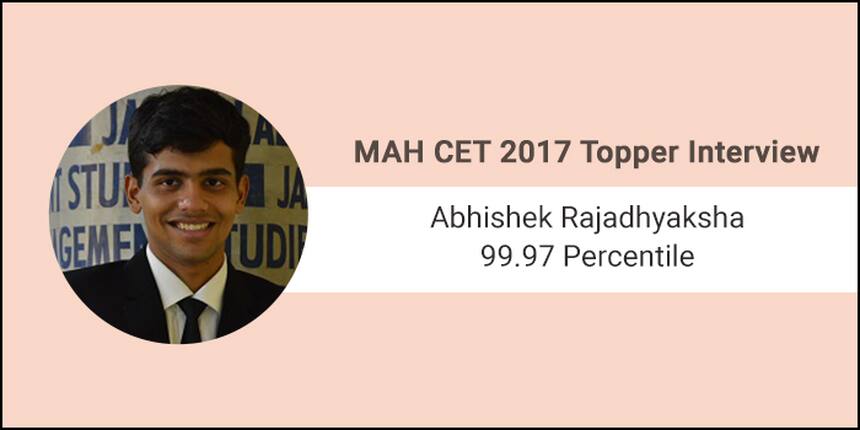 In this interview with Careers360, he describes how he intricately planned and prepared for the exam. Read to know what advice he has in store for all the upcoming MAH CET 2018 aspirants.
Read the complete interview here:
Careers360: Please share the overall and sectional MAH CET 2017 scores and percentiles obtained by you.
Abhishek: My overall score and percentile were 131 and 99.97 respectively.
Careers360: Which other MBA entrance exams did you appear for and what were your results in those exams?
Abhishek: Apart from MAH CET 2017, I had appeared for CAT, NMAT, and SNAP exams and managed to obtain the following scores/percentiles.
CAT overall percentile- 98.10

Sectional scores (CAT)- Verbal- 91.75, DILR- 98.96, Quantitative- 95

NMAT- 221

SNAP- 99.86
Careers360: Why did you decide to join JBIMS? Apart from this B-School, which other admission offers did you have?
Abhishek: I decided to join JBIMS due to its rich cultural heritage and esteemed alumni base. I had admission offers from SIBM-Pune, IIM Ranchi, IIM Udaipur, IIM Trichy, IIM Rohtak, IIM Raipur and IIM Kashipur.
Careers360: What was your preparation strategy for MAH CET? When did you start preparing? How was it different from the other exams you took?
Abhishek: Since I had prepared for CAT, I did not have to prepare for the basics again. It was just a matter of managing time well. I started preparing for CET in January. So all the other exams had a difficulty level higher than the CET but then you always had a buffer for time. CET is a speed test having lesser importance for accuracy.
Careers360: Did you go for self-study or took guidance from coaching institute?
Abhishek: I took guidance from IMS Andheri, a coaching institute for various entrance examinations including MAH CET.
Careers360: How did you maintain the balance between MAH CET preparation and graduation studies/working hours?
Abhishek: I was fortunate in this regard. As I was pursuing M.COM during my CET preparation, did not have a hectic schedule in college. This helped me focus properly on my CET preparation.
Careers360: What was your time management strategy?
Abhishek: Since LR and Verbal were my stronger sections, I used to spend more time on these sections. I started off with VA and tried completing it within 30 minutes. Then I used to solve Abstract and make sure that I'd have 100 minutes left for the last two sections. LR being my strongest section, I used to give 60-65 minutes. The last five minutes was dedicated to the Quantitative section. After completing the paper, I would definitely check my paper.
Careers360: What were your strong and weak areas? How did you tackle them?
Abhishek: As already mentioned, Logical Reasoning and Verbal were my stronger sections and hence I devoted more time. Quantitative was a relatively weaker section and hence in that section, I gave utmost importance to question selection. I used to search for specific questions and solve them first.
Careers360: Please share your section wise preparation strategy. What are the books that you referred pertaining to each section?
Abhishek: Section wise strategy was more focused on question selection rather than preparing for the section in general. I did not refer to any books but experimented a lot while taking the mocks. I solved around 20 mock tests and made sure I tried different things during my preparation.
Careers360: What is your advice for the MAH CET 2018 candidates?
Abhishek: The most important advice for the 2018 aspirants would be to take the test as it comes and not have any preconceived notions about the test. If you manage time well then the test is manageable. Be cool, be calm and crack it! Best wishes.
Questions related to MAH MBA CET
Showing 18 out of 18 Questions