MAH CET 2016 Topper Interview: Aim for accuracy with high speed, says 99.99 percentiler Jaideep Mehendale


Jaideep Mehendale, an electronics and telecommunication engineer from Pune secured 99.99 percentile in MAH CET 2016. Hailing from a family of Charted Accountants, Jaideep chose to follow a different path by pursuing engineering from the University of Pune and is currently working as a Junior Product Engineer in an Electronics company.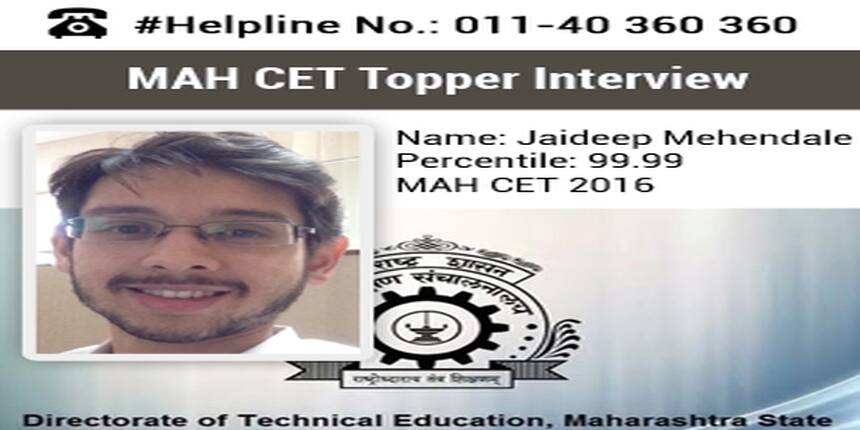 An avid chess player, tennis enthusiast and an active writer on Quora, Jaideep wants to pursue MBA for new skills and knowledge acquisition of management techniques. In this interview with Careers360, he shares the factors that one requires to crack MAH CET MBA with a high percentile.
A topper in one of the biggest state level MBA entrance test, Jaideep advises aspirants to always aim for accuracy with high speed. He further suggests MAH CET 2017 aspirants to believe in themselves, and not take exam pressure, rather enjoy test practice session.
[How to ensure a positive outcome in your GD/PI. Click here and enroll to get Tips/Tricks and Smart Techniques to deal with situations smartly]
Read interview excerpts below:
Careers360: Were you expecting to secure this high percentile of 99.99? What was your reaction after checking the result?
Jaideep: I was not expecting to get a perfect score of 99.99 but I was definitely expecting to hit something above 99.87. I came to know about result declaration through some websites; reason being that the official date for result declaration was March 29 but the results got declared on March 23. I had just reached home from the office and on coming to know about the result declaration; I logged in immediately to check the result. On checking my result, at first sight, I could not believe it! I do not even remember how many times I checked the result to make sure that I was not dreaming! Finally, when I was assured that I had indeed secured 99.99 percentile, I was overjoyed and immediately called my parents to share the news!


Careers360: Why do you want to pursue MBA?
Jaideep: For me the 2 year MBA course is an experience which shapes up your perspective about the world in general. An MBA degree inculcates in you a macroscopic picture of the working of any organisation (or any process for that matter). In addition, there is also the advantage of networking and peer learning which are associated with an MBA degree.
Careers360: Which other MBA entrance exams have you appeared for? Please share the scores/percentiles in them.
Jaideep: The other MBA entrance exams that I have appeared for are: CAT, NMAT, SNAP, XAT and CMAT. My percentiles in them are as follows:
CAT: 99
NMAT: 99
SNAP: 99.7
XAT: 98
CMAT: 99
Careers360: What was your preparation and exam day strategy? How was it different from the preparation of other MBA entrance exams?
Jaideep: As I had appeared for the exams mentioned above, my fundamentals were pretty much in place. Hence, the preparation strategy for MAH CET mainly consisted of two points: Mocks and practice on Visual reasoning section.

As for the exam day strategy, keeping a cool head is your biggest asset; even more important than your preparation. And in an exam like MAH CET where speed and accuracy are paramount, zero stress helps you a lot. I know a lot of people with a calm mind and medium preparation outscoring people who are stressed and have prepared a lot.
MAH CET is different from other exams due to the fact that it is probably the only exam which requires both: high speed and high accuracy! Another aspect which makes CET different is the Visual Reasoning section. It is important to note that, high speed and high accuracy is always an add-on, no matter which test you give! Hence, one should always aim to achieve high accuracy with speed.
Careers360: This year MAH CET exam pattern has changed as the section wise question numbers had been stated earlier unlike the previous years. Was that helpful? How did you devise/change your preparation strategy based on that?
Jaideep: Yes, this year MAH MBA CET had sections. As a caveat, having sections in any test is helpful for all candidates as the candidate can organise her/his attempts. So section wise test was helpful for planning the strategy since you know that the next 'x' number of questions are going to be based on Maths, the next 'x' number of questions are going to be on Logical Reasoning and so on.

While taking mocks, I had prepared a strategy wherein I used to solve the sections in the following order: English (VARC), Maths (QADI), Logical Reasoning (LR) and Visual Reasoning (VR). The reason that I had chosen this order was based on my strengths (Highest proficiency (VARC) to lowest proficiency (VR)). For someone having higher proficiency in Visual reasoning would attempt Visual Reasoning first.
In any case, every candidate has to decide his order based on his/her performance in mocks and his/her comfort level.
Careers360: Which B-schools are you aiming through your MAH CET scores?
Jaideep: Right now, I am keeping all my options open and will decide upon the college in the due course of time!
Careers360: Tell us something about yourself- your education, work experience, family, hobbies/interests etc.
Jaideep: Education: I have completed my Electronics & Telecommunication Engineering from Pune Vidyarthi Griha's College of Engineering and Technology (University of Pune) in 2014.
Work experience: I am working in an Electronics company in Pune as a Junior Product Engineer for the past 18 months.
Family: I come from a family of Chartered Accountants. My parents, my paternal aunt and my grandfather are Chartered Accountants.
Hobbies: I am an active chess player. I also play tennis regularly.
Careers360: What would be your suggestion for the MAH CET 2017 aspirants?
Jaideep: My suggestion to MAH CET 2017 aspirants is very simple:
i) Practice, Practice, and Practice
ii) Enjoy the practice.
It is difficult to excel at something if you do not enjoy it. Think of the entire MBA process as a journey and not a destination; do not think of it as an end, but means to an end! And yes the most important asset that will carry you in your entire exam preparation (irrespective of the exam) is belief! You have to believe that you can succeed. That belief is the most important part. The rest of the things will eventually follow. The greatest battle is fought between the two ears.

I would also like to add a quote here from Mr. Jack Ma 'Today is difficult, tomorrow is much more difficult, but the day after tomorrow is beautiful; most people die tomorrow evening'. Perseverance and belief are the keys to success. I wish the future aspirants 'All the best'!
Also Read:
Stay tuned to www.bschoo.careers360.com for more news and updates
Questions related to MAH MBA CET
Showing 17 out of 17 Questions