How to Prepare for TS ICET 2022 Exam's Communication Ability?
How to Prepare for TS ICET 2022 Exam's Communication Ability - TS ICET 2022 entrance exam opens a doorway to MBA courses in top institutes of Telangana State. As per the TS ICET 2022 paper pattern, the exam will be divided into three sections namely- Analytical, Mathematical and Communication Ability.
Latest Updates for TSICET
Stay up-to date with TSICET News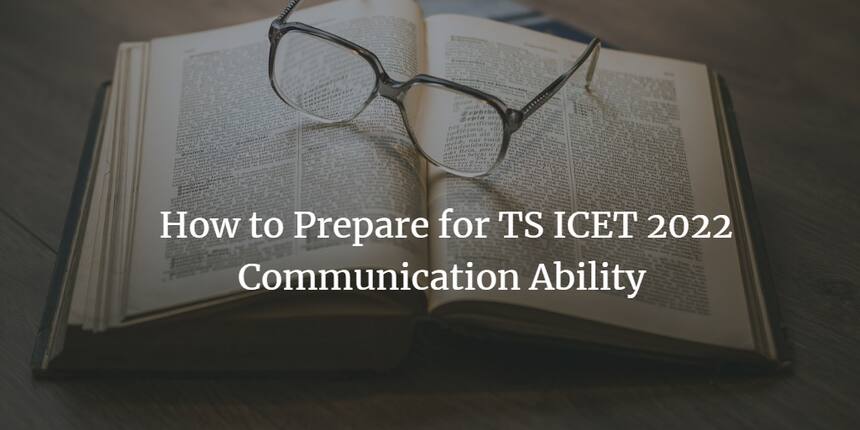 If you are wondering how to crack the TS ICET 2022 exam's communication ability section in so little time, all you have to do is strengthen your communication skills. On behalf of the Telangana State Council of Higher Education (TSCHE), Kakatiya University will be conducting TS ICET 2022. This article will help you understand key concepts of how you can succeed in this section. TS ICET will be conducted in the third week of August 2022 in online mode. This article contains complete details on how to prepare for the TS ICET 2022 Exam's Communication Ability.
Also Read-
TS ICET Syllabus 2022
TS ICET Sample Paper
TS ICET 2022 Communication Ability Section: Key Highlights
Out of the three sections in TSICET 2022, the communication ability section of TS ICET holds utmost importance. Having good communication skills are crucial in today's competitive business ambiance. In all management graduation level courses, candidates are made to study business communications, the importance of 7C's, functional grammar, comprehension, etc. To score well and take admission in MBA courses offered by top colleges candidates must give TS ICET 2022 with full preparation.
According to the exam pattern of TS ICET 2022, a total of 50 multiple choice questions will be asked from the Communication ability section. The key motive behind having the communication ability section in TS ICET 2022 paper is to judge a candidate's abilities with respect to sentence completion, comprehensive knowledge, word power, grammatical knowledge, interpret business terminology etc.,
TS ICET 2022: Pattern of Communication Ability Section
| | |
| --- | --- |
| Sub-topics | No. of Questions |
| Business and Computer Terminology | 10 |
| Functional Grammar | 15 |
| Reading Comprehension | 15 |
| Vocabulary | 10 |
Tips to Solve TS ICET 2022 Exam's Communication Ability: Topic-Wise
Business and Computer Terminology
This particular topic will contain questions related to basic business terminology and concepts used across business and management domains. To crack this sub-topic, candidates can follow given guidelines -
Know about GDP, types of market functioning in India like capital market/stock market, organizational involvement, corporate social responsibility. Types of assets,

Learn about letter/email writing, contents of reports, agenda, minutes

Learn the basic computer fundamentals, about MS office, important abbreviations, keyboard shortcuts, operating system, database management etc.,

Know about the first commercially available computer and parts, details related to FDM, program, ISP, types of computers available
Best Books for Business and Computer Terminology
Jonathan Law - A dictionary of business and management

Douglas Downing - Dictionary of computer and internet terms
Functional Grammar and Vocabulary
A total of 25 questions will be asked in both sections i.e. 15 in functional grammar and 10 in vocabulary. Section of functional grammar and vocabulary seem similar. In order to solve this, candidates can follow the below-mentioned process:
Prepare parts of speech, tenses, active and passive voice, punctuation etc.,

Learn Synonyms & Antonyms, One-word substitution, fill in the blanks, word meanings, verbal ability.

Start reading newspapers like The Hindu, The Wall Street Journal, Business Standard.

Enhancing vocabulary is not a one-day task. It will improve gradually by reading novels, listening to informative podcasts, watching documentaries.
Best Books for Functional Grammar and Vocabulary
Norman Lewis - 30 days to a more powerful vocabulary

Maxwell Nurnberg and Morris Rosenblum - How to build a better vocabulary

Bikram K. Das - Functional Grammar & Spoken & Written Communication in English
Reading Comprehension
TS ICET question paper will include 15 short comprehensions. To solve this part of the Communication Ability Section, candidates can either go from top to bottom or can also apply reverse action strategy.
Top To Bottom Strategy - Read comprehension and understand it first and then move towards the given question along with the given answers. This may be time-consuming.
Reverse Action Strategy - Read the questions and the given multiple choices. Then try to find out the keywords in the comprehension. Many toppers have accepted the fact that this method is helpful in saving time.
Best Books for Reading Comprehension
N.C. Sinha - Reading Comprehension

Arihant Experts - Comprehension of General Studies

RPH Editorial Board - English Reading Comprehension
Questions related to TSICET
Showing 2381 out of 2381 Questions