How to prepare for NMAT 2022 Online Exam | Careers360
How to prepare for NMAT 2022 Online?: With the outbreak of COVID-19 along with the number of protocols, the education sector has shifted to online mode too. But with so many doubts, especially for beginners, how do you prepare for the NMAT exam online? First of all, clearly, candidates need to pace up their preparation as NMAT is scheduled between November 2022 to January 2023.

There are other several ways for online NMAT preparation, the most favored of which is online NMAT mock tests. Also, have you given thought to online tutorials? And what about joining online study groups on Facebook, Telegram, etc. Well, let us discuss in detail all these online tools that can help in NMAT 2022 preparation.
Latest Updates for NMAT by GMAC
Stay up-to date with NMAT by GMAC News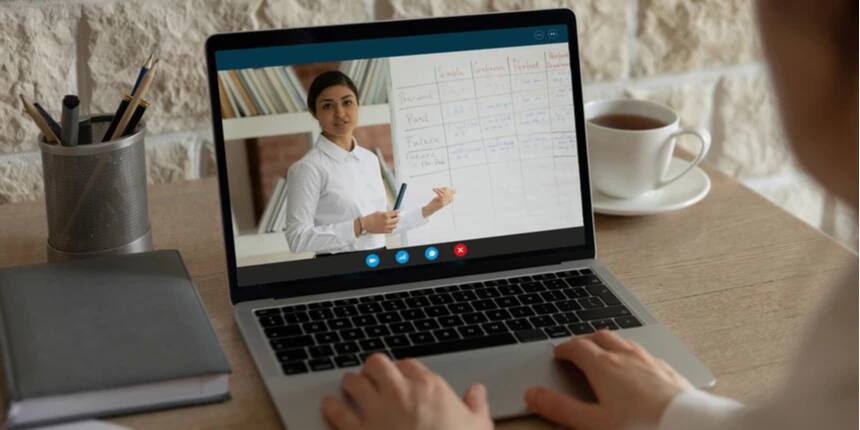 Browse MBA colleges accepting NMAT scores: Location wise
How to prepare for NMAT 2022 online
Be it online or offline, the NMAT 2022 preparation holds one of the important aspects, that is getting aware of the NMAT exam pattern and NMAT syllabus. The test will be conducted in an online mode for a period of 88 days. Let us check the detailed NMAT by GMAC exam pattern 2022 below:
NMAT Exam Pattern 2022
| | | |
| --- | --- | --- |
| Section | Number of Questions | Time |
| Language Skills | 36 | 28 |
| Quantitative Skills. | 36 | 52 |
| Logical Reasoning | 36 | 40 |
| Total | 108 | 120 |
NMAT Marking Scheme 2022
As per the NMAT 2022 exam pattern, there will be no negative marking.
Pros- Mark your calculated guess and mark the answer without the fear of a penalty for a wrong answer as there is no negative marking.
NMAT Online Preparation Strategy 2022: Expert Tips
Let us shed out all the apprehensions and check the online NMAT preparation strategy devised by some of the coaching experts and previous years' toppers.
Online Mock Tests
Candidates need to solve as many NMAT mock tests as possible. If you have more than five months in your hand, you can solve one mock each week. As you keep approaching the NMAT 2022 exam dates, keep increasing the number of mocks. In the last three months, you should be taking 2-3 mocks every week.
Key tip: Only solving is not enough. Remember to analyze each one of your mocks after attempting them. In fact, analysis is more important than attempting mocks, since that's the only way for you to improve your weaker areas.
Get access to free NMAT by GMAC mock test 2022 here.
Go for online coaching if self-study does not help
Candidates can opt for online NMAT coaching. Most of the candidates have 9 to 5 working hours. So online coaching saves time. You can first opt for a demo before enrolling in the course. Also, the benefit of online coaching is candidates can choose the weekday or weekend batch as per their preference. Also, they get to attend live lectures for conceptual clarity. If opted from a good coaching institute, the benefits of online NMAT coaching are:
One gets to watch the video lectures as many times.

Interactive live classes help in doubt clarity.

Students get equipped with practice tests, sectional tests and complete NMAT mocks.
Online Tutorial
There are many online platforms that provide free of cost tutorials to crack the NMAT exam. NMAT aspirants can subscribe to them and join social media study groups on Quora, Facebook, WhatsApp, Telegram, etc. Moreover, there are many live sessions provided by YouTube channels, which can be quite fruitful for NMAT online preparations. Not only this, one can clear his/her doubts by interacting with experts and students personally.
Apart from the above-mentioned NMAT by GMAC preparation strategy, candidates are advised to give their NMAT exam as early as possible. This is because likewise, they will have ample time for their next attempt. Also the major advantage, one gets to know the actual paper pattern along with the difficulty level of the exam.
Candidates can also crack NMAT by self-preparation. It is not always necessary to opt for online coaching. Though since the exam is online, online mocks are a must as suggested by experts and toppers. However, if a student wishes to focus on self-preparation, then he/she must start doing the same with adequate time in hand.
Top Colleges in India offering MBA
Frequently Asked Question (FAQs) - How to prepare for NMAT 2022 Online Exam | Careers360
Question: When will NMAT by GMAC be conducted?
Answer:
NMAT 2022 is scheduled to be held from November 2022 to January 2023.
Question: Can one attempt NMAT test in offline mode?
Answer:
No, NMAT 2022 will only be conducted in online mode, that is, as a computer-based test.
Question: How many NMAT mock tests should I attempt in a week?
Answer:
In case the exam date is near, one should attempt 2-3 mocks per week.
Question: Where can I get free access to NMAT online tutorial?
Answer:
NMAT aspirants can subscribe to and join social media study groups on Quora, Facebook, WhatsApp, Telegram, etc.
Question: Is online coaching for MBA entrance more expensive than offline coaching?
Answer:
On the contrary, no offline MBA coaching classes are cheaper than offline ones.
Questions related to NMAT by GMAC
Showing 1051 out of 1051 Questions