MAH CET 2015: Time Management Tips from Toppers


Strategizing an exam to secure a high percentile is the most vital part of any entrance examination. And the key in this strategy is Time which, if managed perfectly, can let you succeed in an examination. Similarly, Time Management is the mantra to succeed in the MAH CET 2015, a state level examination conducted by the Directorate of Technical Education (DTE), Maharashtra State.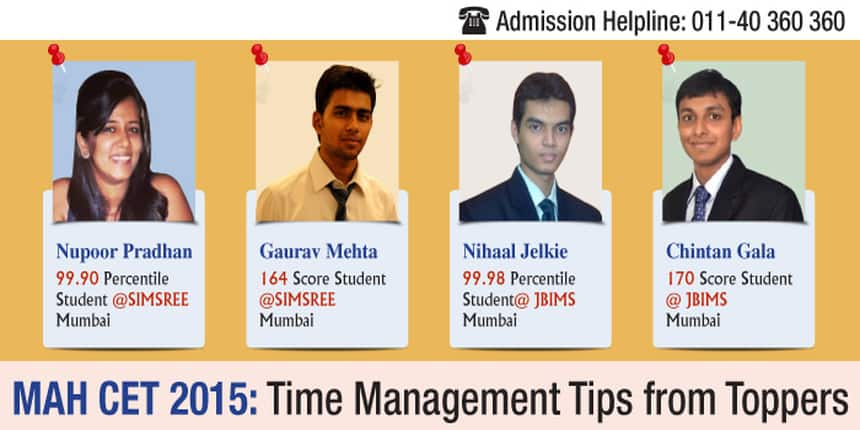 The MAHCET or the Maharashtra Common Entrance Test is conducted for admissions in the management programmes of MAHCET participating institutes. With the exam scheduled to be conducted on March 14 and 15, 2015, it is important for the aspirants to prepare themselves with the right time management techniques to secure an impressive percentile in MAH CET 2015.


Careers360 brings to you Time Management Tips and Strategies from the MAH CET Toppers from JBIMS and SIMSREE. But before starting with the strategy, let's understand the MAH CET 2015 Exam Pattern.
MAH CET 2015 Exam Pattern
The MAHCET 2015 will be conducted in an online format by the Directorate of Technical Education (DTE). There is no section wise division in the MAHCET 2015 exam. The areas covered in the paper are Verbal Ability and Reading Comprehension, Quantitative Aptitude and Logical/Abstract Reasoning. The exam will have 200 multiple choice questions with five options to select from.


The Duration of the exam will be 150 minutes or 2 hours 30 minutes, and the candidates have to answer the questions within the time frame. Each question carries one mark and there will not be any negative marking for a wrong answer.
Time Management Tips and Tricks
Chintan Gala, JBIMS Mumbai

MAH CET 2012 topper Chintan Gala scored 170 in MAH CET and obtained 30th rank. Chintan is pursuing MBA in Finance from Jamnalal Bajaj Institute of Management Studies (JBIMS), Mumbai. Chintan did his B. Tech in Electronics from VJTI and has 2 years of work experience at CitiusTech as a software developer in Business Intelligence domain.
Time Management Formula: My strategy for the MAH CET exam was to solve as many papers as possible to improve the speed and race with the time. Every time I started with a mock test, I made sure that I complete the test even before the allotted time and that too correctly. Also, I made it a point to attempt all the questions on Quant and DI which were my strong parts.
At the time of the actual exam, I was relaxed and had a proper planning in my mind. As soon as the paper started I gave 5 minutes to analyse the questions paper. By this I had an idea which section to attempt first. Next, I started answering the questions I knew are correct. This saves time, as you don't get stuck in a single question for long. Once you have attempted all the questions you know, proceed with answering the questions that requires time to think. It is equally important to not to waste more than a minute over a question. Finish the entire paper within the time frame of 2 hours 20 minutes, so that you are left with last 10 minutes to revise.
Click here to read the interview
Nihaal Jelkie, JBIMS Mumbai
This MAH CET Topper Interview of Nihaal Jelkie of JBIMS Mumbai will give you his secrets of success. Nihaal scored 146 out of 200 and 99.98 percentile in MAH CET 2012 exam. He is currently pursuing his management studies at Jamnalal Bajaj Institute of Management Studies (JBIMS), Mumbai. He is a Chemical Engineer from Institute of Chemical Technology and has 2 years of work experience in HPCL.
Time Strategy: The environment at the exam centre can get a little unnerving at times, especially with the clock ticking whilst you frantically solve the CET paper. However, I stayed focused on the task in hand and never really let myself to be bogged down with the pressure of solving questions quickly and accurately.
The best way to race with the time and win is to start with brushing up your concepts, get familiar with the pattern and take time bound mock tests. If you follow a strategy of writing mock test and finishing it up before the limited time, you can easily solve the actual MAH CET exam without much mistakes before and that too before 2 hours 30 minutes.
After each test, I went through the answers and focused on the ones that I missed or marked wrongly due to the decreasing time. This helps immensely since natural human tendency thwarts you from committing the same mistake twice. Hence review each question paper after solving it, meticulously. In the end, I was able to solve the tests easily within time with most numbers of accurate answers.
Click here to read the interview
Nupoor Pradhan, SIMSREE Mumbai
Nupoor Pradhan, who obtained 99.90 percentile in MAH CET 2012 and is currently pursuing her MMS in Human Resources in SIMSREE, Mumbai. Nupoor obtained her B. Sc degree in IT from Usha Pravin Gandhi College of Management, Mumbai. She has worked at Capgemini India Pvt. Ltd. for 6 months. Nupoor is also a certified Kathak dancer and headed inter-school Handball and Basketball teams. Regarding the time management she says, "I feel MAH CET in true sense tests the potential of any candidate. Time management is the most important factor in MAH CET unlike other exams. Online mode of MAH CET will definitely save a lot of time that goes in marking the answers. This might prove to be an advantage as compared to the paper pencil test that was conducted in its previous years."
Time Management Tips: I took mock tests at home to improve my speed. The most important thing that I feel about Time management is that one must be able to finish the exam at least 15 minutes prior the scheduled time, so as you get enough time to revise the test. I did not have any specific number of hours for mock tests, but I made sure that whenever I appeared in the mocks I plan my time according to the difficulty level of the questions in each section. Solve easiest first, keeping the difficult ones for the end.
Click here to read the interview
Gaurav Mehta, SIMSREE Mumbai
Gaurav Mehta, MAH CET 2012 topper and student at Sydenham Institute of Management Studies, Research and Entrepreneurship Education (SIMSREE), Mumbai. He talks in detail about his preparation and test taking strategy, and a comparative analysis of the other MBA entrance exams. Gaurav is currently pursuing his MBA from SIMSREE Mumbai with specialization in Marketing. He has graduated from K J Somaiya College of Engineering, Mumbai.


Time Trick: Attempting to crack MAH CET is fighting a race against time in which only a handful get a chance to go through the entire paper, let alone saving some extra time for difficult question. Hard work has little role in MAH CET and smart way is the tact of going about it. There are no brownie attempting any section first, ensure that you get to your answer in an extremely quick manner.
MAH CET is a different ball game altogether. Here the focus is to strike a balance between speed and accuracy. The more the number of attempts, the more is your chance to score well. Approximations are put to the best use in MAH CET.
If you cannot solve the question in 45 seconds, move on. Identifying the level of difficulty of a reasoning question is extremely difficult. Don't fall in the trap of losing a lot of time on a single question.
Click here to read the interview
Must Read:
MAH CET 2015 Toppers Tips to Crack Admissions
Top Questions to prepare for Personal Interview rounds
How to Tackle GD-PI-WAT Rounds of B-School
Other Feature Stories on B-School and MBA:
CAT GD-PI-WAT Topper Interview
Stay tuned to www.bschool.careers360.com for more news and updates
Questions related to MAH MBA CET
Showing 18 out of 18 Questions