MAH CET Topper Interview - Preethi Parthasarthy of JBIMS shares how to crack MAH CET 2014


In the MAH CET MBA Topper Interview series, today we will share the success mantras of Preethi Parthasarthy, who ranked 6th in MAH CET 2012 exam. Preethi shares her preparation strategy in detail and advises the MAH CET 2014 aspirants, who would be the first batch of the online test on how to tackle the biggest state level MBA entrance exam.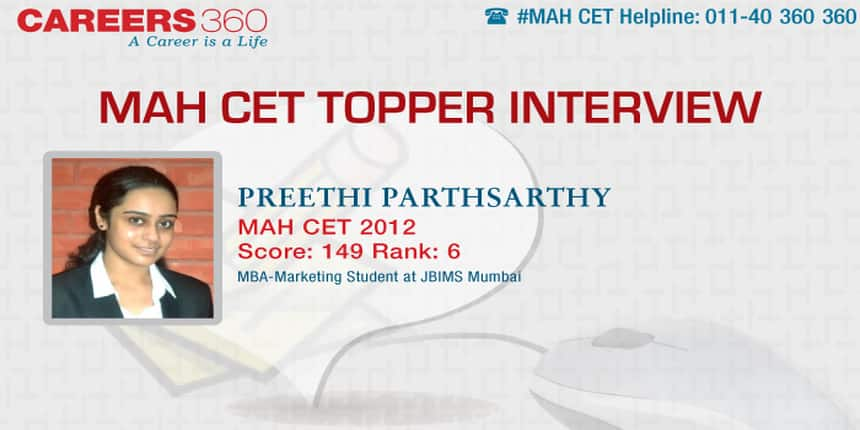 Preethi did her graduation in BMS from SIES College of Commerce, Mumbai. Currently, she is an MBA-Marketing student at Jamnalal Bajaj Institute of Management Studies (JBIMS), Mumbai.


For any doubts and queries on MAH CET 2014, call the MAH CET Helpline Number, 011 40 360 360.

Excerpts from the interview.


Careers360: You took MAH CET in the last year it was conducted offline. What was your experience?

Preethi Parthasarthy: Knowing that this would be the last CET, we didn't exactly know what to expect in terms of difficulty levels. The paper was indeed a surprise as it was relatively harder than the past few years. However, a systematic approach, sound strategy, and a certain amount of flexibility are required to tackle the paper, and this helped me sail through.


Careers360: What was your score and rank in MAH CET 2012?
Preethi Parthasarthy: My score in written exam was 149. The score post GDPI was 179. My Maharashtra state rank was 6.


Careers360: This year MAH CET will be conducted after a hiatus of 1 year and in online format. What are your thoughts on that?
Preethi Parthasarthy: An online test would certainly help save time and effort, given that a lot of time goes in circling the answers in OMR sheets. Would be great if this was pulled off glitch free in its first implementation itself!


Careers360: What was your initial preparation strategy?
Preethi Parthasarthy: My initial plan was to cover basics the basics all over again and be absolutely thorough with them. I focused on accuracy and finding shortcuts to solve questions in lesser time. I took regular mocks and analyzed them to understand the weak areas and focused on eliminating weaknesses.


Careers360: Did you also take other MBA entrance exams like CAT and XAT? Did you find any preparation wise difference among these exams and MAH CET?
Preethi Parthasarthy: I appeared for CAT. The main difference one would have to work for is that CAT questions are definitely more complex than questions that appear in MAH CET, but at the same time the time spent per question is more. MAH CET is a game of speed. One needs to optimize accuracy and speed in order to achieve the best possible results.


Careers360: What was your strategy to tackle your weak areas?
Preethi Parthasarthy: Simply put, keeping the basics intact is the key. There are only a certain number of question types that turn up in the exam and one needs to be thorough with each of them so that no question appears new or unfamiliar in the exam. For areas where I was weak, I spent dedicated hours every other day covering and polishing the basics. This, along with regular mocks helped me track my progress and identify lingering weak areas. Also, a periodical SWOT analysis helped triangulate the main areas which required focus.

Careers360: What was your area wise preparation strategy?
Preethi Parthasarthy: My overall strategy was to cover basics thoroughly from class course material. Optimise accuracy. Then work on speed taken per problem/caselet and optimize this. Finally, it was imperative to strike a balance between speed and accuracy in order to maximize the score. Section wise specifics included a section-wise SWOT that covered each topic under each section. This helped me identify weak areas and allot my time accordingly.
Quant – I maintained a separate booklet for formulae which I went through at the start of every day.
Verbal – I went through flashcards, one RC per day, two vocabulary exercises and some grammar every day.
Visual Reasoning – Practice and more practice. I referred to material outside of the course material given by my coaching classes.
Data Interpretation – 3 caselets every day.


Careers360: What was your last stage of preparations strategy?
Preethi Parthasarthy: At this point, I had already studied everything there was to study. So for this last stage, I regulated myself to giving and analyzing one mock per day, completing past papers and analyzing them thoroughly, focusing on Strengths and Opportunities, and covering any remaining weak areas as best as I could. I went through quant formulae and English root words on a daily basis. The day before the exam, though, I kept my books aside and just chilled the entire day!


Careers360: What is your advice for the MAH CET 2014 takers?

Preethi Parthasarthy: Make sure your basics are clear. Go through the past papers and familiarize yourself with the pattern of questions. Manage your time effectively such that you optimize your attempts and accuracy.
Also Read:
MAH CET Topper Interview - Chintan Gala shares his preparations strategy
MAH CET 2014 section wise preparation strategy and expert tips
Top B-schools Accepting MAH CET Scores and Cutoffs

Stay tuned to bschool.careers360 for more MAH CET topper interviews.
Questions related to MAH MBA CET
Showing 18 out of 18 Questions