MAH CET MBA 2020 Topper Interview "an extra minute lost can cost you dearly" says Ankit Thakker, 99.99 Percent
MAH CET MBA 2020 Topper Interview - Ankit Thakker, 99.99 Percentiler - Getting admitted in a top B-school via Maharashtra CET MBA entrance exam is a dream ticket for many aspiring MBA students. In terms of the popularity of state level MBA entrance exams we can enlist MAH CET on top. What if we say a chemical engineering student grabs a seat in the toppers list of MAH CET MBA 2020. Yes, Ankit Thakker who proves that if you have determination and with clear fundamentals, MAH CET MBA could be a cakewalk for anyone. In an exclusive interaction with Careers360, Ankit shares his preparation strategy as well as how to manage all the sections within stipulated time. Apart from all the aspects of Ankit's MAH CET MBA preparation strategy, he explained the value of mocks. Read the full interview of Ankit Thakker to know his preparation journey of MAH CET MBA entrance test. Also know the rest of the topper of MAH CET MBA 2020.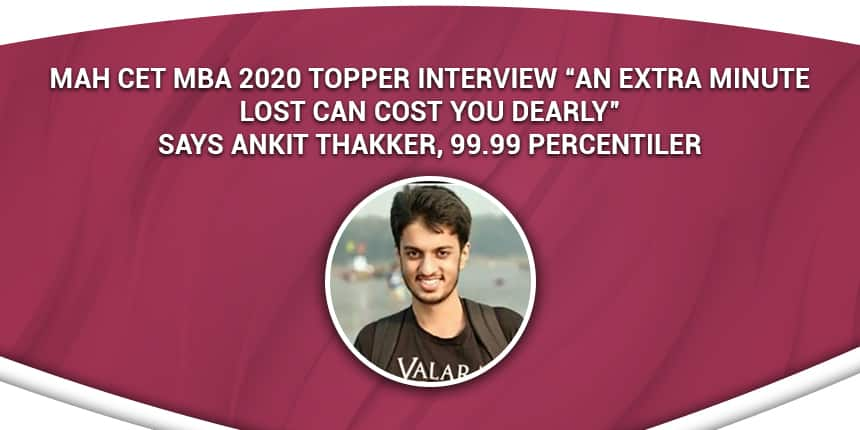 Careers360 - Congrats for scoring 99.99 percentile at MAH CET 2020. How does it feel? Were you expecting this result?
Ankit Thakker - It feels pretty surreal to be honest. I was expecting a decent score based on my performance in various mock tests but this kind of result was surely not expected by me.
Careers360 - Tell us more about yourself.
Ankit Thakker - I've been born and brought up in Mumbai. I've done my graduation in chemical engineering from the Institute of Chemical Technology, Mumbai. I have work experience of about a year.
Careers360 - Apart from MAH CET, which other MBA entrances did you appear for? Did you follow any specific or exclusive preparation strategy for MAH CET vis a vis other exams?
Ankit Thakker - I appeared for CAT, NMAT, XAT and IIFT. In CET, time is a very crucial parameter and so I had to modify my preparation strategy for it. I would try and solve each and every question with a timer during practice. Also, I had to give a considerably high number of mocks for CET as much of the portion for CET was already covered while studying for other entrance exams.
Careers360 - Are you appearing/appeared in the GD/WAT-PI rounds of any other top B-schools? If yes, how are you preparing for the same and how has been your experience so far?
Ankit Thakker - Yes, I did appear for GD PI rounds of other B-schools such as IIMs, XLRI and IIFT. I prepared for them by staying updated with current affairs and also joined mentoring for mock PIs.
Careers360 - Did you join any coaching for the entrance exam? If yes. Then was it helpful for the MAH CET entrance test?
Ankit Thakker - No, I did not take coaching. I only took mock tests of various coaching classes.
Careers360 - How did you prepare for the exam?
Ankit Thakker - I focussed on making my fundamentals strong first. For this, I used books of coaching classes as well as sectional tests to test my clarity of concepts. Once this was done, I would write mocks, analyze them thoroughly and evaluate my strengths and weaknesses and work accordingly.
Careers360 - How was your exam-taking experience? Did you face any technical glitch?
Ankit Thakker - It was pretty smooth. I did not experience any glitch.
Careers360 - What was your exam strategy for MAH CET?
Ankit Thakker - Since the verbal section was my strength, I started with verbal first and gave around 30 minutes to it. Thereafter I gave 15 minutes to visual reasoning, 35 minutes to the quant section and rest of the time to logical reasoning. It is important in this exam to not remain stuck up on any question and move on as even an extra minute lost can cost you dearly.
Careers360 - Which is your dream B-School where you are targeting admission in?
Ankit Thakker - I am eyeing to get into JBIMS this year.
Careers360 - What is your career plan after completing MBA?
Ankit Thakker - I wish to specialize in either Finance or General Management and hopefully work in an MNC.
Careers360 - How do you unwind yourself after hectic study routines?
Ankit Thakker - I love binge-watching shows as it completely takes my mind off studies. I also enjoy playing chess in my free time.
Careers360 - What is your advice for the MAH CET aspirants who would be appearing for the test next year?
Ankit Thakker - In my opinion, mocks are the most important part of CET prep. It is very important to analyze each and every mock you for at least 2-3 hours. This will help you understand your strengths and weaknesses and improve accordingly. Also, I suggest solving every question (during regular practice) under a timer.
Questions related to MAH MBA CET
Showing 17 out of 17 Questions