MAH CET 2017 Topper Interview: Solving a lot of mocks increased my accuracy, says 99.98 percentiler Gurudatta
The last few days before an entrance exam are extremely crucial in terms of strategising your entire preparation for the big day. MAH CET 2018, one of the most coveted state-level management entrance exam, is just around the corner. To help the MAH CET 2018 aspirants, Careers360 brings the interviews of the last year's toppers of the exam. The first one in the series is of Gurudatta Kakde, a first-year student of MMS in Finance at JBIMS, Mumbai. Gurudatta topped the exam with 99.98 percentile to grab an admission offer from one of the topmost B-schools of MAH CET. An avid reader and a natural sports lover, he credits his success to practising mock tests every day and analysing the performance. He says that MAH CET MBA is a race against time and one needs to be really quick and accurate at the same time to ace the exam.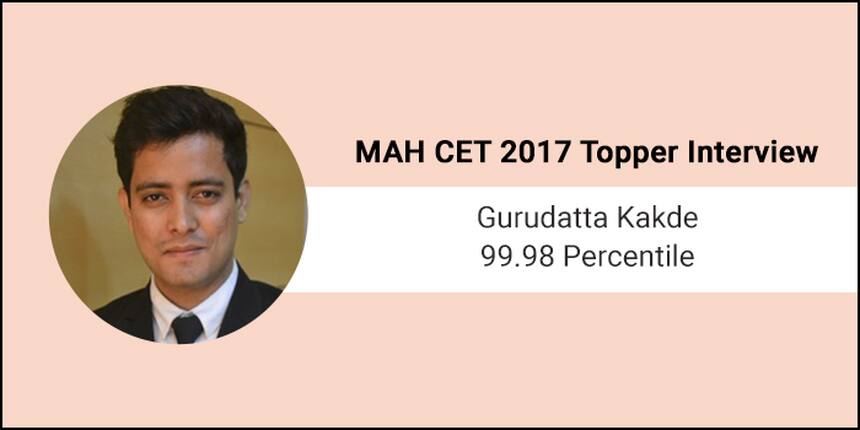 In this interview with Careers360, he reveals how he prepared for the big exam and the strategies he followed to top the exam. Read to know what advice he has for MAH CET aspirants.
Read the complete interview here:
Careers360: Please share your overall and sectional MAH CET 2017 scores and percentiles.
Gurudatta: My overall score and percentile were 133 and 99.98 respectively.
Careers360: Which other MBA entrance exams did you appear for and what were your results in those exams?
Gurudatta: I had appeared for CAT, SNAP and CMAT and my percentile scores were 96, 99 and 99 respectively.
Careers360: Why did you decide to join JBIMS? Apart from this B-School, which other admission offers did you have?
Gurudatta: For the simple matter of fact that it is one of the best institutes in the country. Exposure offered to industry stalwarts here is second to none. My next best option was SIBM but JBIMS was always my first choice.
Careers360: What was your preparation strategy for MAH CET? When did you start preparing? How was it different from the other exams you appeared for?
Gurudatta: Every entrance exam has a pattern and MAH CET tests you in ways like no other exam does. MAH CET is a race against time and since it has a mix of easy, moderate and difficult questions, my strategy was to make sure that I do not miss out on the simple ones.
I started preparing form January end and gave as many mocks as possible. But just attempting mocks is not important, you need to thoroughly analyse your performance after every mock test. I used to go through all 200 questions after attempting a mock; if I got an answer right I used to think about how and why I got it right and if I got an answer wrong I used to find out how I could have got it right. So on a typical day, I used to give 2 hours 30 minutes for mock and another 1 and 1/2 or 2 hours for its complete analysis. My advice to everyone is to seriously analyse your performance after every mock, it was the only reason for an exponential increase in my mock scores as well as my final CET score.
Though MAH CET is a different exam altogether, the basics remain the same – Practice and Analyse.
Careers360: Did you go for self-study or took guidance from coaching institute?
Gurudatta: I had joined TIME for CAT preparation but for CET, it was all practice and self-study.
Careers360: How did you balance MAH CET preparation along with your graduation studies/working hours?
Gurudatta: I had taken a year off for preparing for entrances so I had no other business other than studying for them.
Careers360: What was your time management strategy?
Gurudatta: Sometimes having no strategy is the best strategy; it is very subjective and it worked for me. My focus was to cruise through all 200 questions as fast as possible so as to attempt all the easy ones and leave out difficult/time-consuming ones (in my case LR caselets). Doing so made sure that I attempt all the easy, must-do questions leaving the time-consuming ones behind. In CET, you are very time-poor, a fair level of accuracy along with speed matters a lot because, at the end of the day, you would not want to lose on easy marks by wasting your time on difficult questions.
Careers360: What were your strong and weak areas? How did you tackle them?
Gurudatta: Most of the questions were of easy/moderate level of difficulty. So, there were no strong/weak areas for me as such but as seen from CET 2016 paper, I was expecting difficult LR caselets (which turned out to be true and expect tough LR caselets in CET 2018 as well).
How did I tackle them? I did not attempt even a single caselet until I had finished off all the easy questions. In the end, I had about 15 minutes in hand and was able to solve 2 caselets (one was on direction sense which was very easy and the other was a puzzle involving many variables which were very difficult to crack).
The analysis comes in handy in this part. It would help you identify areas that you are weak at. If improving these areas is not possible for you now, a very prudent strategy would be to avoid solving these questions in the final MAH CET.
Careers360: Please share your section wise preparation strategy? What are the books that you referred to for each section?
Gurudatta: I used to start with abstract reasoning followed by LR (minus the caselets), quant and VARC. Solving a lot of mocks had helped me increase my accuracy. My aim was to get past these sections as fast as possible. If I got a difficult one, I used to mark an answer and move forward. I used to skip caselets since you cannot decipher whether a case is easy or not without attempting it and if a case turns out to be a complicated one, a lot of your time is wasted.
Careers360: What is your advice for the MAH CET 2018 candidates?
Gurudatta: For now, practice and map your scores. Pressure will be tremendous on the D-Day, keep your cool. Most of the questions are solvable; remember that you would not have the time to attempt all 200 questions. So, make sure that you do not miss out on simple questions and do not waste time on difficult ones. ALL THE BEST!
Questions related to MAH MBA CET
Showing 17 out of 17 Questions