How to Start IIFT 2023 Preparation - IIFT Exam 2023 Preparation
How to Start IIFT 2023 Preparation? - Every management candidate aspires to take admission in top B-Schools of India. IIFT holds a good position and hence is the apple of the eye of candidates who wish to make their career in international business. Candidates who have registered themselves earlier are on the runway and preparing with complete adherence to secure good marks.
Stay up-to date with IIFT News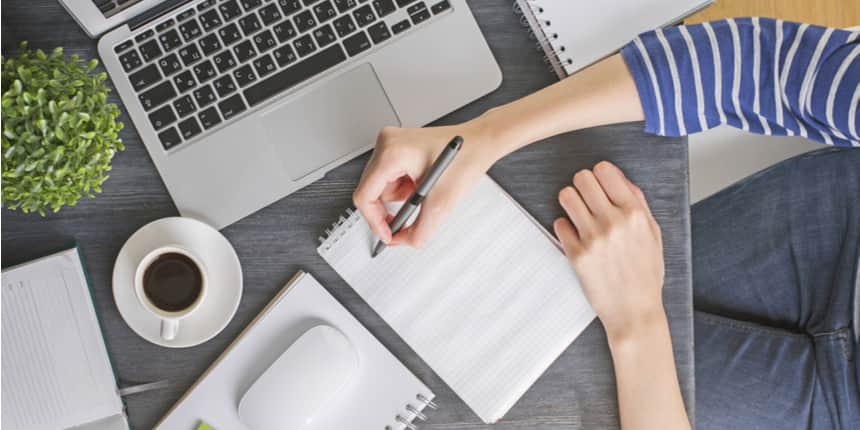 Those who are preparing for the IIFT entrance test since the past few months are almost on the edge of starting practising. What about those who are starting now? The question that bothers such candidates is how to start IIFT 2023 preparation? Well if you are looking for the answer, then you are in the right place. Careers360 brings to you some of the best tips on how to start IIFT 2023 preparation if you are an absolute beginner and giving IIFT entrance exam for the first time. Along with that, we shall discuss the paper pattern of IIFT 2023 and major topics which are to be covered. Indian Institute of Foreign Trade has given the responsibility of conducting IIFT 2023 to NTA.
Ongoing MBA Admission
| | |
| --- | --- |
| Great Lakes Institute of Management admission | |
| IMT Ghaziabad admission | |
| SPJIMR admissions | |
| BIMTECH admission | |
| LBSIM admission | |
The mode of exam will be computer-based as per the exam pattern of IIFT 2023. For the purpose of making a preparation plan, no matter how far the exam is, the foremost thing to be done is to be aware of the IIFT 2023 exam pattern. Details related to the exam duration, the number of questions asked, marking scheme and related information is provided in the IIFT exam pattern 2023. Given below exam pattern of IIFT 2023 is provided by the National Testing Agency.
IIFT Exam Pattern 2023:
Particulars

Details

Duration of IIFT 2023

120 minutes i.e. two hours

Sectional Time Limit

No

No. of Sections

Four

Quantitative Ability

Data Interpretation and Logical Reasoning

Verbal Ability & Reading Comprehension

General Knowledge & Current Affairs

Marking Scheme

⅓ marks are deducted for incorrect answers
Major Topics to be Covered as per IIFT Syllabus 2023
IIFT for the year 2023 is to be conducted in the first week of December 2022 as per the exam dates of IIFT 2023. Hence, to start the preparation, it is better for candidates to focus on the major topics first. Official IIFT syllabus 2023 is not prescribed by IIFT / NTA. However, on the basis of previous year questions, Careers360 has compiled major topics which are likely to be asked in IIFT 2023.
Major Topics
Sections

Topics

Quantitative Ability

Mensuration

P&C, Probability and set theory

Geometry and Mensuration

Algebra

Data Interpretation and Logical Reasoning

Coding/Decoding

Seating Arrangement

Mix graphs

Series and Analysis

Missing number

Selection

Input-Output

Matrix

Verbal Ability & Reading Comprehension

Spot the error

Match the column




Jumble words

Grammar

Analogy

General Knowledge & Current Affairs

Business and Economy

International Affairs

Books

Geography

Society

Politics

Literature
Best Study Tips on How to Start IIFT 2023 Preparation?
Given below tips must be referred by candidates if they are looking for the answer of How to Start IIFT 2023 Preparation. IIFT will be conducted in computer-based mode by National Testing Agency.
Time Management
Now that the candidates are aware that the IIFT 2023 will be of 120 minutes in which they have to answer four sections accurately, they should carefully plan their daily routine. Making a preparation plan will not be useful until you know how to do time management for IIFT 2023. Take a time frame of 30 days. Now divide the 30 days into three sections of 10 days each. Follow the given strategy -
For the first 10 days focus on making a base on the topics given above. Divide the 24 hours of a day and give 2.5 hours to each section

Do not sit to study at a stretch, take breaks of 15-30 minutes in between each section

For the next 10 days i.e. day 11 to day 20, revise the topics covered in the initial 10 days

If you think any topic is out of reach, do not think of it twice and let it go

Since you have little time, focus only on the strengths

For the remaining 10 days before the IIFT 2023, solve previous year paper and try to attempt more and more IIFT mocks
Note - Repeat this cycle each month until the exam month is close.
Choose the Right Set of Study Material
When it comes to MBA entrance exams, it is better to rely on quality books that have details of all the topics. Knowing the best study material for IIFT 2023 preparation will not only help in preparation but also increase the chances of success. Experts and toppers of IIFT suggest books by well credible authors like Arun Sharma, Sarvesh Kumar, Ajay Singh and others. Some of the books which can be referred by candidates are given below.
Section-wise Books:
Sections

Books

Quantitative Ability

Quantitative Aptitude for CAT/ XAT/ IIFT/ CMAT/ MAT/ Bank PO/ SSC Exam by Disha Publications

Quantitative Aptitude for Competitive Examination by Abhijit Guha

Data Interpretation and Logical Reasoning

Verbal & Non-verbal Reasoning by R.S. Aggarwal

Verbal Ability & Reading Comprehension

Pearson Guide to Verbal Ability and Logical Reasoning by Nishit K. Sinha

Verbal Ability and Reading Comprehension by Ajay Singh(Arihant Publications)

General Knowledge & Current Affairs

Manorama Year Book

Read newspapers like Times of India, The Hindu, Economic Time
Quick Link -
How to prepare for GK section of IIFT?
Follow Sectional Preparation Pattern
Moving on the ladder on the basis of given steps is more beneficial than jumping and falling straight down. Candidates while making a preparation plan and studying for IIFT 2023 should focus on all the four sections as the negative marking is equal for all.
Sectional Preparation Pattern for Data Interpretation and Logical Reasoning
Learn square roots, cubes and fractions up to 50

Try to avoid the calculator and use a mental calculation to save time

Practice charts, graphs, solve puzzles, Caselets
Sectional Preparation Pattern for Quantitative Ability
Solve basic arithmetic problems, binomial theorem, probability

Try finding easier and quicker ways of solving questions
Sectional Preparation Pattern for General Knowledge & Current Affairs
Check out the editorial section of chief newspapers

Read Lucent's, General Knowledge

Learn about International Affairs, trade policies of India and related information
Sectional Preparation Pattern for Verbal Ability & Reading Comprehension
Read one hour daily

Practice different reading comprehensions. At Least 5 a day and keep a timer while solving them

Add 10-20 words in your vocabulary on a daily basis
Quick Links -
Refer Previous Year Question Papers/ Give Mocks
The best way to answer the question "How to start IIFT 2023 preparation" is to refer to the sample papers of IIFT, previous year question papers. If you do not have access to these, then go for mocks. IIFT Topper Manan Shah who scored 99.94 percentile says take plenty of mock tests before appearing for IIFT entrance exam as this will be fruitful.
As mentioned earlier, devote the last remaining 10 days in solving more and more questions from either sample set, previous years paper or mocks. At a point, you will feel that no new type of question is appearing. Moreover, speed and accuracy will also increase.
Use Sticky Notes/Flash Cards
To memorize concepts, formulas, featured points, the easiest way is to write it down either on flashcards or sticky notes and stick them at a place through which it is always visible. Every time you will see the flashcard/note your mind will catch the word written on it. Add more pictures if you want it to look interesting and add colours of your choice. Try to break complex concepts into easier steps and make note of that to remember.
Quick Link -
Other Top Entrance MBA Exam
Questions related to IIFT
Showing 253 out of 253 Questions