IIFT 2021 - Section wise preparation strategy
IIFT Section-wise Preparation Strategy 2021 - Every year nearly 35,000 aspirants take the competitive exam of IIFT to get admission into esteemed campuses of Indian Institute of Foreign Trade across India. In order to crack the exam, it is essential to know the IIFT 2021 section wise preparation strategy. Do you presume that MBA entrance exams like CAT, XAT, IIFT all require the same preparation tactics? Well you may not be correct especially when it comes to IIFT, the reason being the variation in the number and sort of questions. The most dreaded additional section that comes into role here is General Knowledge and Current affairs. So you require supplemental drilling of your game plan in order to succeed. IIFT is an exam that tests how you manage your time and on the same hand perform under pressure. You need to focus on every aspect very carefully, especially section wise preparation strategy for IIFT 2021. The exam is conducted for admission into MBA(IB) at Delhi, Kolkata and Kakinada campuses across India. The screening at every step is meticulous and the final selection is not that easy. If you are an IIFT aspirant, this article will mentor you on how to prepare for every section of the exam. Before entering into a world of section wise preparation strategy for IIFT 2021, let us first analyze the IIFT exam pattern.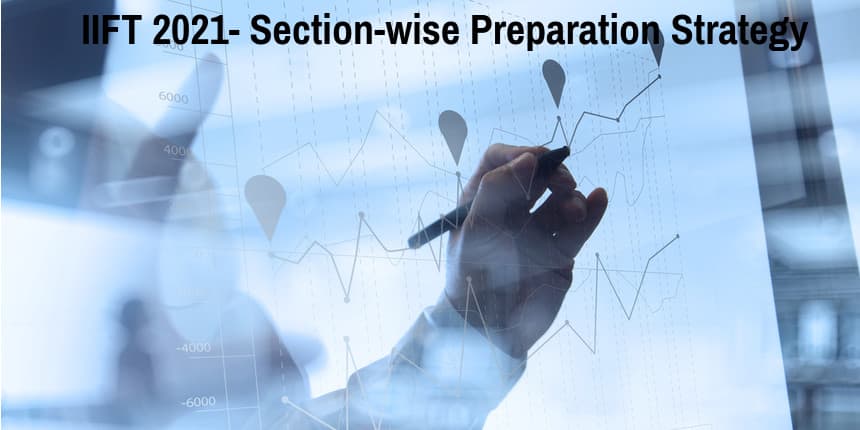 IIFT Exam Pattern 2021
As per the exam pattern of IIFT 2021, the test is supposed to consist of four sections namely, Quantitative Aptitude, Verbal Ability & Reading Comprehension, Logical Reasoning & Data Interpretation and General Knowledge. Also the number of questions and marking scheme varies from year to year. In IIFT 2021, the major change that was observed was that the test was conducted for the first time in online mode. Furthermore the number of sections were changed from six to four. Here you can go through the last year's pattern:
IIFT 2021 Exam Pattern
| | | | | |
| --- | --- | --- | --- | --- |
| Sections | No. of questions | Marks/question | Negative marking | Total marks |
| VARC | 35 | 3 | -3 | 105 |
| Quantitative Aptitude | 25 | 3 | -3 | 75 |
| DILR | 30 | 3 | -3 | 90 |
| General Knowledge | 20 | 1.5 | -0.5 | 30 |
| Total | 110 | | | 300 |
Also read previous year's exam analysis - IIFT 2020 exam analysis.
Tips for IIFT 2021 Sectional Preparation Strategy
IIFT is one of the atypical category exams which has different marking schemes for different sections in accordance with different questions of the same section. The cutoff marks (IIFT 2021 cutoff) vary from year to year. Generally the GK section every year manages to be on the lower side of cutoff.
Still the takeaway for the test-taker is to be vigilant and not go into the examination hall with some pre-judged notions. Despite what your strategies are, some of the essential aspects of the exam that you need to keep in mind before the preparation are :
Study from the right set of study material for IIFT.

Check the latest syllabus of IIFT before you start preparing.

Practice mock tests and download previous year's sample papers.

Make your own study notes and rely on them more at the end time even if you plan to join a coaching institute.
IIFT 2021 Section wise Preparation Strategy
IIFT exam has a peculiar structure and it consists of sections and sub-sections. Time management is the key to cracking this exam so make sure you devise a section/ sub-section wise strategy based on your strengths. Furthermore it also tests you on your speed and accuracy. Given below are some of the preparation strategies given section wise:
IIFT 2021 Section wise Preparation Strategy - Logical Reasoning and Data Interpretation
There will be equal distribution of the number of questions for both logical reasoning and data interpretation in this section. It is a practice intensive section.
Tips for data interpretation:
Practice pie charts, line charts, tabular graphs, bar graphs and combination graphs too.

Be well aware of the concepts of successive percentages and ratio and proportion as these concepts are used in most of the questions difference being that in a detailed way.

Try to do mental calculations while solving questions and learn the shortcut tricks.

Learn all the squares upto 50, cubes upto 30, fraction percentages till 30 and square roots till 50. This will help in saving your time instead of calculating each and every time.
Section wise preparation strategy - Tips for logical reasoning
Set a time while solving puzzles. Do not get stuck on a puzzle, hence ending up wasting your time.

You need to work extra hard on topics like seating arrangements both in a straight line and circular arrangements, distance and direction questions, blood relations, coding and decoding, statements and assumptions and conclusions. Further this is a section where you can expect from anything to everything.

Solve previous year IIFT sample papers and mock test series. This will expose you to a medley of questions helping you in knowing the level of questions-tricky, easy, seeming difficult and lengthy but quite easy.
IIFT 2021 Section wise Preparation Strategy - Quantitative Aptitude
This is a section where your proper choosing skill comes into roleplay. You need to spot and solve the easiest questions first as time management is so critical in the exam. Here are some of the key strategies that can help you ace this section.
Prepare the leading concepts of Arithmetic, Algebra, Trigonometry, Binomial Theorem, Probability, Permutation and Combinations and Geometry & Modern Math in a thorough manner.

Practice shortcut tricks.

Ace on mental calculation while preparing rather than using pen and paper each and every time. Remember using pen and paper only consumes your time and the exam will now be conducted in a computer based mode.

Attempt the questions in mock tests only for which you have 100 percent accuracy as the same strategy will make you ready for the main exam day.

Here you depend heavily on core concepts. For example if there is a question regarding 'Total curved surface area of sphere' in geometry, it might be kind of impossible to attempt it if you have no idea of what are the formulas and concepts of a sphere or hemisphere. So cram up all such formulas which are your saviour.
IIFT 2021 Section wise Preparation Strategy - Verbal Ability and Reading Comprehension
In almost all the competitive exams you are tested on your English language skills. This is because English is one of the mandatory requirements to enter into the business world keeping in mind all the aspects especially communication skills and proposal writing. A good hold of vocabulary and grammar concepts become your asset here. In order to crack this section, here are some of the top-notch strategies:
Refer to Made easy by Wren & Martin. Build your vocabulary and grammar by subscribing to daily one new word of English and its synonyms and antonyms. This way you will expand your vocabulary list in a good duration of time if started early.

Practice all types of RC's. Start with the short RC's and then switch to long RC's. There will be one RC for sure which is based on finance, business or economy or the MOU's between India and any other nation.

Go through all types of tones of the passage which you may have learned in your school time like acerbic, cynical, dogmatic, incendiary, humourous, romantic, ironical, nostalgic, etc. There is a regular pattern from years that the question on tone of the passage or tone of the author is asked.

In addition to this, in order to improve your RC section, always read the editorial section of some renowned newspapers. Highlight the words which you see for the first time. Make a note of them and revise and use them in your daily life on a regular basis.

Also one of the shortcut to understanding the vocabulary words is to learn the wide range of prefixes and suffixes.
IIFT 2021 Section wise Preparation Strategy - General Awareness
It is advisable to solve this section at the end as it will consume very less time of yours. But in order to be a pro in this section you should know all the answers beforehand. This can only happen if you start brushing up your GK from an early phase. Read newspapers, current affairs, monthly magazines and watch business news. In order to prepare for static GK, refer to Manorama year book and Lucent's GK.
IIFT Mock Test
Mock tests form an essential part of preparation strategy. Toppers (Check IIFT 2020 Toppers Interview ) recommend that you solve at least two to three mock tests in a day along with analysis of the papers so that you can assess your strengths and weaknesses. This will also help in improving your speed and accuracy when you solve the questions in real life. The more mock tests you attempt, the more adept you become on D-Day.
Thus if you go into overdrive keeping these IIFT 2021 preparation strategies in mind, you are bound to come out in a winner's list.
Questions related to IIFT
Showing 188 out of 188 Questions