How IIM Calcutta Students Cracked PI WAT Rounds?
How IIM Calcutta Students Cracked PI WAT Rounds? - Deciding to move onto a mountain even after knowing that it will be laborious is challenging. Similarly cracking CAT and moving onto the next selection stages is onerous. All candidates who clear CAT successfully aim for IIM A, IIM B, or IIM C as their first preference. But not everyone can crack the PI WAT rounds of these A, B, C IIMs. Hence, in this article of How IIM Calcutta Students Cracked PI WAT Rounds? Careers360 brings to the future aspirants the tips and tricks on how to crack PI WAT rounds. Along with that link of interview experience of selected candidates in IIM Calcutta is also provided for detailed information. CAT is a national level exam and for the year 2020 was conducted by IIM Indore. Since CAT 2020 is around the corner, hence it is imperative for candidates to be prepared for further stages of admission.
Stay up-to date with CAT News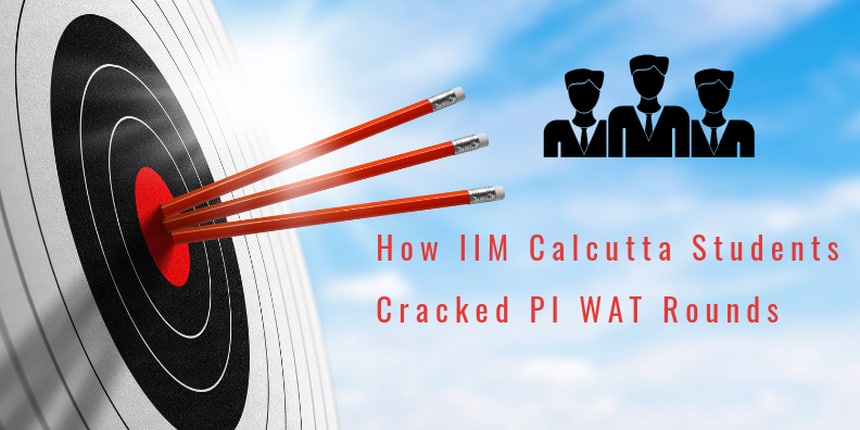 Ongoing MBA Admission 2022
Exam Dates of CAT 2020
All candidates who will be appearing in the IIM admission criteria 2021-2023, must be aware of the CAT 2020 exam dates. Details pertaining to exam, result, cutoff, the start of selection are all provided under the exam dates of CAT 2020. The table below updated accordingly.
CAT Exam Dates 2020
| | |
| --- | --- |
| Events | Dates |
| CAT 2020 | November 29, 2020 (Sunday) |
| Declaration of Result 2020 | Second week of January, 2021 |
| Commencement of Counselling | March-April, 2021 |
After the announcement of IIM admission criteria shortlist, selected candidates put emphasis on revamping their communication and soft skill abilities. Before moving straight onto how to crack PI WAT rounds, let us first look at the IIM Calcutta's selection procedure. IIM Calcutta keeps it simple in terms of its selection procedure.
Selection on the basis of CAT 2020 exam scores

Shortlisting for PI WAT rounds

Final merit list declaration
Let us look at each step one by one
In order to be a part of PI WAT rounds of IIM Calcutta or any other IIM, candidates need to clear CAT 2020 with a good score. For the year 2020, IIM Indore has conducted the CAT 2020 exam on November 29.
Shortlisting for PI WAT Rounds
On successfully clearing CAT 2020, candidates will be called upon as per IIM Calcutta Admission Criteria. Usually, IIM Calcutta conducts a Writing Ability Test (WAT) followed by a Personal Interview (PI). However, last year due to COVID 19 pandemic, WAT component was scraped off from the final selection criteria.
Declaration of Merit List
As per topper Palash Godbole who made it to IIM Calcutta, Apart from WAT-PI and CAT, candidate's final selection in IIM Calcutta is based upon their performance in work experience and academic diversity as well.
Weightage Given By IIM Calcutta
| | |
| --- | --- |
| Components | Weightage |
| CAT 2020 Score | 30 |
| Personal Interview (PI) | 48 |
| Written Ability Test (WAT) | 10 |
| Academic Diversity | 04 |
| Work Experience | 08 |
IIM Calcutta Admission Criteria 2021-23 (Expected)
Coaching or Self Study - How IIM Calcutta Students Cracked PI WAT Rounds?
Let us look at what some previous year CAT 2019 toppers who made it to IIM Calcutta have to say on coaching or self study for cracking PI WAT rounds.
Palash Godbole who started his preparation in mid-December for PI WAT rounds says that he had enrolled himself with a coaching institute for mock PI and WAT practice and also took help from his seniors and friends.
For Writing Ability Test (WAT), he followed some online forums wherein essays on various topics were given. He used to write down an essay on any one topic on a daily basis. For him, writing the essay should be divided into three parts and personal ideas should be in sync with the given topic -
Introduction of the given topics

Pros, cons, illustrations of the given topic along with a little introduction

Conclusion
For Personal Interview, the focus should be on five areas namely -
Academics

Work experience

Current affairs

HR questions

Extra-curricular as well as co-curricular activities
Note that for PI, attending mock Personal Interviews are of utmost importance. Candidates must try to analyze the interviewer's feedback and rectify the mistakes.
Madhuporna Pal Who Made it to IIM-C, says that she attended the mock GD sessions, practised WAT regularly since December. She also took mock interview sessions and utilized the feedback in improving herself. Madhuporna Pal thinks that it is important to introspect yourself and build your own unique strategy in order to excel in PI round of IIM Calcutta.
CAT 2019 Topper Sanjana Rout, says that talking to people/seniors with similar interests is beneficial to crack the Personal Interviews. She attended some briefing sessions at TIME and IMS. Also took part in mock personal interviews to know where she was going wrong and corrected the same by working on the weaknesses.
How to Handle a Situation if you don't Know the Answer? - How IIM Calcutta Students Cracked PI WAT Rounds
As per the IIM Calcutta students, in a situation where one does not know the answer to any specific question or given topic, it is better not to bluff and admit it honestly rather than playing. Remember that the interviewers are very experienced in their job and can easily analyze your answer. However, if you have a little knowledge then you can make an educated guess and not a random one. In case of no knowledge, clearly say you do not know.
Do's and Don'ts - How IIM Calcutta Students Cracked PI WAT Rounds?
Candidates who will appear in IIM Calcutta's PI WAT rounds can check the major dos and don'ts they need to follow if they get shortlisted -
Do's
| | |
| --- | --- |
| S.No. | What to do in PI WAT Rounds? |
| 1 | Structure time distribution beforehand i.e. at least 3 paragraphs: introduction, body and conclusion |
| 2 | Maintain legible and neat handwriting |
| 3 | Add some examples or illustrations |
| 4 | Finish 2 minutes in advance to proofread your essay before submitting and avoid grammatical errors |
| 5 | Give exact data and mention its source |
Don'ts
| | |
| --- | --- |
| S.No. | What to do in PI WAT Rounds? |
| 1 | Do not exceed the word count/limit |
| 2 | Avoid scribbling |
| 3 | Avoid writing hastily (Without structuring in advance) |
| 4 | Avoid experiences/writing stories |
| 5 | Do not submit before proofreading your content |
Interviewer Panel - How IIM Calcutta Students Cracked PI WAT Rounds
As per most of the students who appeared in PI WAT rounds, the panel who takes the interview is friendly. People usually have this misconception that interviews at IIMs are about Q&A sessions. However, in reality, panellists want to have one on one conversation and want to know candidates. The interviewers at IIM Calcutta will keep the interviewees on their toes. The panel usually has 2-3 members who are polite and allow candidates to think and answer.
Quick Links -
How to crack GD PI WAT rounds of top B-schools
Tips To Ace Personal Interview
Fascinating Questions - How IIM Calcutta Students Cracked PI WAT Rounds
Topper Sanjana Rout says that she was asked a question which she never anticipated. The question that was asked by IIM Calcutta panel was "If you could be any item in a kitchen, what would you like to be?" As compared to other B-Schools, IIMs put more emphasis on academics and try to get to know students better.
Palash Godbole who appeared in IIM Calcutta's personal interview in online mode has only two interviewers in the panel. For him, the panel was very amicable and raised questions related to hackathon idea, academic background. The panel at IIM Calcutta was ready to listen to the answers in a steady manner.
"I was asked to defend the stance of Mata Sita for wanting the GOLDEN deer (golden is the keyword here) in Ramayana," says Madhuporna Pal who will join IIM Calcutta this year.
Questions related to CAT
Showing 8255 out of 8255 Questions