How to crack XAT 2023 in first attempt
How to Crack XAT 2023 in the first attempt? - Before starting preparation for any competitive exam, it seems for everyone that it's not their cup of tea to crack that particular exam in the first attempt. But, on the other end, it becomes a cakewalk for one to crack the exam only in the first attempt and this is the preparation strategy that makes them ace the exam in the first attempt.
Latest Updates for XAT
04 Nov 2022:

XLRI Jamshedpur will close XAT 2023 registration on November 30. Apply now!

02 Sep 2022:

Click here to check top XAT 2023 scores accepting colleges.

25 Aug 2022:

Check eligibility for XAT 2023 registration and list of top MBA colleges accepting XAT score.
Stay up-to date with XAT News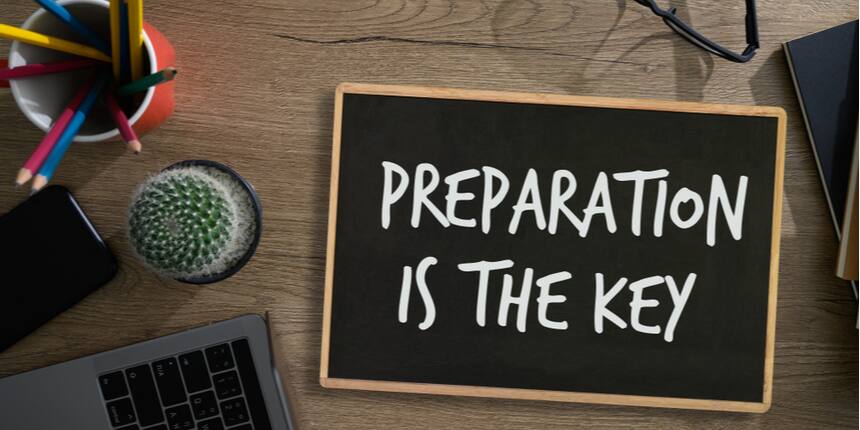 XAT preparation is not that much different from CAT. However, the question paper of CAT is more difficult considering the syllabus and exam pattern of CAT, one needs to manage their time in the right way during the exam. In this article of Careers360, we have shared some basic and important tips to ace XAT in the first attempt. Read the full article to know how to crack XAT 2023 in the first attempt.
Here are some preparation tips to crack XAT 2023 on the first attempt.
Having a good understanding of the syllabus and pattern of the exam - XAT, being one of the tough MBA entrance exams, requires hard work and dedication. To crack XLRI's entrance exam in the first attempt only, it is necessary to start preparation six to seven months prior to the XAT 2023 entrance exam. To start their preparation from a good point, aspirants should clearly understand the syllabus and pattern of the exam they are going to attempt on the exam day.

Syllabus of XAT 2023 - This year, XAT will be comprised of only one paper which would consist of objective or Multiple Choice Questions (MCQs). The questions will be asked from the four sections, namely- Verbal and Logical Reasoning, Decision Making, Quantitative Ability and Data Interpretation and General Knowledge.

Pattern of XAT 2023 - The exam pattern of XAT will specify the number of questions section-wise as well as the total time duration. The exam will be comprised of 26 questions of Verbal and Logical Ability section, 22 questions of Decision Making section, 27 questions of Quantitative Ability and Data Interpretation and 25 questions of General Knowledge. The time allotted for the exam is 130 minutes and there is no sectional time limit this year. As per the marking scheme this time, one mark will be awarded for each correct answer and 0.25 marks will be deducted for each wrong answer and 0.1 marks will be deducted for more than 8 unattempted questions.
The benefit of getting well-versed with the syllabus and pattern of the exam is that the candidates become capable enough to practice and prepare for the exam in a regular manner.
Emphasize important topics - Aspirants should more emphasis on those topics specified in the XAT syllabus. Here, from the important topic, we mean the topics in the section which cover a major part of a particular section. Focusing more on important and high-weightage topics would lead you to score more.

Make effective use of online platforms - Nowadays, online available classes, test series, and study materials have become the panacea. Hence, students should go for online classes for effective preparations if they are preparing by themselves at home for the exam and not going to physically established coaching centres. Aspirants may join online study groups as well and can find a mentor to guide them throughout the preparation.

Take mock and sectional tests - Without any doubt, it can be stated that mock tests are a must to crack any competitive exam. Therefore, students should dedicate plenty of their time to taking mock tests and analysing them as it would allow them to assess their growth during the preparation.

The magic of note-making - Regular, precise and good note-making proves to be the most effective weapon at the last minute of preparation. Aspirants should start making notes from various resources, from the very start of their preparation. Mostly, note-making plays a vital role to ace the general knowledge section and aspirants must inculcate the habit of note-taking on a daily basis from various sources like newspapers, monthly magazines, etc to strengthen their General knowledge.

Practice from previous year papers - Aspirants, may go for practising previous year's papers to get an idea about the questions of easy, moderate, and difficult level questions asked in XAT.
XAT 2023 section-wise preparation strategy tips by toppers
Vandan Shah, who belongs to Surat, Gujarat scored 99.7 percentile in XAT 2020. In an interview with Careers360, Vandan shares his section-wise preparation strategy. He says "I practised a lot from past years XAT question papers. Apart from that, regularly giving the mock tests helped me to decide on how much time I need to allot to each section". Here is Vandan's section-wise XAT preparation strategy.
For VARC - This section is a tad tougher than other exams and a lot of questions are inference based as you can see from the past year's trends. So the key is to devote some quality time while reading passages and comprehend them well.

For QA and DI - This section is pretty much similar to other exams like CAT, so just practising questions can help you get the job done.

For DM - This is a make-or-break section for me. I regularly solved past year's papers and analysed how my thinking was different from or aligning with the answer key.
Recommended Study Material for XAT 2023
While preparing for XAT 2023, candidates can refer to the below-provided books suggested by experts and toppers. Check section-wise XAT preparation recommended study material.
Best Books for XAT QA & DI
Quantitative Aptitude for Competitive Examinations by R.S. Aggarwal

How to prepare for Data Interpretation by Arun Sharma

Quantitative Aptitude for Competitive Examinations by Abhijit Guha

Data Interpretation for the CAT by Nishit K. Sinha
Recommended Books for XAT 2023 VA & LR
Verbal Ability and Reading Comprehension by Ajay Singh

A Modern Approach to Verbal & Non-Verbal Reasoning by R.S. Aggarwal

Analytical Reasoning by MK Pandey

Word Power Made Easy Book by Norman Lewis

High School English Grammar & Composition by Wren & Martin
Best Study Material for XAT DM Section
Analytical and Logical Reasoning by Arihant Publications

Target XAT 2023 (Past papers & Mock tests) by Disha experts

Jabbing the XAT (with solved papers) by R.K Jha
XAT 2023 General Knowledge Preparation Material
For the General Knowledge section, candidates need to focus on History, Geography, Politics, Science and Technology etc. Candidates can also read magazines, newspapers and journals while preparing for the XAT General Knowledge section.
Questions related to XAT
Showing 1038 out of 1038 Questions