Funding your MBA: Know all about MBA Education Loan options
Know all about MBA Education Loan options- As the time draws closer for offer letters from B-schools to arrive after GD/PI rounds are conducted and the results get announced, several MBA aspirants cringe and back out while making the investment of their lifetime in B-schools because of their skyrocketing fees. For example, MBA admission in India could be anywhere between Rupees 5 to 20 Lakhs – an amount high enough to get students thinking and plan their finances. But money isn't something that should stop anyone from getting into their dream B-school, and that's why it's time to turn that dream into a reality through an education loan.
Latest: Know all about MBA course if you are planning to take admission in MBA.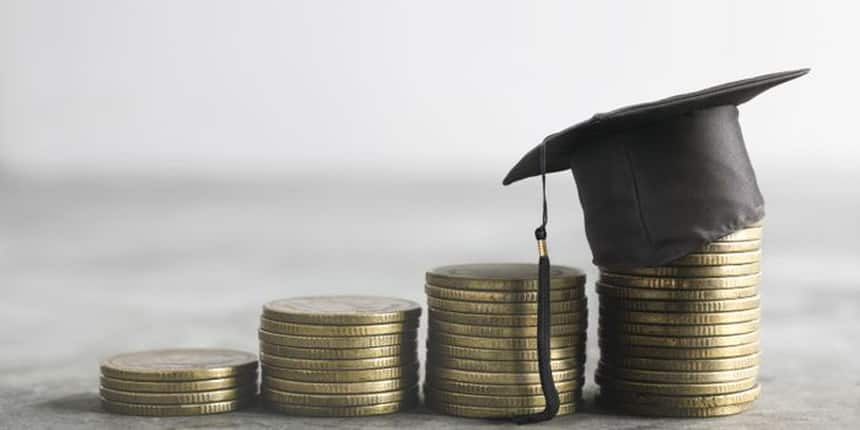 Interestingly, Hari, whose father is a farmer and cannot afford a pricey MBA admission for his son, has found a solution to his distress. After getting calls from top B-schools, Hari was initially in two minds about going for MBA admission because he lacked the funds. Thanks to education loans offered by banks and financial schemes of the government and another private sectors, that bright students even from low-income families like Hari can achieve the desired independence and fund their education.
Today, loans for MBA admission are available with almost all major banks. Some banks even have tie-ups with some of the premier institutes. These banks offer the students a special rate of interest which is normally lower than the market rate of interest. You might feel a little apprehensive that education loans are complicated monsters. But worry not. This article on Know all about MBA Education Loan options by Careers360 will spell out all the basics of an MBA admission, the various education loan options, top MBA loan providers and the steps to avail the education loan from various nationalised and private banks for MBA admission. During your 'free-time' after you're done with MBA admission decision and are awaiting your offer letter anxiously, make use of this in-between time to research thoroughly about education loan options.
MBA Education Loan Eligibility
One can avail an MBA admission education loan if s/he is an Indian citizen and has documentary proof of having secured a confirmed admission to the course. It should be kept in mind that most lenders give a loan to individuals in the 16-35 years age group.
To get a loan for MBA admission is a way easy if one gets admission in top management colleges like IIM (Indian Institute of Management), IIT (Indian Institute of Technology), FMS (Faculty of Management Studies) Delhi, XLRI Jamshedpur, SPJIMR Mumbai and few others. In such cases, some private banks and Education loan providers like Credila and Avanse might even call the students themselves. The contact details of students are often shared by the institute with the banks and loan providers they collaborate with. This makes it easier as the bank may sometimes come to the customer's doorstep to carry out the loan processing formalities for MBA admission.
Expenses covered under Education Loan
Candidates have to encounter with various expenses during the course of MBA admission other than just the tuition fees. An education loan covers 100 per cent of the basic course fee. Usually, the bank may also cover other related expenses while granting a loan, like:
Fee payable to college (tuition fee) and hostel (accommodation)

Examination, Library, and Laboratory fee

Books, types of equipment, instruments and other study material

Caution deposit, building fund, refundable deposit supported by Institution bills or receipts.

Travel expenses, passage money for studies abroad

Purchase of Laptops, computers-essential for completion of the course

Any other expenses required to complete the course- like study tours, project work, thesis etc.

Even the cost of a two-wheeler is covered as part of an education loan by leading banks.
One of the loan schemes provided by State Bank of India (SBI), called SBI Global Ed-Vantage Loan Scheme, gives loan to students ranging from Rs. 20 lakhs to Rs. 1.5 crore with 9.5 per cent to 10 percent interest rate. Under the SBI Global Ed-vantage Scheme, one may get 90 per cent coverage for expenses such as tuition fee, admission fee etc. and the remaining 10 per cent should be borne by them.
Top 5 simple tips to secure a loan
First of all one need to calculate their expected expenses
Compare loan from different banks
Search for cheapest MBA loan
Pay interest during course period
Opt for shorted repayment period
Documents required to Apply for MBA Admission Education Loan:
Loan application in bank's format

Proof of admission to the course

Passport size photos

Address and age proof if you are not an existing bank customer

Copies of mark sheets in the qualifying exams

Schedule of expenses for the course (course prospectus where the course fee is mentioned)

Statement of Bank account for the last six months of borrower/co-borrower

Income tax assessment order not more than two years old (student's or parents')

A brief statement of assets and liabilities of the borrower.
Top Education Loan Providers in India for MBA Admission
S.No.

Bank Name

Max. Loan Amount (in Rs.)

Interest Rate

Repayment/Payback Tenure

1

State Bank of India

Upto 30 Lakhs for top IIMs and top-rung institutes

9.35%-10.70%




*Girls will have 0.50% concession

7 to 12 years

2

Oriental Bank of Commerce

Upto 25 Lakhs for Category A institutes, Upto 10 Lakhs for Category B institutes

10.25% to 10.75%




*Girls and SC/ST category students will have 0.50% concession




Upto 15 years

3

Allahabad Bank

Upto 20 Lakhs depending on the institute

For IIMs: 8%,

Others: 10%




7 years

4

Bank of Baroda

10Lakhs, upto 20Lakhs for premier institutes

10.5% to 11.5%

*Girls will have 0.50% concession

Added concession of 1.00% for students of premier schools (IIM, IIFT, XLRI etc.)

5 years

5

Canara Bank

Upto 20 Lakhs

10.65%

10 to 15 years

6

Axis Bank

Upto 10 Lakhs

15%

*Girls will have 0.50% concession

7 years

7

Punjab National Bank

Upto 20 Lakhs

8.15% to 8.75%

10 to 15 years

8

IDBI Bank

Upto 20 Lakhs

9.7%

10 to 15 years

9

Avanse DHFL

Upto 10 Lakhs

11.5%

10 years

10

UCO Bank

No ceiling

10.60%

10 to 15 years

11

ICICI Bank

Upto 10 Lakhs

As decided by bank upon amount usage.

*Girls will have 0.50% concession

5 to 7 years

12

HDFC Bank

Upto 10 Lakhs

14.50%

15 Years

13

Union Bank

20 Lakh

10.25%

15 Years

14

Bank of India

Upto 30 Lakh

9.95% to 10.45%

*Girls will have 0.50% concession

10 to 15 years

15

Central Bank of India

30 Lakh

9%

*Girls and SC/ST candidates will have 0.50% concession

15 years
Note: The names of the banks have been arranged in random order. The interest rate keeps changing. Candidates are suggested to check with the bank to know the exact interest rate before applying.
IIM Sambalpur Bank Contact Details for Education Loan Purpose for MBA 2020-22
S.No
Bank Name
Contact Person
Contact Number
Email ID
1
State Bank of India
Chief Manager, SBI Branch Burla, Sambalpur
8763451735,
9674719922
sbi.02034@sbi.co.in
2
Union Bank of India
Mr. Mukesh Kumar Dewangan, Ms. Nibedita Bal
9981545454,
9861633487
pmo.sambalpur@unionbankofindia.com,
mukesh1.durg@gmail.com
burla@unionbankofindia.com
3
Bank of Baroda
Mr. Gourab Haripal
7328803810
credit.sambalpur@bankofbaroda.co.in
4
Punjab National Bank
Mr. Pabitra Kumar Sahoo
9692265577
cosbpmtk@pnb.co.in
5
Central Bank of India
Mr. Suman Kumar Senapati, Soumendra Kumar Sahoo
9778516622,
9439193473
creditsambro@centralbank.co.in
marketingsambro@centralbank.co.in
6
Canara Bank
Chief Manager, Sambalpur Branch
7605009218,
7605009237
cb0185@canarabank.com
7
HDFC Bank
Mr. Debabrata Mishra
7504963538
debabrata.mishra@hdfcbank.com
8
Axis Bank
Mr. Bikash Khatuna
9776910230
bikash.khatua@axisbank.com
9
ICICI Bank
Mr. Prabhat Nanda, Ramesh Sahoo
8328934338,
7328814845


MBA Education Loan financing and collateral requirement
On average, the MBA admission college fee and expenses in India are Rs. 12–18 lakh. It's easy to get a loan of Rs. 10 lakh or less in India as it gets quickly and easily sanctioned. The option that gives maximum loan at minimum fixed interest should be preferred. Normally for Rs. 10 lakh loan, the borrower will end up paying around Rs. 16 lakhs at 10 per cent interest rate. This means they will pay around Rs.17,000 every month for eight years after their post-graduation.
Banks can finance up to 100 percent of the loan depending on the amount of MBA admission Education Loan and the category of the institute. For most banks, there is no margin money required for an MBA education loan upto Rs. 4 lakh. For loans above Rs 4 lakhs up to Rs 7.5 lakh, a third-party guarantee is required. A collateral is asked for a loan exceeding Rs. 7.5 lakh.
However, State Bank of India's Scholar Loan for students of certain premier business schools (except Indian School of Business, Hyderabad), as well as the Central Bank of India's IIM scheme, does not ask for any collateral security.
Steps to Apply for an MBA Education Loan
Today, technology has made it very simple to apply for an education loan from anywhere in the country. If a candidate's bank allows online loan applications, then his loan is just a click away. Here is the procedure:
The student has to complete an online education loan application form.

Bank will follow up with the student and parents to answer questions.

A representative of the bank will visit the student's house and collect a signed application form with the supporting documents.

The student will provide a completed education loan application form with all the required supporting documents.

A credit team from the bank will review and underwrite the education loan application.

The bank will then approve the education loan or ask for any additional information required from the student's end.

Once the student's signature is obtained on the education loan agreement, all the loan disbursement formalities are completed.

The education loan amount is deposited in the required bank account electronically (student's or institute's, whichever is required).
Repayment of MBA Education Loan
Repayment of Loan for MBA Education starts one year after completion of the course or six months after securing a job, whichever is earlier. This relaxation period is termed as a moratorium. The repayment period is generally between five and seven years but can be extended beyond that as well, depending on the bank's terms and conditions.
Benefits under Income-tax Act - The borrowers of the education loan get an income tax benefit under Section 80(E) of the Income Tax Act of India.
Central Sector Interest Subsidy Scheme, 2009 on Model Education Loan Scheme (MELS) of IBA
Under this Scheme, Interest Subsidy is given to support students from Economically Weaker Sections (EWS) whose annual parental income is up to Rs. 4.5 Lakhs from all sources. This subsidy is given during the moratorium period i.e., Course period plus one year on MBA Education Loan taken from the Scheduled Banks under the Model Education Loan Scheme. This subsidy is allowed only once. The Nodal Bank is Canara Bank, Bengaluru. Some banks including the State Bank of Hyderabad and the Union Bank of India offer special rates of interests for girl students availing educational loans.
Vidya Lakshmi Portal
Vidya Lakshmi Portal is an education Loan Portal handled by NSDL e-Governance Infrastructure Limited, Mumbai. Under this, any student can have access to Education Loans. The Portal is linked with Scheduled Banks. Vidya Lakshmi Portal is a gateway to the Banks through which the student can proceed further with the education loan application and track it right from the inception stage of loan application to the sanction of the loan.
Also Read
No maximum cap on education loan disbursement, says Avanse Financial Services CEO Amit Gainda
Frequently Asked Question (FAQs) - Funding your MBA: Know all about MBA Education Loan options
Question: How much funding can I apply for?
Answer:
You can get a loan up to 100 percent of your cost of education.
Question: Can I apply for an education loan before admission to an MBA programme?
Answer:
Yes, most banks offer loan approval before your confirmed admission. This helps you show proof of funding for your admission.
Question: When do I have to start paying my Equated Monthly Instalment (EMI) for MBA education loan?
Answer:
EMI typically starts one year after completion of the course or six months after securing a job, whichever is earlier.
Question: What kind of collaterals are accepted for MBA Education Loan?
Answer:
Usually, for loans up to Rs. 7.5 lakh, you may not need to give collateral or security, but for loans above that, you will have to. A collateral need not only be a residential property. Lenders accept fixed deposits, insurance policies, National Savings Certificate and even Kisan Vikas Patra as collateral.
Question: Are there any banks offering concessions for women applicants of MBA Education Loan?
Answer:
Here's a list of banks offering concessions on MBA Loans for female students across the country.
HSBC's India Student Education Loan Program- Their education loans are "priced at a further discount of 50 BPS for female students in order to promote their education." The bank offers this as an additional discount on its interest rates to female students.

Central Bank of India's Cent Vidyarthi Program- For female students, they have lowered the base rate of interest for female students at 1.5 percent, as compared to two percent for male students.

Corporation Bank's Corp Vidya Program- The bank offers concession in rate of interest at 50 BPS for girl students.

Overseas Bank's Vidya Jyoti Program- They allows interest concession at 0.5 percent on all education loans to girl students for pursuing education in India and Abroad.

State Bank of India's SBI Student Loan Scheme Program- Like other banks, SBI also has a lower rate of interest for girl students at 0.5 percent.

Allahabad Bank's education loan- Rebate of one percent will be allowed under all the slabs for girl students.
Question: My father is a farmer and does not have the funds to pay for my MBA education. Are there any government schemes for education loans that cater to bpl or low-income background?
Answer:
The Government of India wants to ensure that nobody is denied professional education because he or she is poor. Indian Banks' Association (IBA) has formulated a comprehensive model educational loan scheme for adoption by all Banks.