CAT 2016 Topper Interview: CAT is about making right decisions within allotted time, says 99.54 percentiler Aakash Saxena
Aakash Saxena, a Mechanical Engineer by profession, used to work at an oil refinery when he started preparing for CAT. Despite his disruptive shift timings, he started taking 3-4 mock tests every week right from the beginning of his preparation and completely nailed it on the day of the exam. Aakash topped the CAT 2016 with 99.54 percentile and grabbed the admission offer from IIM Shillong. Aakash believes that candidates who want to discipline their preparation should join the coaching institutes. The topper also mentions that there is no need to build a routine around the preparation. Aspirants can fit their preparation into their existing routine.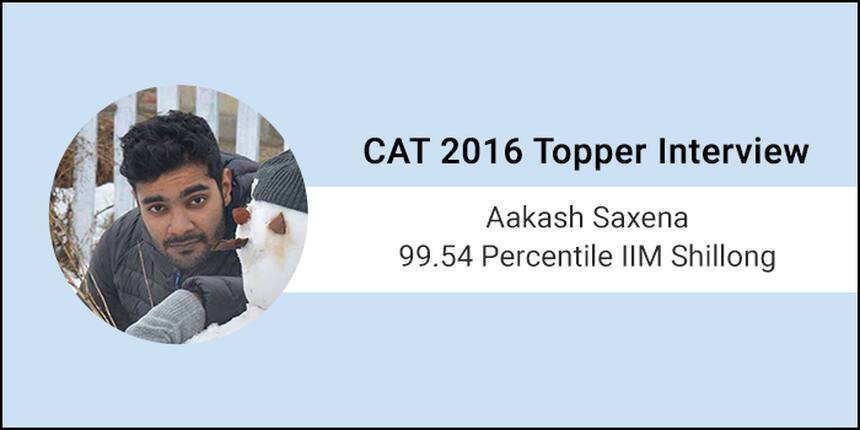 His success in CAT 2016 proves that one can crack the exam even if he/she is a working professional. In this interview with Careers360, he tells us how regular mock tests helped him crack country's one of the most competitive exams.
Recent Posts:
Read the full interview here:
Careers360: Congratulations on your admissions to IIM Shillong. What was your overall and sectional score in CAT 2016? Did you appear for any other entrance exam? If yes, please share the score.
Aakash: My overall score was 168.41 and the sectional score was as follows:
VA/RC (Verbal Ability/Reading Comprehension) - 86.34 (99.91 percentile)
DI/LR (Data Interpretation/Logical Reasoning) - 44.72 (98.54 percentile)
QA (Quantitative Aptitude) - 37.35 (93.83 percentile)
Careers360: Which was the most challenging and the easiest section in the test?
Aakash: The most challenging section for me was DI/LR. The questions in this section needed time to get solved. The trick was to pick the questions you think you can solve. The easiest section was Quant. The questions were not tricky at all. If you've got speed, you could solve them all in time.
Careers360: Please share your preparation journey. How did you strike a balance between your academic/professional life and preparation for an entrance exam?
Aakash: I finished writing the CFA Level 1 exam in June last year. So, I had about four months to prepare for CAT. Matters were more complicated for me as I was working in an oil refinery and had to work in different shifts every day. Shift timings were disruptive for the study schedule. I was very flexible in my preparation. I don't recall doing anything other than attempting mocks right from the start. I believe that mocks and strategically timed cups of coffee got me through.
Careers360: Were you a part of any coaching institute? Do you think coaching is necessary for aspirants to bag the top rank in CAT?
Aakash: I don't believe that one needs coaching to crack the CAT exam. Most of the people joining the coaching institutes are looking for discipline in their preparation. If a person feels more confident after joining an institute, they should go for it. I was comfortable preparing on my own, but I did enroll for a couple of test series.
Careers360: Please share your specific section wise strategy for VARC, DI & LR and QA.
Aakash: I was confident in the VARC section and my strategy was to attempt all the questions. I knew DILR was a make or break section. So, my strategy was to try the questions I was confident about solving. For QA, my strategy was to pray that there were less arithmetic and more geometry but that strategy bombed.
Careers360: How did you tackle the challenging sections and topics?
Aakash: There are no specifically challenging sections in the CAT exam. A candidate needs to understand that now, more than ever, CAT tests how you can make decisions under pressure within the time allotted. Even during the preparation period, there is no need to get fixated on a topic.
Careers360: What is the significance of mock tests in your success? When did you start taking mocks and what was the frequency?
Aakash: How do you prepare for a race? By running, right? Simply strengthening your legs won't get you there. Mock tests are the closest CAT simulation you are going to get. The goal is to crack the exam and not become an expert in solving time and distance problems. I began my preparation by taking 3-4 mock tests per week. I would take the exam on one day and then analyse it the next day.
Careers360: How did you get the mock tests analyzed and how did you modify your strategy after that?
Aakash: Most of the mock tests one would enroll for would provide a lot of metrics. The candidate's job is just to interpret those numbers and adjust his or her strategy accordingly. I used to focus on improving my accuracy and worked upon any section that brought it down.
Careers360: What was your time management strategy for section wise preparation vis a vis exam day?
Aakash: Once you have taken enough mock exams, you get tuned to a mental clock which sets off an alarm if you get stuck on a question. On exam day, I relied on that mental clock and it did not fail me. Since you could not proceed to another section unless the time allotted for a particular section was over, you were left to manage time within the section itself. That format could, of course, change in the next iteration of the exam.
Careers360: How did you utilize the features like calculator and non-MCQs in CAT?
Aakash: I used the calculator very sparingly, mostly in the DI questions. The non-MCQs are a double-edged sword. They seem tempting because there is no negative marking, but you don't have any benchmark to gauge the sanity of your answer. The moment I felt I was going nowhere with a non-MCQ, I would flee the scene like a murder suspect.
Careers360: Any suggestion that you would like to share with aspirants?
Aakash: You would be giving up a good chunk of a year to this exam, maybe even more. Try not to build a routine around your preparation but instead fit your preparation in the routine. Do the things that keep you motivated. Even though the stakes riding on CAT 2017 are high, the exam itself is not that tough. Do what most people don't; come up with a strategy and see it to the end.
Also Read
Stay tuned to bschool.careers360.com for more information on CAT toppers
Get real-time alerts on exam & colleges at your fingertips with Careers360 App!
Click Here to Install or Give a missed call on 08080944727 to get app link.
Questions related to CAT
Showing 9084 out of 9084 Questions