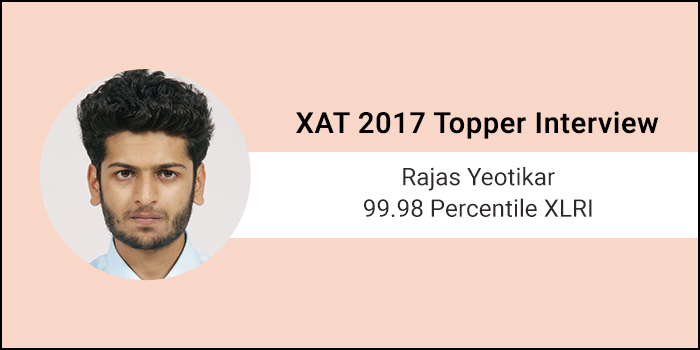 Rajas Yeotikar knew one thing when he started preparing for MBA entrance exams that regular practice and hard work are the keys to make it into country's leading management school – XLRI, Jamshedpur. He had appeared for multiple national level management entrance exams including CAT, XAT and SNAP. His hard-work finally paid off when the results were declared. He topped XAT 2017 with 99.98 Percentile and scored quite well in the other two exams as well. Rajas received admission offers from several institutes but he chose XLRI over other B-schools. 
XAT Sample Paper
Download Free Sample Paper for XAT
Download Now
Rajas' success story is an inspiration to all the working professionals who dream of studying in one of the best B-schools of the country. In this interview with Careers360, he tells us about his preparation strategies and how one should go about the entrance exam.
Read the full interview here:
Careers360: Congratulations on your admission to XLRI. What was your overall and sectional score in XAT 2017? Any other exam you had appeared for, please share the score for the same.
Rajas: Thanks! My overall percentile was 99.98 and the sections were well spread out too with 99.143 in quant, 99.928 in verbal and logical ability and 99.102 in decision making.
I appeared for CAT as well. That didn't go according to plan. I scored 98.37. I also appeared for SNAP and secured 99.986 in that.
Careers360: Apart from XLRI, which B-schools made final admission offers to you? Why did you decide to join XLRI?
Rajas: There were the newer IIMs, MDI, SIBM, SCMHRD and NMIMS but XLRI has a legacy and culture that is unmatched by any other B-school in India. I had heard of it before and after being here for three months, I can personally affirm of that statement. I was clear that I had to go to a B-School to learn and not to earn a tag of IIM. Thus, choosing XLRI over IIMs was quite easy, considering the work culture here at XLRI was very tough but very rewarding in the longer run.
Careers360: Please share your preparation journey. How did you strike a balance between your academic/professional life and preparation for an entrance exam?
Rajas: I am not a morning person by any means. So, I used to make sure that I stayed up till 3 or 4 am. I divided the subjects in such a way that I kept the interesting sections like quant and DI to study at night. Additionally, my seniors at the workplace were very co-operative and they were fine with me preparing, as long as I did the assigned work on time. During the later stages of my preparation, I took seven days off to focus on the preparation and gave as many mock tests as possible.
Careers360: What was your section-wise strategy for Decision Making, Verbal and Logical Ability, Quantitative Ability and Data Interpretation (QA & DI)?
Rajas: Verbal is something that requires a lot of practice. The one process that I followed for reading comprehension was having a crystal clear reasoning in my head regarding why I was marking that answer. If I got it wrong, I checked the solutions to figure out what thought process I should have had. For quant, I kept my focus more on the concepts and the short-cuts. It's more about knowing the shortest method possible rather than just trying to find out the answer. For Decision-Making, past question papers would be of a lot of help. For DI, I worked a lot on my calculation speed and math tricks by looking for innovative ways online.
Careers360: How did you prepare for XAT's exclusive sections - Decision Making and Essay Writing?
Rajas: Decision making is the one section that makes or break for XAT. The one issue with this section is that you don't get this in any other exam. Additionally, the questions in this section are quite tricky. Thus, the best way to prepare for them is to solve tons of previous years' questions of this section and tally it with the official answers of that year. Understand the thinking behind the answers from the answer keys. There are two criteria that can usually help you crack those questions - "ethics" and "stakeholders". Just try to think of an ethical solution satisfying most stakeholders and you should be fine.
For the essay section, there is no other way to prepare than writing essays regularly. One page crisp essays with proper formatting and good vocabulary only come with regular practice. Try to think of possible topics with the current trending news and have your opinions on it. Whilst reading the newspaper, think about your opinion on a particular news. Also, think about the points in favour and opposition of that news. This thinking process develops with time and can help you a lot, not only in essays but also in GDs and personal interviews.
Careers360: Mention section-wise books and study materials you had referred.
Rajas: As far as study material is concerned, I feel if done properly, the material from your coaching classes should suffice. For me, all I solved was the study material provided by T.I.M.E. along with tons of online mock tests. Eventually after a certain threshold, once you've got a hold of concepts, the only thing that can help you is the mock tests.
Careers360: Did you join any coaching institute? According to you, what is the significance of coaching for aspirants to bag the top rank?
Rajas: Yes. I joined T.I.M.E, Indore. I don't think coaching is necessary for aspirants in any way to bag a top rank. However, it helps you become a bit more sincere about the exam. When you see people around you, you get to know the kind of competition you are getting into. Additionally, you always have someone to solve your doubts whenever you need. But, if you are confident about concepts, you can always skip the coaching classes and prepare on your own.
Careers360: What is the significance of mock tests in your success? When did you start taking mocks and what was the frequency?
Rajas: Mock tests are perhaps the most important part of your preparation process. It gives you a context of where you stand. It also helps you figure out the areas in which you need improvement. I started giving mocks 6 months before the actual exam, but at a lesser frequency of about once in two weeks. Once the exams started getting closer, I tried to give mocks at least on alternate days to keep the flow going.
Careers360: What was your section-wise time management strategy on the exam day?
Rajas: I was very confident of my verbal sections, thus it was the one I attempted first as quickly as I could. I gave ample time to decision making considering the fact that if you keep it at the end, you are bound to make mistakes. Quant is something that can fetch you marks even if you have assigned it the fewest time of the lot. So, I gave 45 minutes to quant, about 50 minutes to Decision making and verbal each, whilst using the rest of the time to figure out the questions that I had left in the first reading of the paper.
Careers360: XAT exam was conducted in a computer-based mode for the first time. What are your thoughts on it?
Rajas: Computer-based tests are a bit of a double-edged sword. While you save time that you would spend marking in the OMR sheet, you don't have the advantage of underlining passages or solving quant questions on the paper itself. Thus, you need to get used to it.
Careers360: Apart from the regular classes, projects and assignments, which are the other non-academic activities you are involved in? Share your experiences about them.
Rajas: Currently, I am the Junior Executive Member of Axiom - the operations club of XLRI. So, I am working for the events of this club. Besides that, I took part in the Fresher's GK quiz here and stood second. I also took part in the BM vs HR cricket match. It has been a fun experience here at XLRI and I really mean it. Now, I know why the alumni swear by the chant "XL Meri Jaan, XL Meri Jaan".
Careers360: How has your journey been at XLRI so far?
Rajas: The life at XLRI has been tough, but fun. We have had a lot of assignments and a lot of late night working, but the learnings that we have got out of it are immense. It all becomes a lot easier with the companionship of awesome people around you. After a while, with the XLRI culture taking over, it feels less like a college more like a family.
Careers360: Any suggestion that you would like to share with aspirants?
Rajas: Just keep it simple with the preparation. Eventually, it's all about solving as many questions as you can within the time constraint. So, just clear out your basics for quant, prepare a lot for verbal and give lots and lots of mock tests. And the most important part, keep believing. Good luck to XAT 2018 aspirants!
Also Read