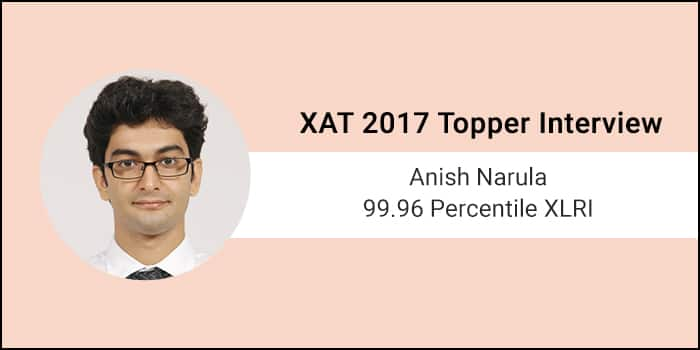 Anish Narula simply believes that entrance exam is nothing but the test of one's temperament. If you're preparing for an exam, simply keep your cool on the exam day and everything else will be fine. He followed the same advice during his preparation journey and of course on the exam day as well. And, when the result of XAT 2017 was out, he was one of the XAT toppers securing 99.96 Percentile. He grabbed the admission offer from XLRI, Jamshedpur and has begun his dream journey of studying at one of the finest management schools in the country. Apart from XAT, Anish also appeared for CAT 2016 and scored 98.15 Percentile.
XAT Sample Paper
Download Free Sample Paper for XAT
Download Now
Anish's result in XAT 2017 shows that temperament along with other factor's such as previous year's papers was the real key for success at entrance exams like  CAT. In this interview with Careers360, he tells us how he kept his cool during the entire preparation journey and other preparation tips.
Read the full interview here:
Careers360: Congratulations on your admission to XLRI. What was your overall and sectional score in XAT 2017? Did you appear for any other entrance exam? If yes, please share the score.
Anish: Thank you so much for your wishes. My overall percentile in XAT 2017 was 99.963. Here is my sectional score: Quantitative Ability (QA) – 98.898, Verbal and Logical Ability (VLA) - 99.646 and Decision Making (DM) - 99.686. 
I also appeared for CAT. My overall percentile in CAT 2016 was 98.15.
Careers360: Apart from XLRI, which other B-schools made admission offers to you? Why did you decide to join XLRI? 
Anish: I was offered admissions from IIM-S, IIFT and NMIMS but I decided to join XLRI as it's an old and very much established institute and recognised all over India.
Careers360: Please share your preparation journey. How did you strike a balance between your academic/professional life and preparation for an entrance exam? 
Anish: Entrance exams are a test of your temperament. It is very important to keep your cool during the preparation. I took a break from my job to prepare for entrance exams. So, it wasn't an issue for me.
Careers360: What was your section-wise strategy for Decision Making, Verbal and Logical Ability, Quantitative Ability and Data Interpretation (QA & DI)? 
Anish: DM and verbal were my strong areas. So, I spent more time on solving all the easy and medium-level questions in these sections. During the exam, one thing I ensured was to solve as many questions as I could.
Careers360: How did you prepare for XAT's exclusive sections - Decision Making and Essay Writing? 
Anish: DM is technically just a different type of RC (Reading Comprehension). If you are good at RC, DM shouldn't be a problem. Solve previous years' problems on DM to get a hang of it.
Careers360: Mention section-wise books and study materials you referred during XAT preparation. 
Anish: Previous years' question papers are your best bet. Also, solve CL's or TIME's test series if you feel the need. If you are weak at verbal or RC or DM, go for CL's night classes. Gejo Sir's lectures are very helpful. And, look at the way he solves the paper. He has a few videos on YouTube as well. Go through them as well.
Careers360: Were you a part of any coaching institute? Do you think coaching is necessary for aspirants to bag the top rank? 
Anish: It completely depends on an individual and how confident he/she is. In my opinion, test series are very important. I enrolled for XAT night classes by CL but hardly attended any lectures apart from Gejo's sessions on Verbal and RC.
Careers360: What is the significance of mock tests in your success? When did you start taking mocks and what was the frequency? 
Anish: I think mocks help a lot in devising an exam strategy which is the key for cracking such exams. I started taking mocks a week after my CAT exam. This helped me analyse my weak areas and plan my preparation. I used to solve one mock test every week.
Careers360: What was your section-wise time management strategy on the exam day? 
Anish: I divided the exam time into three slots and kept a buffer of 10 mins. It all depends on your strengths and weaknesses. Try to capitalise on your strengths and ensure you get above 90 percentile in all sections.
Careers360: This year, XAT exam was computer-based for the first time. What are your thoughts on it? 
Anish: The mode of exam hardly makes any difference. Just keep your cool during the exam and practice a lot before that
Careers360: Apart from the regular classes, projects and assignments, what other non-academic activities you were involved in? Share your experiences about them. 
Anish: I was involved in organising the technical festival of my college. All these things don't help you directly in cracking the interview but you have many instances which you can share with the panel during an interview. So, being involved gives you exposure which is always helpful. 
Careers360: How has your journey been at XLRI so far?
Anish: I am not sure about other B-schools but life at XLRI is no child's play. The first term is the real test of your mettle. It makes you redefine your limits. It's no bed of roses. It prepares you for what lies ahead, the corporate world. You do so many anyway things in such short time and get to learn a lot which I don't think you can anywhere else. But all this while, there is the XL Culture, which ensures you make through. It gives you guidance. It doesn't protect you but makes you stronger so that you are able to face any situation yourself. It's something worth working hard for.
Careers360: Any suggestion that you would like to share with aspirants?
Anish: These exams hugely depend on your exam temperament. Along with your preparation, make sure that you are not stressed and are able to keep your cool during those 3 odd hours of XAT 2018. 
Also Read
Stay tuned to bschool.careers360.com for more information on XAT toppers
Get real-time alerts on exam & colleges at your fingertips with Careers360 App!
Click Here to Install or Give a missed call on 08080944727 to get app link.