MAH CET Topper Interview - SIMSREE student Gaurav Mehta shares his success strategy


Continuing with the MAH CET 2014 Topper Interview series, today we bring to you the success story of Gaurav Mehta, MAH CET 2012 topper and student at Sydenham Institute of Management Studies, Research and Entrepreneurship Education (SIMSREE), Mumbai. He talks in detail about his preparation and test taking strategy, and a comparative analysis of the other MBA entrance exams.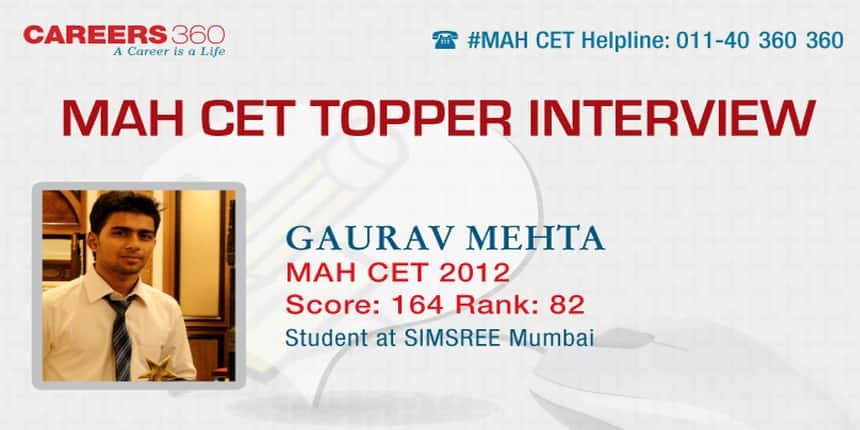 Gaurav is currently pursuing his MBA from SIMSREE Mumbai with specialization in Marketing. He has graduated from K J Somaiya College of Engineering, Mumbai.
For any doubts and queries on MAH CET 2014, call the MAH CET Helpline Number, 011 40 360 360.


"Predict your MAH CET 2014 Rank now with MAH CET Rank predictor"
Excerpts of the interview


Careers360: You were among the last batch of MAH CET takers in the paper pencil based format. What was your experience?
Gaurav Mehta: To sum it up in one word, my experience at MAH CET was adventurous. The difficulty level of MAH CET in 2012 was higher as compared to previous years, shocking a lot of takers. Attempting to crack MAH CET is fighting a race against time in which only a handful get a chance to go through the entire paper, let alone saving some extra time for difficult question. Hard work has little role in MAH CET and smart way is the tact of going about it. Always work out the answer using the options provided to good effect. There are no brownie points for neat work, so no matter how clumsy you are with the working, ensure that you get to your answer in an extremely quick manner. I had the time of my life attempting the MAH CET 2012. It was a roller coaster of mixed emotions – a gut wrenching need to hurry with my work as the clock kept ticking on, the happiness of solving 180+ questions, losing out on a couple of sitters in the 20 that I attempted in a random manner, the feeling of accomplishment and the joy of the end of the MBA entrance season.


Careers360: What was your score and rank in MAH CET 2012?
Gaurav Mehta: My scores and ranks in my attempt of MAH CET 2012 are as follows:
Score (MAH CET 2012) = 135
Score (exam + GD + PI) = 164
Rank = 57 (Home University)
Rank = 82 (State)


Careers360: MAH CET is coming back after a break of one year and will be conducted online. What are your thoughts on that?
Gaurav Mehta: Return of MAH CET is a positive sign for MBA seekers. It gives them one more shot to get into their dream MBA colleges. But MAH CET going online has taken away the essence and the peculiarity of the entrance exam. It will now become exactly similar to NMAT. Hopefully this year along with MAH CET, GD PI will also make a grand comeback. GD PI tests the communication abilities of a person, a skill which is of a paramount importance for a future business leader.


Careers360: What was your initial preparation strategy?
Gaurav Mehta: Preparation for entrance exams like CAT, XAT, SNAP, NMAT etc. has a great amount of overlap. Preparing for these entrances laid the foundation of my knowledge base for MAH CET. It was just the topics like visual reasoning, verbal reasoning etc. which needed extra preparation as they have a very high amount of weightage in MAH CET as compared to other exams. I solved 38 mock papers within the 25 days before MAH CET. This trick helped to enhance my skills especially for the reasoning section. However clichéd it may sound, the mantra to succeed in this exam is to practice to the hilt with dedication and perseverance./


Careers360: Did you also take other MBA entrance exams like CAT and XAT? How different was your preparation strategy of these exams than MAH CET?
Gaurav Mehta: I took all the exams during my time. But each exam was in some way or the other quite unique in itself.
In CAT, the game is on accuracy as you have to answer just 60 questions in 140 minutes. Difficulty level is moderate and hence lack of accuracy hurts you the most.

In XAT, the game is on the kind of questions you choose to attempt as the difficulty level is the highest among all the MBA entrance exams.

MAH CET is a different ball game altogether. Here the focus is to strike a balance between speed and accuracy. The more the number of attempts, the more is your chance to score well. Approximations are put to the best use in MAH CET.
Careers360: What was your strategy to tackle your weak areas of MAH CET?
Gaurav Mehta: Identifying your weak areas is a tough task in itself. Efforts should be directed to identifying those areas and once they are grasped, work on them to reach an acceptable level of accuracy. Learn the art of getting over the impulse of wasting too much time on a question especially from your weak areas. If you lost 1 opportunity, you have 199 other opportunities to gain.


Careers360: What was your area wise preparation strategy?
Gaurav Mehta:Some basic preparation strategy I had followed for the sections are as follows:
Quant – Know your basics. The difficulty level is quite moderate.

Verbal – Level of verbal is average. Solving verbal will take the least amount of time. Use this extra time judiciously for other sections.

Logic – Will require the least of practice. Solving a total of 50-60 questions from various sources is sufficient.

Data Interpretation – A good knowledge of short cuts and use of approximation will reduce your solving time drastically.

Reasoning – If you cannot solve the question in 45 seconds, move on. Identifying the level of difficulty of a reasoning question is extremely difficult. Don't fall in the trap of losing a lot of time on a single question.
Careers360: What strategy did you follow for the last stage of preparation?
Gaurav Mehta: Always follow the KISS (Keep It Simple Silly) principle. Focus more on general concepts and strive to get the basics right. These will hold you good ground in the exam. Avoid diving deep into complex and unimportant formulae and topics. The more you go with an open and fresh mind in the exam, the better your performance will be.


Careers360: What was your experience of the MAH CET counselling rounds?
Gaurav Mehta: MAH CET counselling rounds is a tedious process. It is a test of your patience. But if you have all your documents sorted out, it is just a time consuming formality and there is nothing to worry about it. At this juncture, rather than thinking about it right now, focus on scoring well in CET. The higher your score, the lesser are your worries.


Careers360: What is your advice for the MAH CET 2014 takers?
Gaurav Mehta: Scoring well in MAH CET is like putting a person in a swimming pool. He/she will learn swimming only when he/she is put into the water. The more the number of mock tests you will take, more exposure and practice you will get about MAH CET pattern and structure. This will finally help you nail the entrance exam and achieve a place in the institute of your dreams.


Also Read:
MAH CET Topper Interview - Preethi Parthasarthy of JBIMS shares how to crack MAH CET 2014
MAH CET Topper Interview - Chintan Gala shares his preparations strategy
MAH CET 2014 section wise preparation strategy and expert tips
Top B-schools Accepting MAH CET Scores and Cutoffs
MAH CET Past 5 Years Trends and Analysis


Stay tuned to bschool.careers360 for more MAH CET topper interviews.
Questions related to MAH MBA CET
Showing 18 out of 18 Questions