MAH CET MBA 2020 Topper Interview, "Practice to improve speed," Says Warren Remedios, 99.99 percentiler
MAH CET MBA 2020 Topper Interview - Every MBA aspirant wants to pursue Management programme from an elite B-school. But prior to getting admitted in a management institution they have to ace the entrance test, Achieving a decent percentile in the MAH MBA CET entrance test is not an easy task, but with dedication and hardwork in the right direction one can ace any entrance exam with ease. In a talk with Careers360, Warren Remedios shares his strategy and how much hard work he did to enlist his name in the toppers list of MAH CET MBA. Warren secured 99.93 percentile in his first attempt of MAH CET MBA but was unable to get into his dream B-school. If we talk about Warren's past academics he always was a consistent ranker and participated in every extra-curricular activities. Warren told us how mocks and his preparation strategy helped him to achieve this milestone. He also has a different strategy for exam day, read the full interview to know the detailed strategy of Warren Remedios for MAH CET MBA 2020. Know all the toppers of MAH CET MBA 2020.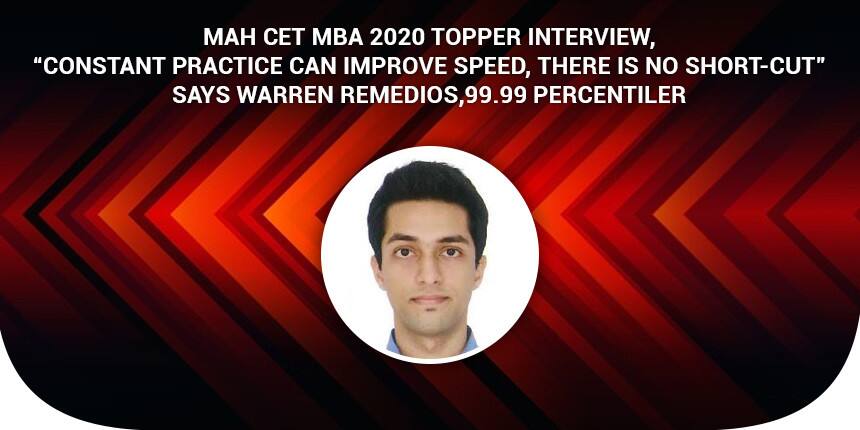 Careers360 - Congrats for scoring 99.99 percentile at MAH CET 2020. How does it feel? Were you expecting this result?
Warren Remedios - Thank you. It feels unreal. I scored a 99.93 percentile in MAH CET 2019, and missed JBIMS by 2 marks. So I worked much harder this year. I was performing very well in my mocks towards the last 2 weeks of my preparation for MAH CET 2020, but I did not expect 99.99 percentile. That came as a pleasant surprise.
Careers360 - Tell us more about yourself.
Warren Remedios - I've completed my Bachelor's in Accounting and Finance, and Master of Commerce with a specialization in Advanced Accounting from H.R. College of Commerce & Economics, Mumbai. I have 2 years of work experience at Ernst & Young LLP where I worked as an Analyst in the Business Tax Advisory service line of the Financial Services sector.
Careers360 - Why did you decide to pursue management education?
Warren Remedios - All my school and college life I have been a consistent ranker in academics while simultaneously participating in and winning extra-curricular activities. This led to me being appointed as the President of the Cultural Council of my college.
I lead contingents of 100-200 people to win at several inter-collegiate festivals as the Contingent Leader. I was also given the responsibility of raising funds and handling the finances of the cultural council. This elementary mix of marketing and finance along with the leadership and team-management skills required in my role inspired me to pursue a career in management.
Careers360 - Apart from MAH CET, which other MBA entrances did you appear for? Did you follow any specific or exclusive preparation strategy for MAH CET vis a vis other exams?
Warren Remedios - I appeared for CAT, IIFT and XAT too this year. My initial rigorous preparation for CAT made my approach for the other exams a little more relaxed. MAH CET is a completely speed-based exam. I believe that once all my concepts for Verbal, Logical Reasoning, Data Interpretation and Quant were in place for CAT, all I had to do was work on my speed to crack the MAH CET exam.
Careers360 - Are you appearing/appeared in the GD/WAT-PI rounds of any other top B-schools? If yes, how are you preparing for the same and how has been your experience so far?
Warren Remedios - I have appeared for the GD/WAT-PI rounds for the IIMs, IIFT, XLRI and SPJIMR. I enrolled with IMS and Patrick D'souza for preparation for these rounds. I had to simultaneously prepare for MAH CET while preparing for and attending the GD/WAT-PI rounds for these institutes. Being clear about your reasons for doing an MBA and what your ultimate goals are, is key to cracking the PIs, while keeping up-to-date with current affairs and regularly reading from a diverse range of literature is key to cracking the GD/WAT rounds.
Careers360 - How did you prepare for the exam?
Warren Remedios - Given that my basic concepts were already in place due to my preparation for CAT, and my MAH CET strategy was also set from my previous attempt, I only stuck to taking mocks for my MAH CET 2020 preparation. I took a total of 20 mocks - starting with 2 mocks a week initially, leading up to 1 mock per day in the week before the exam.
Careers360- Did you join any coaching for the entrance exam? If yes. Then was it helpful for the MAH CET entrance test?
Warren Remedios- Since my basics were already in place from my CAT preparation and previous MAH CET attempt, I did not require classes per-day for the attempt, I enrolled with Patrick D'souza for a workshop on brushing up concepts and improving speed, which was really helpful. I also enrolled with IMS for their mocks, which were challenging and very similar to the actual exam. It is very important to enroll for mocks of at least 2 reputed training institutions for the MAH CET exam as it gives you a good perspective about where you stand, and what are the areas that you need to work on.
Careers360 - How was your exam-taking experience? Did you face any technical glitch?
Warren Remedios - The exam-taking experience was very smooth this year with no technical glitches. The only anxiety was the impending COVID-19 situation.
Careers360 - What was your exam strategy for MAH CET?
Warren Remedios - Verbal is my strength. So I always start with the Verbal section. My time allocation for the 150 minutes was as follows, in this order: Verbal - 30 minutes, Abstract/ Visual Reasoning - 15 minutes, Logical Reasoning - 65 minutes, Quant/Data Interpretation - 40 minutes. I would always aim for 160+ attempts out of the 200 questions.
Careers360 - Which is your dream B-School where you are targeting admission in?
Warren Remedios - My dream B-school is IIM Bangalore.
Careers360 - What is your career plan after completing MBA?
Warren Remedios - I want to pursue a career in Management Consultancy in a top-tier firm.
Careers360 - How do you unwind yourself after hectic study routines?
Warren Remedios - I usually take a day to unwind myself after a nerve-wracking entrance exam. Music, football or the gym really help blow off some steam.
Careers360 - What is your advice for the MAH CET aspirants who would be appearing for the test next year?
Warren Remedios - MAH CET is a completely speed-based exam. Only with constant practice can you improve your speed, there's no short-cut. Preparing for CAT will help tremendously with your approach to the MAH CET exam, though there are a few question types which are unique to MAH CET. Taking around 20-25 mocks from January leading upto the MAH CET exam in March is more than enough. Start with giving 1-2 mocks a week, and make sure that by the 10th mock, you've locked down on a strategy that works best for you. By strategy, I mean the selection of the order of sections, number of questions you want to attempt from each section, and most importantly, the type and number of questions you will leave from each section. Do not be afraid to leave a question if you feel that it will take you more than 45 seconds to solve, even if you know the concept underlying the question. Analyze each mock in great detail to understand which areas you need to work on and use the time in between consecutive mocks to work on those areas; giving sectionals helps with improving speed in your slow areas. Try sticking to your best strategy for your final 10 mocks. Give 1 mock a day in the 5 days leading up to the MAH CET exam. Relax and keep your mind clear 1 day before the exam and make every second count during your 150 minutes!
Questions related to MAH MBA CET
Showing 11 out of 11 Questions