MAH CET 2018 Topper Interview: Allot the right amount of time to every section as per your strengths, says AIR
It always feels good when one's hard work pays off and when the desired goal is achieved. Vaibhav Muley, who aced MAH CET 2018 with 99.99 percentile experienced the same when his hard work and support from family paid off and he stood at All India Rank 8 in the entrance exam. A mechanical engineer from Nashik, Vaibhav cracked many other exams with flying colours like CAT, SNAP, XAT, NMAT by GMAC besides MAH CET MBA.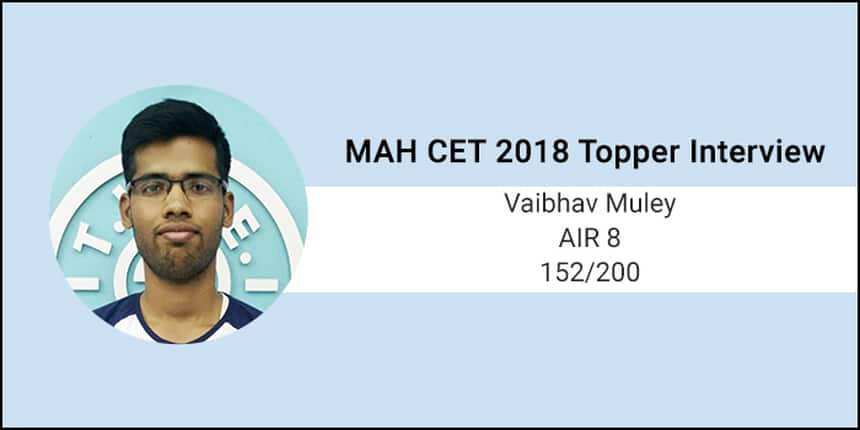 A curious mind and enthusiasm in Finance led Vaibhav to the path of management. A huge sports fan, an avid cricket and volleyball player, a half-marathon runner and trekker– Vaibhav's strengths are not limited to academics alone. With the help of his mentors, he managed to increased his speed and accuracy. He also wrote countless mock tests which he feels is important while preparing for any exam. He is currently preparing for GD PI WAT rounds of various top B-schools across India like JBIMS and FMS. He advises future MAH CET aspirants to study hard, but study smart way at the same time. "Give a lot of mocks and don't ever give up," he says. Know more about the topper's success mantra in this interview with Careers360.
Excerpts from the interview:
Careers360: Congrats on being the AIR 8 at MAH CET 2018. How does it feel? Were you expecting this result?
Vaibhav: Thank you. It feels good to get the desired results for all the hard work you gave put in. I had prepared well and was confident of scoring good marks and the result came along the expected lines.
Careers360: Tell us something about yourself.
Vaibhav: I was born and brought up in Nashik. I completed my mechanical engineering in 2016 from Nashik only. After graduation, I worked in a manufacturing industry while continuing my preparation for entrance exams. My parents and my elder brother also supported me in my decision to pursue higher education.
Careers360: Why did you decide to pursue management education?
Vaibhav: While I was pursuing my graduation, I was exposed to some aspects of finance management and that's how my interest grew in the field. I continuously try to learn new concepts in finance. So I thought it was necessary to learn the financial concepts through an educational channel. That's when I decided to pursue management education.
Careers360: Apart from MAH CET, which other MBA entrance exams have you taken? Please share your results.
Vaibhav: I gave almost all the MBA entrance exams like CAT, IIFT, SNAP, NMAT and XAT. I scored 99.85 percentile in CAT, 99.93 percentile in IIIFT, 99.8697 percentile in SNAP, 99 percentile in NMAT by GMAC, 98.64 percentile in XAT.
Careers360: Are you appearing in the GDWAT-PI rounds of any other top B-schools? How are you preparing for the same and how has been your experience so far?
Vaibhav: Yes, I am appearing in the GDWAT-PI rounds of many top B-schools including FMS Delhi, IIFT, XLRI, MDI-G, etc. I am preparing with the help of T.I.M.E., Nashik. The faculty at T.I.M.E is guiding me through mock GDs, PI, WAT and extempore rounds. The faculty helps me out with any kind of doubts and guidance required. Apart from that, I am doing a lot of reading of current affairs and academic subjects.
Careers360: How did you prepare for the exam? Did you take aid from any coaching institute for your preparation?
Vaibhav: I took coaching from T.I.M.E. Nashik which helped me clear my concepts. Apart from coaching, I did a lot of self study which included lots of reading and followed a daily schedule of study. I also gave countless mocks which I think is the most important factor while preparing for any entrance exam.
Careers360: How was your exam-taking experience? Did you face any technical glitch?
Vaibhav: The experience was good and I had given many exams at the same centre. So I was comfortable while taking exam. Fortunately, I did not face any technical glitch and staff at the centre was very co-operative as well.
Careers360: What was your exam strategy for MAH CET?
Vaibhav: My focus was mainly on accuracy as I had already developed a very good speed. I did not want to make any mistakes after investing substantial amount of time in the preparation. So I focused on getting most of the attempted questions correct. I also allotted specific amount of time to every section according to my strengths. Also decision-making plays a very important part during the exam.
Careers360: Which is your dream B-School where you are targeting admission in?
Vaibhav: I am planning to convert as many colleges as I can from the calls that I got. I am mainly targetting admission in JBIMS, IIFT or FMS. I will take the final call after discussing with my parents and faculty members.
Careers360: What is your career plan after completing MBA?
Vaibhav: I want to gain experience in Private equity and Venture Capitalist Industry after I complete my MBA. In the long term, I hope to work in these industries with my own enterprise.
Careers360: What are your hobbies. Do you pursue any hobby, such as music, sports etc.?
Vaibhav: I am a huge sports fan. I have played cricket and volleyball in my college days. I am also a half-marathon runner. I also organise various Trekking events with my friends.
Careers360: What do you enjoy doing most when you are not studying?
Vaibhav: I usually go trekking when I am free. I also love listening to music and hanging out with friends. I would say, spending quality time other than studying is important for good results.
Careers360: What is your advice for the MAH CET aspirants who would be appearing for the test next year?
Vaibhav: I would suggest the aspirants to study hard like never before but it is important to do the smart way at the same time. Self- belief is the key to crack any entrance exam. Keeping oneself motivated and envision oneself at their desired B-school is crucial and keeps one going. Always keep the target of topping the exam. That way, it is possible to reach somewhere close to the target. Give a lot of mocks and don't ever give up!
Questions related to MAH MBA CET
Showing 18 out of 18 Questions