MAH CET 2018 Topper interview: MAH CET is an exam of both high speed and high accuracy, says AIR-3 Vaishnavi C
Meet Vaishnavi Chandarana, MAH CET 2018 topper who bagged All India Rank 3 in the exam and securing 99.99 percentile. Being a Commerce graduate from Mithibhai College, Mumbai, who aspires to start a business a business of her own, Vaishnavi is now excited to start her management education journey soon. It will not be wrong to say that entrepreneurship runs in the family, as her father and uncles run a business of their own. The topper is expecting a call from the esteemed JBIMS, Mumbai.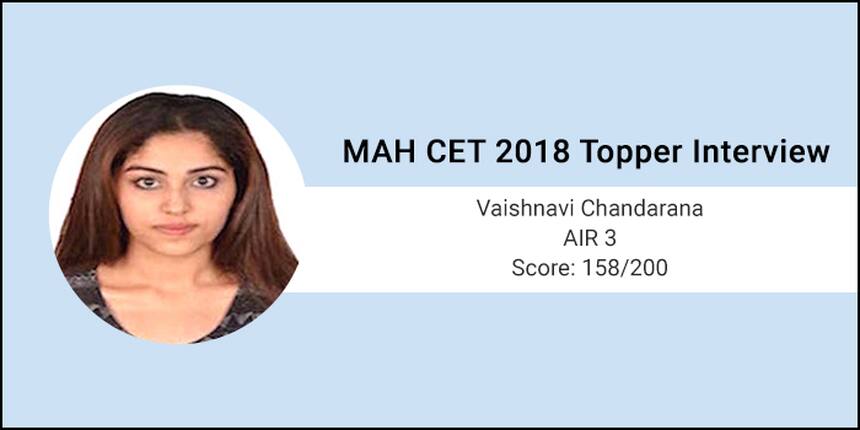 In this interview with Careers360, Vaishnavi shares her preparation tips for MAH CET MBA and strategies that resulted in her success. Since she prepared for other exams like CAT, she already had her concepts in place. Vaishnavi believes that MAH CET is an exam of both high speed and high accuracy. Along with regular practice, one also needs to be calm during the exam. Read on to know more her preparation tactics for MAH CET 2018.
Excerpts from the interview:
Careers360: Congrats on being the AIR 3 at MAH CET 2018. How does it feel? Were you expecting this result?
Vaishnavi: It feels amazing! While I expected that I would score well, being AIR 3 with a score of 158 out of 200 was a pleasant surprise. I was elated and celebrated the moment with my parents and friends.
Careers360: Tell us more about yourself.
Vaishnavi: I am from Commerce background and I am a fresher. My father and uncles run a business. My brother is currently in the 11th grade.
Careers360: Why did you decide to pursue management education?
Vaishnavi: Like I mentioned, I come from a business background and I aspire to start a business in the future after gaining enough knowledge and experience. Before delving into the corporate world, I want to learn formal business practices and get the bundled wisdom in these two years through courses and highly experienced faculty.
Careers360: Apart from MAH CET, which other MBA entrances did you appear for? Did you follow any specific or exclusive preparation strategy for MAH CET vis a vis other exams?
Vaishnavi: I appeared for CAT besides MAH CET.
MAH CET is different because it is an exam which requires both high speed and high accuracy. While CAT requires you to solve 100 questions in 180 minutes, 200 questions in 150 minutes is what makes it difficult to score well in MAH CET. Sections like Logical Reasoning and Quantitative Ability in MAH CET can be time-consuming and thus require adequate practice. Also, one needs to learn the art of leaving lengthy questions in MAH CET which can cause one to have less time for the easier questions. I would recommend future aspirants to solve the easy questions in a particular section in one round and then tackle the time-consuming questions.
Careers360: Are you appearing in the GD/WAT-PI rounds of any other top B-schools? If yes, how are you preparing for the same and how has been your experience so far?
Vaishnavi: Yes, I still have a couple of IIM interviews in April. I have been reading about all the important events. I've also read GD-PI experiences of other students.
Careers360: How did you prepare for the exam?
Vaishnavi: I started preparation in January. Since I had studied for other exams, my concepts were in place. I practised Visual Reasoning from the IMS visual reasoning book because it was a new section for me. In my opinion, the most important aspect of MAH CET preparation is mock tests. I analysed mocks thoroughly and practised the questions for which I took more time than needed. CET is an exam which requires both high speed and high accuracy. Along with regular practice, one also needs to be calm during the exam.
Careers360: How was your exam-taking experience? Did you face any technical glitch?
Vaishnavi: I did not face any technical glitch. The overall process was smooth and the interface was user-friendly.
Careers360: What was your exam strategy for MAH CET?
Vaishnavi: I think one should start the exam with their strongest section. My sequence was-
1. Verbal Ability
2. Abstract Reasoning
3. Logical Reasoning
4. Quantitative Ability.
I had allotted 30 minutes to Verbal Ability, 20 minutes to Abstract Reasoning, 60 minutes to Logical Reasoning and 40 minutes to Quantitative Ability. First, I attempted all the easy questions in a particular section and then solved the time-consuming ones. I think one should recognise his/her strengths and weaknesses and allot the time or each section accordingly. Mock tests are useful for deciding the ideal order.
Careers360: Which is your dream B-School where you are targeting admission in?
Vaishnavi: JBIMS has always been my dream B-school because it has an incredible alumni base and is located in the financial hub- Mumbai.
Careers360: What is your career plan after completing MBA?
Vaishnavi: I want to work for a few years to gain experience and knowledge. After that, I aspire to start my own business.
Careers360: How do you unwind yourself after hectic study routines?
Vaishnavi: I love reading fantasy and dystopian novels. I am a huge fan of science fiction movies and TV shows. Some of my favourite movies are Inception, Interstellar and the Dark Knight Trilogy. I absolutely love Game Of Thrones and like watching shows like The Late Night Show with Stephen Colbert as well. I keep myself updated with world news and find world politics very interesting. Besides travelling, I also like listening to music- mostly classic rock.
Careers360: What is your advice for the MAH CET aspirants who would be appearing for the test next year?
Vaishnavi: Practice is the key. Take several mocks and analyse them. Know your own strengths and weaknesses in every section. Do not spend too much time on any question and learn to leave time-consuming questions. Try to find better ways of solving questions- mainly in Quantitative Ability. If you do not score well on a mock test, analyse it thoroughly so that you do not repeat those mistakes in the CET exam. Most importantly, believe in yourself. If you believe you can do it, half the battle is won. No amount of practice will help you, if you do not believe that you can do it. I wish the future aspirants good luck!
Questions related to MAH MBA CET
Showing 18 out of 18 Questions