"Communication, Ethics and Decision Making is enough to get a call from IIM" Says Isha Nisar CAT 2019 Topper
CAT 2019 Topper Interview, Isha Nisar - They say if you want to achieve your aim, you need to channelise your passion into determination. Sounds easy? It is but, at the same time it requires immense discipline from your side. And when you have set your eyes on an exam like CAT, these are the only values which will take you forward. It was the determination and confidence that made Isha Nisar cracked CAT, one of the toughest exams to crack in India, and gave her the title which all CAT aspirants work for - CAT topper 2019. She started preparing for the common admission test when she was in 11th standard. While most of the students of her age were contemplating what to pursue in college, she had decided to get admission into IIM, the prestigious institute which is a dream for every CAT aspirant and accordingly prepared her strategy from theron. One would think that as a CAT topper, she must be putting every second and hour in preparing for CAT but she paid equal attention to extra curricular activities as well. She attended various seminars such as HUL and Bisleri to hone her management skills. In an exclusive interview with Careers360, she has shared her experience about her strategy that made her secure admission in IIM Ahmedabad, what helped her study, and answered many such questions which hovers in the mind of CAT aspirants. Read the full interview given by Isha Nisar here:
Latest: Candidates can download CAT 2020 admit card from October 28. Get details related to CAT Mock Test 2020.
Stay up-to date with CAT News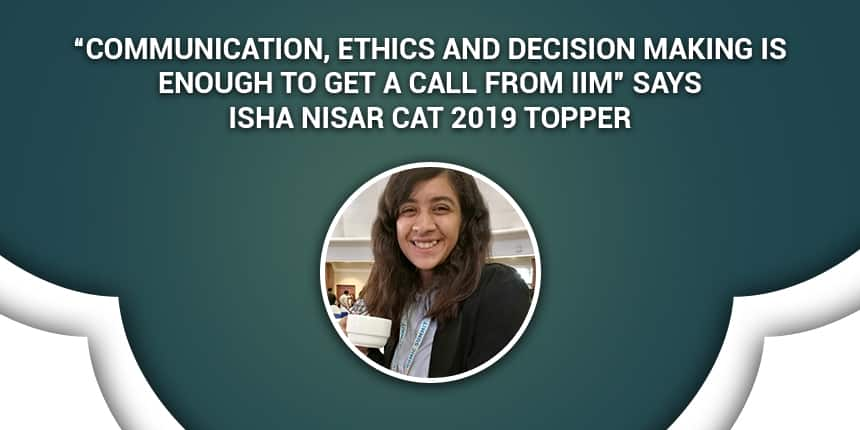 Careers360 - Congratulations on converting to your desired institute! How do you feel?
Isha Nisar - I couldn't believe that I actually converted the call. My dream of 6 years was coming true. For 2 days, I actually thought I was in my dreams and this is also just a story in my mind. But this has come true, and all the efforts have been paid off well. I am happy but also nervous at the same time looking at the amazing batch profile we would be having there. I am excited to go to the campus soon and start living as truly a WIMWIan.
Careers360 - Careers360: What is the selection procedure at IIM Ahmedabad?
Isha Nisar - The selection procedure of IIM Ahmedabad is divided into four stages:
Stage 1: Preliminary Screening: It is to check whether you meet the minimum requirement of academic scores and CAT percentile.
Stage 2: Shortlisting for AWT-PI round: All the under-graduation courses are divided into 6 AC categories. In each AC, top students are shortlisted based on their CAT scores and Applicant Ratings (AR) which includes your 10 th ,12 th , Graduation percentage, and work experience. The weightage is as follows: 65% to CAT scores and 35% to AR.
Stage 3: AWT-PI Round: The shortlisted students undergo a two-stage process of Analytical Writing Test (AWT) and Personal Interview (PI). AWT is a written test to check one's analytical and logical abilities and how one can structure his thoughts in a limited space and time. Personal Interview is like a conversation where the panellists wish to know more about candidates and how they can fit into the campus culture.
Stage 4: Final Selection: The Admission Office collates the Final Composite Score (FCS) as per the following weightage: 50% Personal Interview, 10% AWT, 25% CAT Scores, 15% Application Rating.
Hence, a selected number of students across categories are given final convert letters.
Careers360 - Please elaborate on your overall experience of the selection procedure at IIM Ahmedabad?
Isha Nisar - As I wished to go to IIMA since my 11 th std, I ensured I had well-balance of Academics along with my co-curricular and extracurricular activities. After the CAT result, the shortlist of IIM A came in 2 days. But even before that, I had started preparing for the Interview rounds as I did not wish to leave no stone unturned. My interview was on the first day - first slot in Mumbai. I reached early to the centre, did my document verification first, so I had enough time to revise a few concepts. I also went back and practiced all the performances of my extracurriculars like dance, singing and drama, if they ask me in my interview. We were divided in groups of 7 and were asked to move to the respective conference room for AWT, which lasted for about 20 minutes. Later, the process of PI started. I was 3 rd in my panel. I was smiling throughout those 32 minutes of my PI. The panellists never made me feel like an interview even for a minute, they were quite helpful and cheering. I was doubtful of 2 instances where I could have done better, but I believe those were minute ones hence I got the final admit to IIM-Ahmedabad.
Careers360 - Which other B-Schools' selection procedure did you appear for? How was your experience in other institutes vis a vis in the institute you have converted?
Isha Nisar - I appeared for all the IIMs, IIFT, SP Jain and MICA interviews. The interview process and my experience for each of them were quite different. My IIM-Bangalore interview was more on my SOP and my LOR, whereas my IIM-Calcutta interview was more on my internship and market research I had done in that. Across my interviews, I got questions across various genres like: Academics, Work-experience, Current Affairs to even creating ads and marketing strategies for MNCs. Two of my interviews: IIM-Indore and IIM-Lucknow were conducted online, and that experience was also something new and exciting.
Careers360 - What was your AWT and PI topic and how did you structure it? Did you find it easy or you had a difficult time writing/ thinking about the topic?
Isha Nisar - Analytical Writing Test (AWT) is a 20-minute test where in a small paragraph is given to the candidate, and he/she has to analyse the situation and write his/her opinion on the argument in a structured format.
Initially, I used to find it difficult to pen down my thoughts for AWT. I took special efforts to overcome this, by practicing as many AWTs as I could and get regular feedback from my mentors. It improved as the day came nearby, however, I was still not confident about this till the last moment. The topic on D-Day about 'extra homework' was near to me (being a studious student), so the thinking part became a bit easier, but still writing them down in the structured format was the task at hand. I tried to use the given format to the best with applying a bit of creative writing. I had planned to complete my writing by 18 th minute and then use the last 2 minutes for re-checking, and it happened as per my planning on the D-day also.
Careers360 - Did you get external help or join a coaching school to prepare for PI and AWT? When did you start your preparations for it?
Isha Nisar - I had enrolled in external coaching classes for my preparation of GWPI process. As I did not wish to leave this opportunity from my hand, I also asked help from my friends and seniors at IIMA to mentor me for the entire process.
I used to read the newspaper daily, hence the Current Affairs part of the interview started quite early. Apart from this, I started my other preparation of WAT and PI from 25 th November itself. I started reading about the various types of questions that come in interviews, segregated them as 6 parts: Academics, Work-experience, HR, Current Affairs, Extra and Co-curricular activities, and Miscellaneous. I would divide my day as read on each one of them.
I took a few mock PIs and AWT tests to have a check on my performance from time to time. There are some different processes in other colleges like Group Discussions, Group Exercise, Written Ability Test, etc, so I took a few mocks of these too.
I would thoroughly analyse all the feedback given to me in these mocks and work accordingly for the next. I would sometimes prepare some random questions for myself and see if I could really answer them, like: Take a random product, e.g. bottles, and prepare end- to-end marketing and branding strategies for the same. If you come to know you are an alien, how would you react? This helped me in my lateral thinking which turned to be my positive point in the interviews.
Careers360 - Do you think that AWT and PI requires some separate preparation apart from what you mentioned?
Isha Nisar - I believe it is very important to first know yourself before anything. Take some time to know what you want, what you believe, what is your life goal. This will help you in the process of form filling which is too critical as your interview mostly circulates around what you have mentioned in the form. Be thorough with all your academics, work-experience and your hobbies. For e.g. if you mention you love dance. Then, you should know the different types of dances, know more about which dance form you like, its origin, the best dancer in that genre, some best performances, etc. Also be ready if they ask you to perform. Similar for other hobbies.
Careers360 - Please share the AWT and PI topics which you were asked during the admission rounds?
Isha Nisar - AWT Topic: An argument on the ban of additional homework given to students from school to be done at home, as it is stressful, ineffective and of no benefit. It is mythical and most teachers and schools do not see when and how to give homework.
Question: To what extent do you agree or disagree? Write down the stated and unstated assumptions. What will strengthen or weaken the argument?
For my Personal Interview, the 32 minutes were divided as: 20 minutes on my work experience, 5 minutes on Corporate Law, 5 minutes on my views on traditions and beliefs, 2 minutes on the questions I asked.
Careers360 - Are there ways to handle a situation when one has no answer to a question during PI?
Isha Nisar - The first lesson I learnt during the GWPI process was 'Learn to say you don't know'. There were questions asked to me when I was not aware about the topic, so I said: I don't know about this, but can I make an educated guess? But there would always be some questions you are not even remotely aware about so, just say: I don't know about this.
Be honest as much as you can. If you say something wrong, that would have an adverse effect rather than saying that you are not aware about the subject matter. Also, do not lie or make up any story, they know the truth, they have been conducting interviews for many years.
Careers360 - How must one approach an AWT and PI topic? Could you share some Dos and Don'ts for the same?
Isha Nisar - AWT:
Dos:
Understand why it is conducted and what is expected out of you

Learn the format

Practice as many AWTs as you can and take regular feedbacks

Before starting to write, note your points in the given rough area, structure your thoughts and then visualise the entire content

Write down your thoughts!

Re-check your content once before you submit
Don'ts:
Avoid any scribbling as much as possible

Don't write any extreme measures

Do not write anything which you aren't sure of

Do not quote any personal experience, story or instances as an argument
Personal Interview:
Dos:
Read your entire form very well

Reach the venue early to the time mentioned and in an appropriate attire

Carry all your documents neatly in an order. Keep photocopies along

Be confident and maintain eye contact throughout the interview

Take a few seconds before answering any of the questions. Structure your thoughts and then reply.

Say 'I don't know' if you aren't sure

Prepare for the questions that have frequently been asked like: tell me about yourself, why MBA? Why XYZ college? etc
Don'ts:
Don't let the interviewers feel you have mugged up your answers

Do not sit in a rigid fashion, or slouch, or sit on the edge of the chair

Don't be defensive of your mistakes. Admit it honestly

Do not ever criticise your graduation, or your work life or any other thing. Look for the positive side always.

Do not be late for the interview

Do not carry any unnecessary thing inside the room, to avoid distraction

Do not place the folder on the table. Keep on your lap neatly
Careers360 - Is there a particular kind of time management strategy that should be added to the candidate's skillset? Will it help in writing a complete structured AWT and Personal Interview?
Isha Nisar - Time Management helps anyone and everyone. Right from your journey to CAT to your GWPI process to your MBA journey, this skill will be of the utmost importance. It also helps you to pursue anything that you like.
For AWT specific, one is expected to answer a few sets of questions in a time of 20 minutes, hence the time management helps one to effectively convey the message while not missing on any important point. Also, it helps the candidate to re-check the entire content to avoid any spelling error, any grammatical error or any point you missed on.
For Personal Interview, time management helps you in communicating your thoughts in a way that conveys its message also while not sounding too boring.
Careers360 - How did you feel when you faced the interviewers during the PI? Please share a few details like the size of your panel and your overall experience.
Isha Nisar - We had an interaction with the interviewers during AWT, I found them too friendly and helpful.
Since this was the day I was dreaming of, since my 11 th std, I was so excited that I couldn't just stop smiling. One of the panellists came outside to call me for the interview, he was too courteous. With an overwhelming smile, I welcomed them to the City of Mumbai and they too greeted me for the interview. There were 2 Male Professors for my interview.
More than being nervous, I was excited, so I don't remember any instance where I was not smiling for more than 5 seconds. The entire Personal Interview was more like a conversation where they were interested in what value-addition can I make to the institution; how can the institution help me in achieving my career goals and whether I would be a right fit for the batch.
There were a few questions on my opinions on a particular topic, it was honestly a bit uncomfortable for me to talk to them on that topic. But I said my honest opinion on that topic and that worked well for me.
Careers360 - Which interview turned out to be the best one? Enlighten us about the finest one according to you.
Isha Nisar - My IIM-Ahmedabad interview turned out to be the best one for me. But personally, I liked my IIM-Bangalore interview the most. The main reason I did not say IIM A is because I feel I made two mistakes in IIM A interview, I thought it was too major but turns out that it was very minute.
In my IIM-Bangalore interview, I was quite open as if I was meeting the panellists for a cup of coffee in a café. I was enjoying the environment and I was quite honest throughout, something like I mentioned that I was procrastinating for reading books. The interview started with SOP and LOR questions, followed by talking about my internships, mainly Ernst & Young, to Finance and then my hobbies.
Careers360 - What about the questions which you found difficult to answer? How did you reply to those?
Isha Nisar - The most difficult questions I found were around my opinions on traditions and beliefs. Now, since this is very subjective, I was a bit hesitant on how to articulate it well at the same time justifying why I believe in what I believe.
I took a few seconds, decided to be honest, structured my thoughts and replied to their question. I backed with examples as much as possible to support my argument.
Careers360 - So in those situations, was the panel easy or harsh on you? What should one do when s/he has no answer?
Isha Nisar - In my case, the panel wasn't harsh, but they cross-questioned me on my answers. I learnt it is very important to think twice of each word that comes out from your mouth.
If one doesn't have an answer, I believe he/she should communicate to the panel that he isn't aware of the topic or has limited knowledge about the topic to answer the question. One can also ask if he/she can make an educated or informed guess about that question.
But remember, that one shouldn't have many informed guesses. Prepare yourself for as many questions as possible.
Careers360 - What were the most fascinating questions you were asked? Please share your answers too.
Isha Nisar - Q. Create an advertising strategy for XYZ cigarettes.
Answer: (I was surprised by this question, so took 10 seconds to understand it. Before this question, I had done the entire marketing strategy for HUL and Bisleri) I do not believe in cigarette consumption, hence I do not believe I will do justice to this. I believe as a Marketer it is important that you love the product to convince others to try that. Also, it is not legal for any cigarette company to do advertising of their products.
Q. Why do Marketing people talk in jargons that others don't understand and they believe everyone knows it?
Answer: (I wanted to hide my face. I was feeling too embarrassed) Sir, I am really sorry for using jargons. I really thought that word was a common tongue, but I will take care and I will explain in detail more whenever I encounter any Marketing jargon.
Q. Tell us something about you that we aren't supposed to know?
Answer: (had a quirky smile on my face) I believe you should not know that I have specialised in Finance. I am a bit particular about perfection. I am impractical in many aspects, and a bit stubborn. (apparently, they loved this answer)
Q. If you had to go on a date with any Bollywood actor, who would it be? Why?
Answer: (I was surprised that why would anyone ask me about a date in an interview) I would go with either Ranbir Kapoor or Akshay Kumar. But, if I had to choose one now, I would go with Akshay Kumar. He is too romantic and a nice chef too. I believe he will cook something really nice for me.
Careers360 - How different is an IIM interview from a non-IIM yet top B-School interview? Are there major differences? (If you have appeared for IIMs)
Isha Nisar - I particularly did not find any major difference in the interviews of an IIM and a non- IIM college.
Careers360 - How did you go about the preparations for PI? Did you search or look up some questions or practice mock PIs?
Isha Nisar - I scrolled through many experiences of seniors and alumni from elite institutions. I divided the set of PI questions into 6 areas: Academics, Work-experience, Current Affairs, HR related, Extra and Co-curricular activities and Miscellaneous. As the coaching classes had provided a pdf with many questions, I would just note down the questions which were not mentioned in the pdf.
I made answers for those questions, for a few of them like 'Tell me about yourself', I had rehearsed multiple times in front of my mirror, friends, mentors to improve it as much as I could. I had taken a couple of mock PIs as all my mocks were just different from the other. There were times when I was uncomfortable initially but then as the time passed, I was doing far better. I specifically remember one mock where the only question asked to me was 'Tell me something about yourself' which lasted for about 25 minutes. I did not know when to stop, neither the panellist asked me to stop. But such experiences did help me to tackle my interviews in future.
Careers360 - And finally what are the aspects or qualities that the interview board looks for in a candidate?
Isha Nisar - The interview board is looking for a person who is:
Communication: How you are able to communicate your thoughts

Team Player: How well you have performed in a team previously

Ethics: How ethical you have been and you would be in the future.

Learner spirit: How open are you to learning new things.

Problem solving: Any instance where you have solved any problem.

Decision making: How do you arrive at your decisions, and then communicate it to others.

Listening skills: Do you listen to others or do you only talk.

Passion: How passionate are you towards anything you do.

Flexibility: How flexible are you to new challenges and methods.

Honesty: I believe this is the most important point.
There are many other skills too. But I believe these are the important one.
Questions related to CAT
Showing 10916 out of 10916 Questions