CAT 2016 Topper Interview: Focus on weak areas and take mock tests regularly, says 99.37 Percentiler Yash Thakker


A trained Mechanical Engineer, Yash Thakker is currently living the moment of a lifetime after topping the Common Admission Test. He credits his success to  to proper time management and practicing mock tests regularly. Securing 99.37 percentile in one of India's most competitive exams, Yash reveals his preparation strategy and formulas that proved to be extremely useful during the exam. Having started his preparation in September, three months before the exam, he dedicated his entire time to improving in the areas he was weak in and doing mock tests. Apart from CAT, Yash has also excelled in NMAT.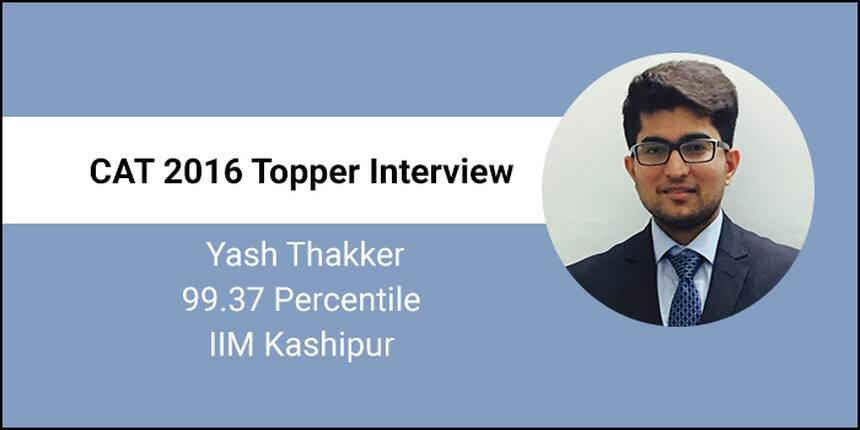 The success story of Yash Thakker will definitely inspire CAT 2017 aspirants. In this interview with Careers360, Yash tells us what it really takes to ace CAT. 
Recent Posts:
Read the full interview below:
Careers360: Congratulations on your admission to IIM Kashipur. What was your overall and sectional score in CAT 2016? Was there any other exam you had appeared for? If yes, please share the score for the same.
Yash: Thank you so much. Apart from CAT, I also appeared for NMAT. Below is my overall and sectional score in CAT.
Verbal Ability & Reading Comprehension (VA & RC) – 53
Logical Reasoning and Data Interpretation (LR & DI) – 48
Quantitative Aptitude (QA) – 68
Overall – 164.62 (99.37)
NMAT - 223
Careers360: Talking of sections, which was the most challenging and easiest section in the test?
Yash: For me, the easiest section was VA & RC. I found the LR & DI section toughest. The QA section was moderately tough.
Careers360: Please share your preparation journey. How did you strike a balance between your professional life and preparation for an entrance exam?
Yash: I started preparing for CAT only in September 2016. There were lot of ups and downs like scoring high in one mock test and low in the other. The toughest task for me was to streamline my mock test scores. I dedicated most of my free time making sure that I'm doing something productive and improving with each day.
Careers360: Were you a part of any coaching institute? Do you think coaching is necessary for aspirants to bag the top rank?
Yash: Yes. I did a course with TIME institute. I think that coaching may not be necessary when it comes to studying for an entrance exam like CAT but it certainly helps in providing a right direction to your preparation.
Careers360: Please share your specific section-wise strategy for VARC, DI & LR and QA.
Yash: For VARC, I concentrated on reading comprehension as it's the easiest part to score. It can make or break your CAT score. For DI & LR sections, accuracy is sacrosanct. It's better not to answer if you are not sure about the accuracy of the answer.
Careers360: How did you tackle the sections and topics challenging for you?
Yash: Taking mock tests was the key. I spent a lot of time practicing mock test papers which really helped me in tackling the difficult topics and solving the challenging sections.
Careers360: Mention section-wise books and study materials you had referred.
Yash: I didn't really use any specific study material for CAT. I just did a lot of practice with mock test papers and previous years' question papers.
Careers360: What is the significance of mock test in your success? When did you start taking mock tests and what was the frequency?
Yash: It's very significant. Doing mock tests boosts your confidence and it certainly helps you analyze your mistakes. I started taking mock tests in August. Initially, I used to do it 4 times a week but as the exam date came closer, I began doing them twice a day.
Careers360: How did you analyse your mock tests and modify your strategy?
Yash: While taking mock tests, I focused on the areas I was weak in. I specifically worked on those areas and tried to improve with each day. And it all turned out very well in the end. 
Careers360: What was your time management strategy for section wise preparation vis-a-vis exam day?
Yash: First, I did the Reading Comprehension part in VA & RC sections as it was my strong point. I knew that I could finish RC quickly and move to VA. For Data Interpretation and Logical Reasoning (DI & LR), I recommend aspirants to target 15 correct questions if the paper is difficult. And for QA, mark easy questions and solve them first to save your time.

Careers360: How did you utilize the features like calculator and non-MCQs in CAT?
Yash: I didn't really depend on using calculator or any other features. I guess it depends on person to person.
Careers360: What advice would you give with regard to WAT/GD and PI.
Yash: Generally, the Group Discussion (GD) and Personal Interview (PI) rounds go in the direction where you want to take it. Be confident and speak honestly.
Careers360: Any other suggestions you would like to share with aspirants?
Yash: Do a lot of practice and be confident about your success because it's bound to come if you're honest with your studies.
Also Read
Stay tuned to bschool.careers360.com for more information on CAT toppers
Get real-time alerts on exam & colleges at your fingertips with Careers360 App!
Click Here to Install or Give a missed call on 08080944727 to get app link.
Questions related to CAT
Showing 9084 out of 9084 Questions