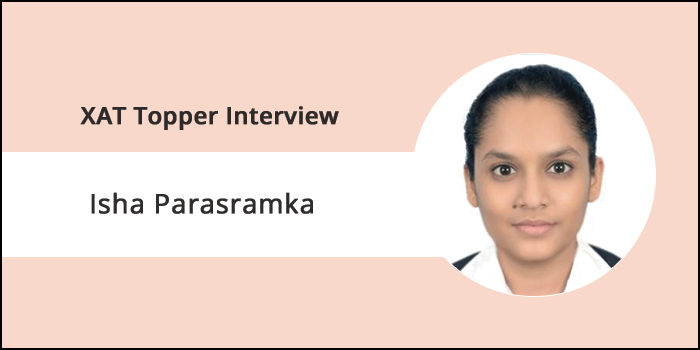 XAT 2018 Topper Interview –  As the clock is ticking and the time for XAT 2019 draws closer, test takers are left with six months to learn from preparation strategies and last minute tips from the XAT toppers. To aid aspirants with their XAT 2019 preparation, Careers360 beings the journey of Isha Parasramka, who secured 93.3 percentile in XAT 2018. Isha not only cracked the exam with a high percentile, but also performed well in other B-school exams like CAT, SNAP, and NMAT by GMAC to finally make her way through XIM Bhubaneswar.
MBA/PGDM Admissions Open 2019
IFIM Business School
XAT Sample Paper
Download Free Sample Paper for XAT
Download Now
Isha emphasises that management of time is of utmost importance, both in the exam as well as during the days of preparation. The best way, according to her, is to divide your day in terms of slots and assign each slot a particular task. She lays out a defined strategy to manage time, and also describes the books and best study material for XAT which will be very useful in preparation. Besides, it is a good idea to take a vacation for three to four days in order rejuvenate the mind and break the monotonous routine of studies, she suggests. Read this XAT 2018 topper interview to know more about the topper's journey to success through her exam preparation tips and strategy.
To fill XAT 2019 Application form - Click here Or Apply from the window given below:
Excerpts from the interview:
Careers360: What was your XAT 2018 overall and sectional percentile? Apart from XAT, which other entrances you appeared for and what were your percentiles?
Isha: I got a 93.3 percentile in XAT with 93, 85.5 and 89 percentiles in English, Quants, and Decision Making sections respectively. I also gave CAT, SNAP, NMAT by GMAC examinations.
Careers360: What was your preparation strategy for each section?
Isha: English Section – Solved two Reading Comprehensions a day every day.
For vocabulary, I consulted the books given by my coaching centre and "Word Power Made Easy. "
Mathematics and Logical Ability – Books by coaching centre, mocks, past year papers, sectional and topic wise tests.
Decision Making –Mainly from mocks and past year papers.
Essay Writing –Reading the Editorial section of a newspaper.
GK – Reading the newspaper daily.
Verbal is something that requires a lot of practice. The one process that can be followed for reading comprehension is having a crystal clear reasoning in your head as to why you are marking that answer. If you get it wrong, check the solutions.
For essay writing, lots of current topics needed to be followed since the content is very important in an essay. Take a look at previous year's essay questions that have been asked and also practice writing a few essays. Structure the essay properly, like begin with an introduction, move on to the body, and try to illustrate with examples if possible.
For verbal and logical ability, listen to the news every day and read the newspapers regularly. This will help you improve your language and grammar. Mock papers will be really useful for this section as they gave me feedback on the areas needed to be worked upon.
For Quantitative Ability and Data Interpretation, it was a lot of practice going through books and question papers. Once you have a pattern set, practice the more difficult questions to check whether you are able to approach all the problems.
For decision making, it is important to understand the concepts behind different types of questions. Once you understand why the question was asked, it makes it easier to understand which options are relevant.
Careers360: You mentioned about enrolling into coaching centre. According to you, can a student succeed with just self study?
Isha: I joined a coaching centre for my CAT as well as XAT preparations. We can analyse both on the basis of their pros and cons.
Self-Study requires a person to be more dedicated and sincere whereas joining a coaching centre gives you an extensive platform for clearing your doubts and concepts. Even if one joins a centre, he needs to understand his strengths and weaknesses when it comes to intangible aspects like concentration, dedication, and patience.
However, we can't deny that joining a good coaching centre gives you an edge as you have faculty guidance, a time structure and study materials readily available. The student just has to get on with the work from here. Also, if you think you are more comfortable studying on your own, my suggestion would be to join the online series of a good institute and then practice as many mocks you can!
Careers360: When did you start preparing for XAT? Please share in detail your month-wise preparation strategy.
Isha: Preparation starts with the CAT only, the sections mostly being similar. However, the level of difficulty in terms of Quant is higher in XAT. The decision-making section needs to be approached with a different strategy altogether.
Six months- This means July. Here, mostly we need to concentrate on learning the basic concepts in both domains, English and Maths. Sentence Correction, Strengthening and weakening arguments as well as Facts, Inference and Judgements and Comprehension- these take up most of the share in terms of the Verbal Ability. One needs to start developing a strong reading habit from here. Quant preparations would include practising arithmetic, number systems, and Geometry.
Three months- One needs to start mastering the concepts and aspects and looking for his strong areas. These exams are more about strategy. You need to know what you are good at and try to maximise score in those sections. You also start preparing yourself mentally and physically, by studying in slots of three to four hours. You should listen to the news on a daily basis and be reading the newspapers.  Apart from this mock papers tend to be really useful.
One month- This is the time when you have to showcase your mental strength. All other entrance exams are over and it is the last leg of the journey. People make two kinds of mistakes here. Either they get disheartened because of not performing up to their expectations in CAT, or they lose focus. You need to know that you still have a very big opportunity in front of you to make it to one of the best MBA colleges of the country, and thus work harder for these last few days. Keeping that in mind, it won't be a bad idea to take a vacation for two to three days and rejuvenate yourself.
Coming to studies, the last month should focus more on mastering the mocks and notes, to finalise your strategy and have a tactical approach towards this exam. You need to know which section to focus more on while maintaining the balance throughout the paper. 
Careers360: How did you balance your preparation with studies? Please share your timetable.
Isha: I was a fresher, so luckily, I did not have to worry about my job commitments. However, time management is very important, both in the paper as well as throughout the day. The best way according to me is to divide your day in terms of slots (ranging from three to four hours, depending on your capacity) and then proceed to assign each slot a particular task. The morning slot could be for reading the newspapers and going through the news. You could also test in which part of your day your concentration is at peak and then accordingly make a timetable for yourself.
Careers360: What was the one essential thing that you did consistently during your preparation?
Isha: The most important thing for me was to make a schedule and stick to it. Everybody has some strong areas and some weak areas. These may be different for different people. However, if one maintains a schedule and manages to follow it in a disciplined manner, it would be most beneficial.
The most important aspect would be to never lose sight of the end goal.
Careers360: What are the best study materials for XAT or other exams?
Isha: We have lots of coaching centres that provide quality online materials. One should enrol for their mocks and time series to get a simulation of how the actual exams will be.
Online materials are abundant and easily available, but one should know what he is looking for before searching. Everything is about a strategy when it comes to these examinations. Online mocks should be taken in as many numbers as possible. You could also read newspapers online to improve your hand-eye coordination which serves as a great tool for the exams.
Offline materials are the books, pen-paper tests, and newspapers. "Word Power Made Easy" would be a good investment in terms of improving your vocabulary. As for GK, one can read business newspapers, editorials and brush up on the current topics.
Careers360: When did you start taking mock test and what was the frequency? How did you get it analysed and integrate it in your preparation?
Isha: One should take as many mock tests as possible because the practice is the key to such exams. You should know your strengths, weaknesses, strategy, and tricks properly. You should get accustomed to every aspect of the process and nothing should seem alien. They tell you how much you can improve. I found it to be the essential tool in my preparation process. You can take the first mock before starting your preparation to assess your current level at that time. After that, you can take a mock every two weeks for the first two months. Then increase the frequency to once a week and then to every other day in the week.
Careers360: The ones hailing from a non-English background – how should they prepare themselves for the exam?
Isha: The only solution would be to read a lot. This is including but not limited to books, short stories, novels, newspapers, RCs. The attempt is to make the candidate as comfortable as possible with the English Language. One more thing that could be done would be to begin conversing in English whenever possible. This will serve as a boost in the GD-PI rounds as well.
Careers360: What was your exam day strategy in terms of question selection, time management, accuracy and sectional attempts/cutoffs?
Isha: I was aware of the sectional cut-offs. Also, I was very confident in my verbal section, thus it was the one I attempted first. I gave ample time to decision making because I didn't want to keep it for the end and wanted to attempt it with a fresh mind. Quant is something that can fetch you marks even if you have assigned it the least time in the whole lot. I spent 20 minutes on each section answering these questions since I wanted to make sure I had marks in each section. After that, I started QA/DI section since that was the most time-consuming section. And, if I wanted to switch my line of thinking in any question, I would visit a different section for 10-15 minutes and try to solve the problem afresh.
Careers360: Preparing for XAT is a long and tiring process. How do you suggest one should keep his/her calm and confidence?
Isha: XAT is the last exam in the whole journey and hence most of the aspirants lose focus. So, if you feel the need, you can take a vacation for two to three days and freshen up your mind. This will rejuvenate you and bring back the passion to put in the hard work. Spend these days in mastering the already learned concepts but don't stress much as it might work against you.
Careers360: What is your message for XAT 2019 aspirants?
Isha: Remember why you are here. Remember the end goal. Forget everything else. Do your best. That is all you can do, and frankly speaking, it will be more than enough.
Also Read