MAH CET Topper Interview- 99.90 percentiler Nupoor Pradhan talks on cracking the exam


MAH CET 2014 exam is now at the threshold. Before you go for the exam, you must not leave any stone unturned for preparation or to get inspired from someone who cracked the exam in the previous year. In today's MAH CET Topper Interview, we bring to you the success story of Nupoor Pradhan, who obtained 99.90 percentile in MAH CET 2012 and is currently pursuing her MMS in Human Resources in SIMSREE, Mumbai.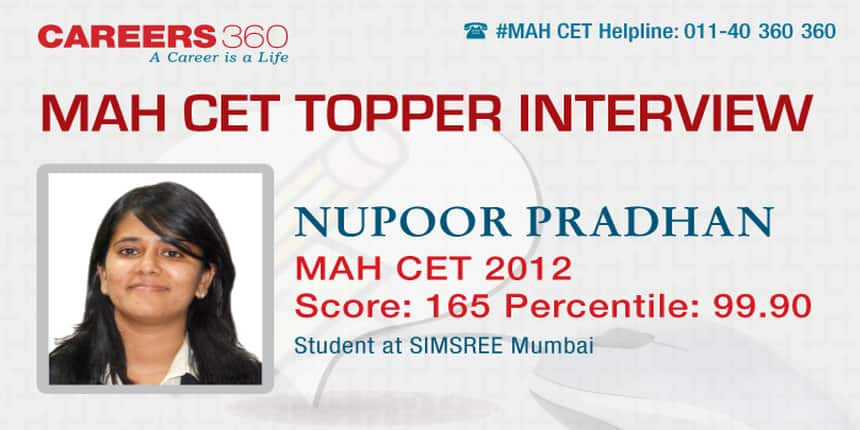 Nupoor obtained her B. Sc degree in IT from Usha Pravin Gandhi College of Management, Mumbai. She has worked at Capgemini India Pvt. Ltd. for 6 months. Nupoor is also a certified Kathak dancer and headed inter-school Handball and Basketball teams.


For any doubts and queries on MAH CET 2014, call the MAH CET Helpline Number, 011 40 360 360.


"Predict your MAH CET 2014 Rank now with MAH CET Rank predictor"
Excerpts of the interview
Careers360: Share your experience of being among the last batch of MAH CET takers in paper pencil based format.
Nupoor Pradhan: The entire experience was very exciting and challenging. Starting from the time I decided to pursue MBA till the time I completed my admission formalities, the entire journey was filled with new challenges and new experiences. Since mine was the last batch of MAH CET, the competition level was very high as everybody wanted to get through CET and not experiment with CMAT in the next year. Accordingly I had to take extra efforts to sustain the tough competition. Ultimately it all paid off well when I scored high and got admission in my choice of institute.


Careers360: What was your score and rank in MAH CET 2012?
Nupoor Pradhan: I scored 165 out of 200, which was 99.90 percentile. My rank was 52.


Careers360: What are your thoughts on MAH CET making a come back after a year in computer based format?
Nupoor Pradhan: I feel MAH CET in true sense tests the potential of any candidate. Time management is the most important factor in MAH CET unlike other exams. Online mode of MAH CET will definitely save a lot of time that goes in marking the answers. This might prove to be an advantage as compared to the paper pencil test that was conducted in its previous years.


Careers360: What was your initial preparation strategy for MAH CET?
Nupoor Pradhan: I had enrolled for MBA entrance exam preparatory classes. I always made it a point to attend every scheduled lecture and not miss a single topic that was taught. I also attended all the tests in classes and made it a point to analyze my results and improvise the same. Also group studies with my friends helped me a lot as we helped each other with our respective weaknesses. I took mock tests at home to improve my speed. The most important thing that I feel about preparation is that I got my basics cleared from the professors. I did not have any specific number of hours for studies planned, but I made sure that whatever time I studied, I did it with full concentration and that is what I feel is very important.


Careers360: Which other MBA entrance exams did you take? Was there any preparation wise difference between them and MAH CET?
Nupoor Pradhan: I did appear for a few other exams like CAT, CMAT, etc. All these exams have their own level of difficulty. But preparing for one exam does help in the preparations of all these exams. The topics to be studied were more or less the same. So there wasn't much difference of what was to be studied. But the approach was totally different for all the exams. For some exams time management was most important, whereas, for some accuracy was more important as it involved negative marking scheme.
Careers360: What was your strategy for weak areas in MAH CET?
Nupoor Pradhan: Practice makes a man perfect. I made sure to spend more time on my weaker topics. I got all my doubts cleared from my professors and practiced daily. Also reading books, newspapers, etc. helped me improve in grammar and verbal. Apart from that, I made sure that my strengths aren't ignored. My strategy was to score well in the areas where I was strong so that it could cover up for my weaker areas.


Careers360: Did you follow an area specific preparation strategy for the exam?
Nupoor Pradhan: I had enrolled for preparatory classes for MAH CET. In the classes, the professors covered one topic at a time. I made sure that I practiced that topic before the next class. This helped me to gain confidence in that particular topic. Also it gave me time to understand my weakness and get my doubts cleared during the next class.
Careers360: What preparation strategy did you follow on the last few days before the exam?
Nupoor Pradhan: Last stage of preparations mainly involved attempting sample MAH CET test papers. There are various online tests as well which give you the results as soon as the test is over. I made sure to analyze the results of these tests and studied the topics which I was weak in before appearing for the next test.


Careers360: What was your experience of the counseling rounds?
Nupoor Pradhan: The counseling rounds went on pretty smoothly. I was lucky enough to get admission in my choice of institute in the first round itself. The rounds are conducted online which makes it very easy and comfortable for the aspirants. Also at the end of each round the cut-offs for each institute are available online which gives a clear idea about the admission scenario and avoids any panicky situation.
Careers360: What is your advice for the MAH CET 2014 takers?
Nupoor Pradhan: The most important thing is dedication and concentration. Preparations should be started from day 1. Solve as many sample papers as possible. Also read about current affairs and GK from the beginning itself. Being updated about the current topics helps to lower the burden at the time of the exam. The basic concepts need to be clear and thorough. This will help in increasing your paper solving speed. Also analyzing the papers is equally important. Even the preparation for GD-PI needs to be done from the start. Also gather some basic knowledge about the specialization you wish to pursue.


Also Read:
MAH CET 2014 preparation strategy for last week: 5 tips from toppers
MAH CET Topper Interview - 99.98 percentiler Nihaal Jelkie shares his success secrets
MAH CET Topper Interview - Priya Chhabra of SIMSREE shares advice to crack the exam
MAH CET Topper Interview - SIMSREE student Gaurav Mehta shares his success strategy
MAH CET Topper Interview - Preethi Parthasarthy of JBIMS shares how to crack MAH CET 2014
MAH CET Topper Interview - Chintan Gala shares his preparations strategy
MAH CET 2014 section wise preparation strategy and expert tips
Top B-schools Accepting MAH CET Scores and Cutoffs
MAH CET Past 5 Years Trends and Analysis

Stay tuned to bschool.careers360 for more MAH CET topper interviews.
Questions related to MAH MBA CET
Showing 18 out of 18 Questions