MAH CET MBA 2020 Topper Harsh Shah says, "Be consistent in your preparation"
MAH CET MBA 2020 Topper Interview Harsh Shah, 99.99 Percentile - Being amongst the top rankers and scoring a 99.99 percentile is a dream come true for any candidate in a competitive exam. Similar is the case with MAH CET MBA 2020 Topper Harsh Shah who got an AIR 4 in one of the toughest state level entrance exams as he aspires to make his way to one of the top B-Schools like JBIMS. Being an intriguing person , Harsh after completing his engineering was always eager to pursue a management degree. By being amongst the toppers, this young boy shares his preparation strategy for the MAH CET MBA 2020 exam which can prove beneficial for future management aspirants also. Read the full interview of MAH CET MBA 2020 Topper Harsh Shah to know how he cracked other exams and what he did to beat the stress and the message that he has for the future aspirants.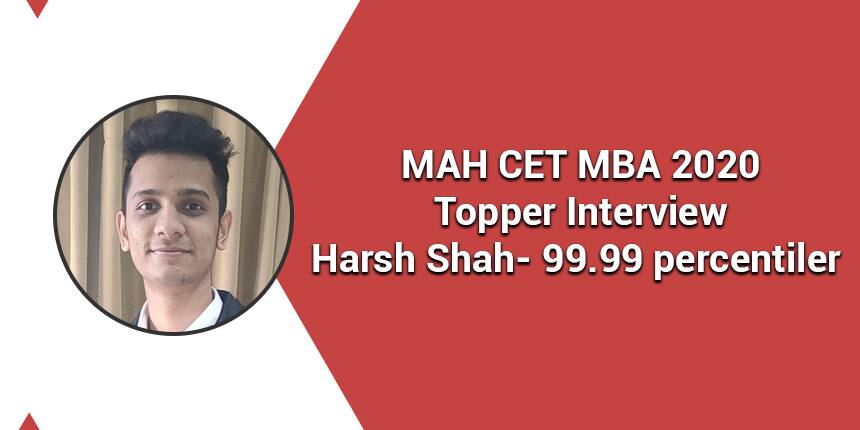 Careers360: Congrats for scoring 99.99 percentile at MH CET 2020. How does it feel? Were you expecting this result?
Harsh Shah: Thanks a lot. It feels absolutely amazing to see the fruits of my labour. Can't put into words how special that moment was when I saw the scorecard. After the MAH CET MBA 2020 test I definitely felt confident about my attempt but getting a 99.99 percentile and securing AIR 4 was a big pleasant surprise.
Careers360: Tell us more about yourself.
Harsh Shah: I am 21 years old and I belong to Mumbai. I completed my graduation in Computer Engineering this year (2020) from SVKM's Dwarkadas J. Sanghvi College of Engineering, Mumbai. This was my first attempt at the MBA entrance exams and I am thrilled to have scored well.
Careers360: Why did you decide to pursue management education?
Harsh Shah: Throughout my school and college years I have performed well in academics but at the same time I have tried to strike a balance with sports and extra-curricular activities. I got multiple opportunities to work in teams and also to lead some of them. Engineering gave me a good insight into technology but I certainly felt a gap when it came to sound business knowledge. Being inquisitive by nature I took up a couple of internships in marketing and finance and found them to be extremely intriguing. With all the experiences as a solid support and to fill the gap that I observed in business knowledge I decided to pursue my post-graduation in Business Management.
Careers360: Apart from MH CET, which other MBA entrances did you appear for? Did you follow any specific/dedicated preparation strategy for MH CET vis a vis other exam?
Harsh Shah: Apart from MBA CET (99.99%tile, AIR 4), I appeared for CAT (97.6 %tile), XAT (98.6 %tile), NMAT (99 %tile, 236) and IIFT (99.39 %tile). Yes, the preparation, strategy and mindset was certainly different for all the tests. My preparation for CET differed from the other tests as it was more focused more on developing speed and accuracy rather than understanding complex concepts. CET also has some unique sections and question types for which separate preparation is must.
Also Read:
MAH CET MBA 2020 Topper Jay Maru bats for "Perseverance and discipline to crack the exam"
MAH CET MBA Topper Aditya Sridhar Says, "Tweaked his strategy after analysing his performance in mocks"
Careers360: Did you appear for the GD/WAT-PI rounds of any other top B-schools? If yes, how did you preparing for the same and how was your GD/WAT-PI experience?
Harsh Shah: Yes I appeared for GD/WAT-PI rounds of MDI, IIFT, XLRI, SPJ. I missed the CAP process for new IIMs due to college exams. My overall preparation during that phase was centered on reading current affairs and studying fundamentals of business subjects. I also took up some mock GD and PI sessions by Endeavor which helped me structure my thoughts in a more organized way and helped me gain confidence. The entire GD-PI process was quite enriching and I could absorb a good amount of information during that period.
Careers360: Did you join any coaching for the entrance exam? If yes. Then was it helpful for the MH CET entrance test?
Harsh Shah: Yes, I had joined Endeavor for the entire season of MBA exams including CET. I cannot thank enough the faculty and mentors at Vile Parle Branch who helped me stay focused and motivated throughout the process. I am grateful for their contribution and it was certainly instrumental for my achievement. Apart from that, the mocks and practice tests definitely helped me get acquainted with different types of questions and handle the exam pressure. Overall, my time at Endeavor definitely helped me prepare well for CET.
Careers360: How did you prepare for the exam? Which books you considered for each section and which ones will you recommend for future aspirants?
Harsh Shah: In my opinion, the preparation for CET starts from the day you prepare for other exams. It is extremely important to focus on the basics and fundamental concepts of all the sections. What helped me crack CET is the rigorous preparation which I had put in for other exams. When I started CET specific prep, I did not have to visit those basics again and in fact I could focus more on optimization and speed development along with CET specific question types. At Endeavor we had some workshops that covered those question types. With sectional tests and full length mocks I could complete the entire preparation.
Careers360: How was your exam-taking experience? Did you face any technical glitch?
Harsh Shah: My test taking experience was pretty smooth and organized. I did not face any issues during the entire session.
Careers360: What was your exam strategy for MH CET?
Harsh Shah: My strategy was to start with abstract reasoning as it is a light section and I had planned to finish it completely in around 15 minutes. Next I attempted the Quants section as it was my strength. Here I focused to solve all the easy and medium level questions and skipped the difficult ones to check later. I tried to categorize the questions in under 5 seconds and decided if I wanted to attempt them immediately. After solving Quants for about 40 minutes, I tackled the verbal section. The idea here was to relax myself a bit after QA and that's why I solved VARC next. The verbal section was a bit surprising with different question types and somehow I found solving them to be more intuitive and simpler. So I decided to spend a little more time than planned in VARC section (40 minutes). Lastly with 55 minutes left on the clock I started with the LR section. Here again the idea was to solve all the simpler questions in the first round and so I solved most of the singlets first and kept the larger sets for later. Once singlets were done I picked up a few easy sets and solved them, post which I went to QA again and solved the other things I knew. I had kept the last two minutes to mark all the unanswered question and that is how I spent my 150 minutes.
Careers360: Which was your dream B-School that you were targeting to take admission in?
Harsh Shah: My dream B-school is JBIMS and I am extremely excited to start my journey there.
Careers360: What is your career plan after completing your MBA?
Harsh Shah: Currently I really feel interested in most of the business subjects that I have researched about and so I am looking forward to explore and evaluate my options during my time in the B-school and then select a best fit for me.
Careers360: How did you unwind yourself after hectic study routines?
Harsh Shah: A mixture of different sorts of things like a quick jog or a full workout, meeting some friends, watching a movie, playing some sport etc.
Careers360: What is your advice for the MH CET aspirants who would be appearing for the test next year?
Harsh Shah: My advice is to be consistent in your preparation, day in and day out. There will be days when you lose motivation but you need to pull it together, see the larger picture and keep hustling.
Here's a quote that I tweaked and it helped me stay motivated throughout the journey.
"Hard Work Pays Off, Dreams Come True.
Tough Times Don't Last, Tough Guys Do!"
Questions related to MAH MBA CET
Showing 27 out of 27 Questions