MAH CET MBA 2020 Topper Interview - 'Mocks are stepping stone to success' Says Anay Dave 99.99 Percentiler
Anay Dave graduate in B.Tech Computer Engineering bagged 99.99 percentile in MAH CET MBA 2020 in his first attempt. Fascinated by maths and numbers, Anay stumbled upon the world of finance and decided to pursue a management program from his dream B-school 'Jamnalal Bajaj Institute'. In his exclusive interview with Careers360. Anay has shared his preparation and exam day strategy for MAH CET MBA. Anay firmly believes that taking regular mock tests help one to analyse their weak areas and so it did for him. MAH CET MBA 2020 topper- Anay took 63 mock tests till the day of examination which helped him ace the MAH CET examination. Also with the guidance from his family and mentors Anay feels fortunate to have the right insight and helped him keep motivated throughout the preparation. Read the complete interview of MAH CET MBA 2020 topper- Anay Dave.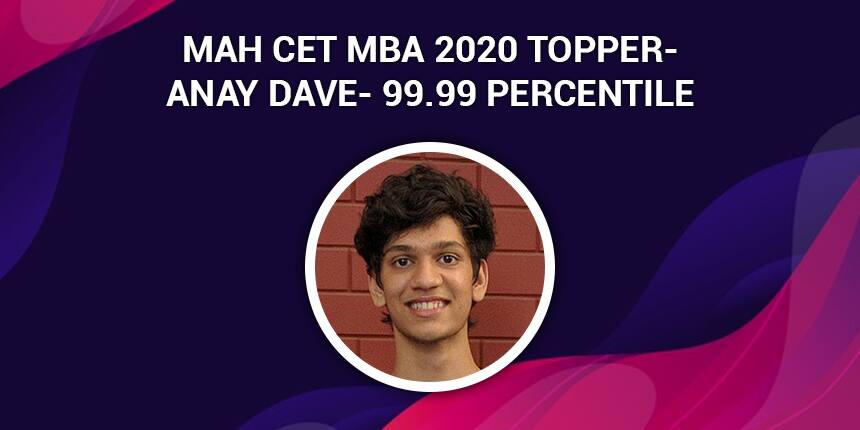 Careers360: Congrats for scoring 99.99 percentile at MAH CET 2020. How does it feel? Were you expecting this result?
Anay Dave: Thank you so much! It feels surreal and quite unbelievable. The fact that I have secured such a high rank is yet to sink in. While I did expect a good result, I never expected a 99.99 percentile!
Careers360: Tell us more about yourself.
Anay Dave: I am 21 years old and I have completed my BTech degree in Computer Engineering from NMIMS University, Mumbai. During my school days, I used to be a National level Table Tennis player (Top 30 in India) and competing at such a level has helped shape the way I think and attempt competitive exams. This was my first attempt at CET, I am very fortunate to have scored so well.
Careers360: Why did you decide to pursue management education?
Anay Dave: Right from my childhood, I used to be fascinated by math and how numbers would add up to help prove a hypothesis. Initially, this is what pushed me towards engineering. During this time, I stumbled upon the world of finance with all its mathematics and models. Reading more about this piqued my interest, eventually leading me to take the decision to pursue an education in management.
Careers360: Apart from MAH CET, which other MBA entrances did you appear for? Did you follow any specific or exclusive preparation strategy for MAH CET vis a vis other exams?
Anay Dave: My main focus has always been on speed-based exams because I knew that if I want to leave a mark in the management world, I need to play by my strength which was speed. Whenever I attempted to solve a question, I would make sure that I tried to solve it in the least amount of time or using the least number of steps. Eventually, it was this constant practice that helped me score well in the speed-based exams. Since this was my focus, I took NMAT (99+ percentile, 223 score), SNAP (99.80 percentile), MAT (800/800, 99.93 percentile) and CET (99.99 percentile, Rank 9).
Careers360: Are you appearing/appeared in the GD/WAT-PI rounds of any other top B-schools? If yes, how are you preparing for the same and how has been your experience so far?
Anay Dave: In January, I received a call from NMIMS Mumbai and since CET was still a couple of months away, I decided to give it a shot. I enrolled for a couple of GDPI sessions at IMS to make sure I was abreast with the latest types of interviews. My experience at NMIMS was quite good because I had a lovely set of interviewers, who helped me sail through it fairly easily.
Careers360: How did you prepare for the exam?
Anay Dave: The essence of CET is a good speed with a high accuracy, and this has been my aim at each and every step of the preparation. Initially, I started solving books such as Arun Sharma and RS Agarwal, but in retrospect, it was taking mocks and the subsequent analysis that helped me the most. I found the IMS and Patrick Dsouza CET mocks to be the most challenging and useful!
I had an advantage when it comes to preparation, thanks to my sister, Isha Dave, who cracked MAH CET in 2019 scoring a 99.97 percentile. She is currently a 2nd year student at Jamnalal Bajaj and even with her demanding schedule, she was always there to help me when required.
I was also extremely fortunate to have been mentored by Prasad Sawant sir (CET 2020 99.94) and Shashank Prabhu sir (CET 2020 99.99, Rank 1), both of whom have immense experience and when it comes to competitive exams such as CAT, MAH CET, etc. I could not have asked for a better set of mentors. They were always willing to solve my doubts and boost my confidence so that I could develop a "Champion's mentality" in the words of Shashank sir!
There is also a lot of great content on Patrick DSouza's YouTube channel, I definitely recommend each and every aspirant to watch his videos and learn from him!
Careers360: How was your exam-taking experience? Did you face any technical glitch?
Anay Dave: I had mentally prepared myself that even if I lost 5-10 minutes due to unforeseen situations, I will still be able to get through it and I will not let it affect my temperament. I think it is very important to prepare yourself in such a manner because you never know what might happen in the exam and at no point should you let it affect the rest of the paper.
Luckily, I did not face any technical glitches and had quite a pleasant exam taking experience.
Careers360: What was your exam strategy for MAH CET?
Anay Dave: Mocks have always been a stepping stone to figure out my mistakes and it has never been about the score or the rank. I took 63 mocks tests in total for CET and I thoroughly analysed each one of them to extract as much insight as I could from them. Based on this analysis, I would decide how to tackle the next mock, constantly improving and refining my strategy. In CET, it is very important to focus on areas where you get a high number of marks while spending the least amount of time. Thus, a Marks per minute study for each section/topic was crucial.
My final strategy focused on solving the easy questions first and keeping the tougher questions for the end. I encourage all aspirants to perform a similar analysis of their mocks, and decide how to go about the test in their own way. What works for me, might not work for you. But it is very important to have a clear plan in mind.
The section order that I followed on the last day was Visual – VARC – Easy Logical – Quant – Puzzles and other tougher questions. Following such a strategy enabled me to score the easy marks first while not wasting time on the tough questions.
I started off with the Visual/Abstract section since I knew I could complete the entire section in 10-15 minutes and score 20-23 marks in it.
Next, I attempted the VARC section, in which I would first solve all the questions that required less time (Fill in the blanks, vocabulary, Sentence correction, etc) and then came back to the ones that needed more time (Reading Comprehension, Paragraph Completion, etc). I gave this section 30-35 minutes and attempted all 50 questions.
I took the Logical section next and finished all the easy questions, leaving the tougher caselets and puzzles for later.
Quant was the next section and just to reiterate, the focus was to finish as much as possible in the least amount of time, so the questions were also selected in that manner.
Once this was completed, I would focus on the tougher questions and attempt as many as I could or just mark the flukes.
Careers360: Which is your dream B-School where you are targeting admission in?
Anay Dave: My dream B-school since the first day of preparation has been Jamnalal Bajaj, a highly reputed institute which is called the "CEO Factory" and is known for its expertise in finance. I am ecstatic about having achieved my target and can't wait to learn so much from the professors of JBIMS.
Careers360: What is your career plan after completing MBA?
Anay Dave: As of now, I plan to take up finance, but it is not something that I have decided. I am excited to see where life will take me and where I will be a few years down the line!
Careers360: How do you unwind yourself after hectic study routines?
Anay Dave: I think it is very important to balance the things you do in life especially while taking competitive exams. While I was preparing for the exam, I would make sure that I spent at least 30-45 minutes working out and tried to maintain a good level of fitness. Taking such breaks consequently enhances the efforts that you can put in.
I also had a wonderful set of close friends who were instrumental in helping me balance the fun and the rigour, pushing me and believing in me till the very end.
Careers360: What is your advice for the MAH CET aspirants who would be appearing for the test next year?
Anay Dave: I think if I had to summarise the efforts and the journey, it would just be "Practice". This is what is going to help you be confident on the last day and push yourself to the maximum.
I'd like to mention a few sentences that have stayed with me and guided me along the path-
"Don't let the exam get bigger than you" – Prasad Sawant sir.
You must be in control of the exam and always put things into perspective while preparing for the exam.

"Between a hard worker and someone who is smart (and does not work/practice), it will almost always be the hard worker who wins" – Shubham Maheshwari Sir.

"Always put your best foot forward and give it your best, everything will be taken care of, later." – something that my grandfather says to me frequently.
From the bottom of my heart, I'd like to thank my parents and my sister, who have always been there to guide me and push me forward. Everything I have achieved today is because of the immense effort put in over the years, helping me become a better man.
I'd also like to thank Careers360 for giving me this opportunity and I hope I can add some value or learnings to the aspirants reading this.
Thank you and all the best!
Questions related to MAH MBA CET
Showing 17 out of 17 Questions