MAH CET 2018 Topper Interview: Set a target score in mind and prepare accordingly, says AIR-9 Aniruddha Masdek
Aniruddha Masdekar had an engineering mind but was always fascinated with the idea of managing finances. While working with Ericsson, after finishing B.Tech in Electronics & Communications from NIT Surat, he decided to pursue his conviction for Financial management. He appeared for MAH CET MBA and grabbed All India Rank 9. He credits his success to his family.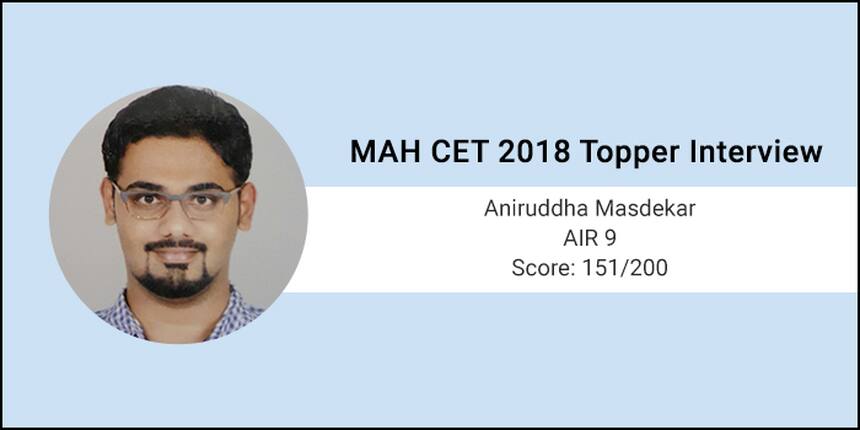 On preparing for MAH CET 2018, Aniruddha says that he used to set a target score in my mind and practised accordingly. And, every sectional test or a mock test was aimed at achieving that score. He is an avid reader and a sports enthusiast who never misses a chance to play.
In this conversation with Careers360, he shares his 40-days preparation for MAH CET and his post-MBA plans. Read on to know more about the message he has for the management aspirants.
Read the complete interview here:
Careers360: Congratulations on being the AIR 9 at MAH CET 2018. How does it feel to be among the top 10?
Aniruddha: It feels great. I was expecting a good result and this came as a pleasant surprise.
Careers360: Tell us something about yourself. How did your family support you in your endeavour?
Aniruddha: I pursued B.Tech in Electronics and Communications from NIT, Surat and I'm currently working at Ericsson. It has been a little more than 18 months since I started working. Most of my family members have done their education in the science field, mainly in Engineering. Hence, I too developed a liking towards engineering. I thank my family for being the backbone of my achievement.
Careers360: Why did you decide to pursue management education?
Aniruddha: I have always been fascinated by how to make money and more importantly, how to manage it. This is a part of financial management. I always wanted to excel in the field of management especially finances. Hence, I decided to pursue Financial management education.
Careers360: Apart from MAH CET, which other MBA entrance exams have you taken? Please share your results.
Aniruddha: Apart from MAH CET, I appeared for four other exams. None of them could be converted into positive opportunities.
Careers360: How did you prepare for the exam?
Aniruddha: I had around 40 days to dedicate to CET. Keeping a target score (of marks) in my mind, I used to practice accordingly. Every sectional test or a mock test was aimed at achieving those marks.
Careers360: What was your exam strategy for MAH CET?
Aniruddha: There was no strategy as such. However, I charted a plan to attempt the different sections in a particular order in order to maximise my score.
Careers360: Which is your dream B-School where you are targeting admission in?
Aniruddha: JBIMS Mumbai of course. It's certainly one of the best management institutions in the country.
Careers360: What is your career plan after completing MBA?
Aniruddha: Gain a lot of exposure in my chosen field of specialization while working with a reputed organisation. Will make further plans accordingly.
Careers360: What are your hobbies and what do you like to do during leisure?
Aniruddha: I am an avid reader and also a sports enthusiast. I make sure to take out time to read. Also, I never miss an opportunity to play. I also spend time in preparing personal investment portfolios.
Careers360: What is your advice for the MAH CET aspirants who would be appearing for the test next year?
Aniruddha: My advice to them would be to have a clear vision in mind as to which set of colleges they are aiming for. Accordingly, set a target score in mind and work towards it, not only while giving full length mocks, but also while attempting sectional and individual topic tests. Success not only depends on your performance on the D-day but also, on every day of hard work.
Also Read
Questions related to MAH MBA CET
Showing 17 out of 17 Questions