MAH CET Topper Interview - Chintan Gala shares his preparations strategy


Maharashtra Common Entrance Test or MAH CET, the MBA entrance exam is back after a gap of one year. If you are aiming for the top top B-schools in Maharashtra such as JBIMS Mumbai, SIMSREE Mumbai or K J Somaiya Institute of Management Studies and Research, taking MAH CET 2014 would increase your chances.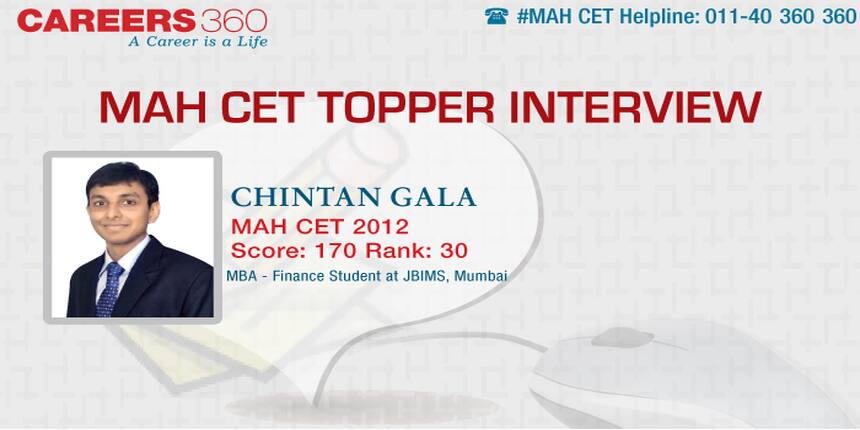 Here we bring to you the interview of MAH CET 2012 topper Chintan Gala, who scored 170 in MAH CET and obtained 30th rank. Chintan is pursuing MBA in Finance from Jamnalal Bajaj Institute of Management Studies (JBIMS), Mumbai. Chintan did his B.Tech in Electronics from VJTI and has 2 years of work experience at CitiusTech as a software developer in Business Intelligence domain.


For any doubts and queries on MAH CET 2014, call the MAH CET Helpline Number, 011 40 360 360.


"Predict your MAH CET 2014 Rank now with MAH CET Rank predictor"
Careers360: You were among the last batch of MAH CET takers. How was your experience?
Chintan Gala:It was a good experience. I had prepared for the CET by solving many mock papers. The paper was on the tougher side as compared to the CET paper which I had attempted 2 years ago (2010). But having prepared well, I could get a good score.


Careers360: What was your score and rank in MAH CET 2012?
Chintan Gala:My MAH CET 2012 score was 170 and my rank was 30.


Careers360: MAH CET is coming back after a hiatus of one year and will be conducted online. What are your thoughts on that?
Chintan Gala: Students taking MAH CET 2014 should not worry about this fact. MAH CET was probably the only test which was still a paper pen test and it was high time it too was conducted online. Most of the classes provide online mock tests and sufficient practice. Students should thus, not worry about this. The positive in fact is that you need not worry about the exact darkening of ovals and thus can save time.


Careers360: What was your initial preparation strategy?
Chintan Gala: My strategy for MAH CET was to solve as many papers as possible to improve the speed. I worked on the questions which went wrong. Also, I made it a point to attempt all the questions on Quant and DI which were my strong parts.


Careers360: Did you also take other MBA entrance exams like CAT and XAT? Did you find any preparation wise difference among these exams and MAH CET?
Chintan Gala: Yes, I took CAT and XAT. The preparation for MAH CET is very different from other exams. MAH CET is completely a speed based test and does not have negative marking or sectional cut-offs. Thus, concentrating on speed improvement is the major objective of CET. Solving more and more mocks can help substantially in improving the score.


Careers360:What was your strategy to tackle your weak areas?
Chintan Gala:I would solve and practice more and more questions related to my weaker areas. However, in CET there are 200 questions and 150 minutes to solve them. So, I used to attempt the questions which I was not comfortable with, at the end. Do not unnecessarily waste time on a single question.


Careers360: What was your area wise preparation strategy?
Chintan Gala: I always attempted the Quant and DI questions first. Then I attempted the Reasoning questions and kept the Language questions at the end. I practiced the Speed Maths techniques which helped a lot. I did not have any area wise preparation strategy as such.


Careers360: What was your last stage of preparations strategy?
Chintan Gala:The strategy in last stage was just being calm and not to worry. It does not make sense to worry about what you do not know and start learning about things at the very end. Instead just focus on what has worked for you in the mocks and concentrate on it.


Careers360: What was your experience of the counselling rounds?
Chintan Gala: The GD-PI round experience was good. The MAH CET counselling round is generally the last among all the exams. Thus, I had a lot of practice already as most of the other colleges GD-PI were done. For GD, do read about the current affairs and read diverse topics. For PI, be yourself and be well prepared with the standard questions.


Careers360: What is your advice for the MAH CET 2014 takers?
Chintan Gala: There is no shortcut to success and no alternative to hard work. Prepare well and give your best. There is no 'one size fits all' strategy and so students need to examine their strengths and weakness and concentrate on their own strategy.
Also Read:
MAH CET 2014 section wise preparation strategy and expert tips

Stay tuned to bschool.careers360 for more MAH CET topper interviews.
Questions related to MAH MBA CET
Showing 17 out of 17 Questions