How B-schools prepare students for placement process
Sometimes ago, Ajit Rangnekar, the former Dean of ISB, Hyderabad warned against the trend of business schools becoming placement agencies, instead of developing as educational institutions. However, such a view is lost on most of the Indian students who enrol for MBA programmes with placement as their sole focus. They can't be blamed either. How else can they repay their steep educational loan availed of at a stiff interest rate? Making the situation more complex, a recent report by industry body ASSOCHAM says, barring a few top B-schools, only seven per cent of graduates passing out of India's 5500*-odd B-schools are employable and if at all they find final placements, the salaries are sub-par. So most of the B-schools strive to make students job-ready from Day one. "For us, job-readiness in terms of comprehension, capability and creativity is mandatory. We look at corporate recruiters as customers. They need to be happy with their hires," says Prof. Bala V. Balachandran, Founder and Dean, Great Lakes Institute of Management, Chennai.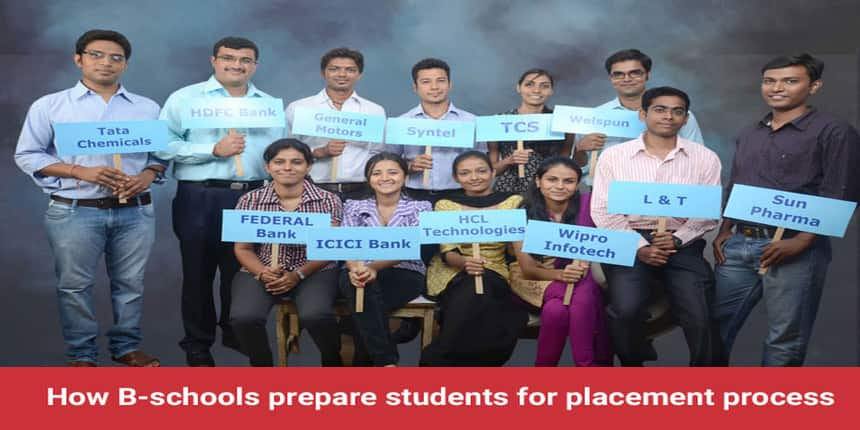 Fine-tuning students for placements
B-schools nowadays see to it that students are in sync with evolving market needs and prepare them for converting campus placement opportunities into job offers. During the placement season, the expectations of the recruiters are sky high, and the campus placement process helps them zero in on candidates with the right business acumen and skills.
B-schools play a crucial role in defining the recruiters' ideal candidate. Not only the theories taught, but assignments, curriculum, pedagogy play a part in your overall development. Sanjay Padode, Secretary, CDE Society, IFIM Business School says, "B-schools encourage students to discover their purpose, and then are provided with skills and training to enable them to be job- ready."
Long-term approaches
As B-schools give high priority to placements they integrate those elements into the curriculum that help students during placements. Prof. Gautam Ghosh, Director, Thiagarajar School of Management says that his B-School has incorporated placement training in curriculum from the first year. "We do have a system of continuous preparation right from the first year. These include courses on business communications, critical appreciation of critical current issues, a revision course on taking aptitude tests among other elements," he said.
Many B-schools offer skill development courses for students to enhance their analytical, logical and other soft skills. "We adopt an integrated approach for enhancing communication skills of students which runs across both academic years to help students' interview skills," says Prof. Gautam Sinha, Director, IIM Kashipur. "We bring in alumni from different corporate entities/verticals to guide these students on interview preparations," says Dr. Bala of Great Lakes.
Similarly, ICFAI organizes special programmes in areas like grooming and image building and experiencing the structure and processes of interviews through mock interviews. "We invite our alumni working in the corporate sector to give students a taste of reality and prepare them for the final placement interviews through direct and video-based feedback," says Prof. Y K Bhushan, Senior Advisor, ICFAI Business School.
Innovative practices for placement push
Focus on business communications

Critical appreciation of current issues

Aptitude tests

Embedding soft skill courses in curriculum

Alumni, industry-expert speak

Career grooming sessions

Direct and video-based feedback

Imbibing critical thinking

Interaction with entrepreneurs

Entrepreneurial courses

Mock GDs and PIs

Mentoring sessions
Creating entrepreneurs
B-schools support entrepreneurial instincts of students through specialised activities. Many have incubation cells that encourage students to work on unique business opportunities by solving existing problems. 'Incubation Cells' at B-schools take initiatives to build associations with cross-sectorial start-ups and seasoned entrepreneurs for continuous engagement and mentoring of the budding entrepreneurs. Dr. Pratima Sheorey, Director, SCMHRD Pune, says, "We provide learning opportunities for the students by organising E-Talks, wherein students get a chance to interact with entrepreneurs and get an idea of business models and strategies." Some B-Schools like DoMS (IISc) have also integrated entrepreneurship-related courses in their curriculum.
Over the past few years such activities have led to increase in start-ups or entrepreneurship opportunities being opted by students during placements at B-schools. For example, around 20 IIM Calcutta graduates from the class of 2014 opted out of the placement season to launch their own ventures. Also, during the placement process 2015 at IIM Ahmedabad, 17 students opted for entrepreneurship.
The final push
Apart from curriculum-integrated activities focusing on placements, and industry-relevant new courses, many B-schools make a final push before placement days. "Students are made to undergo AMCAT tests, concept tests, mock GDs and PIs, summer internships and aptitude training. Alumni are invited on the weekends to give discipline-specific training. Students are given regular feedback for improvement. Certain training sessions start in the first year though the bulk of the training starts 3 months prior to placements," says Dr. R Nandgopal, Director, PSG Institute of Management.
Similarly, IFMR Director Prof. P K Biswas says that students are trained on communication skills with mock interviews and mock GD processes. Some B-schools also organise industry mentoring sessions to prepare students for their post-MBA endeavours. For example, IFIM conducts extensive mentoring sessions by senior corporate executives or entrepreneurs. This helps students identify their weaknesses and strengths. IIM Ranchi does not have any capsule course related to its placements, but it guides students regarding three components of their preparation - CV, GD, and PI. "We do not have any capsule course per se but most of actions mentioned above are largely held before or during the early days of the placement season," says Prof. Anindya Sen, Director In-charge, IIM Ranchi.
Way forward
Placements are in focus now as from 2014 to 2016, campus recruitments went down by a whopping 45 per cent (ASSOCHAM Education Committee study). However, it is high time the B-schools shifted their focus from placements to career planning and guidance services, which will impact the career and life of students in a more positive manner in the long term.
Post Placement Talk
Post-placement talk includes offering employment accepting/ denying offer, discussion of employment in between company and the candidate. Not every B-school opt an official post-placement talk.
*ASSOCHAM figure of 5500-odd B-Schools may include those without AICTE approval.
Stay tuned to bschool.careers360.com for more news and updates on MBA Placement