The challenge is to create niche while upholding IIM traditions and standards: Prof Gautam Sinha, Director, II
The Indian Institute of Management Kashipur is the 13th addition to the prestigious league of IIMs established in the year 2011. In an interview with Careers360, the Director IIM Kashipur, Prof Gautam Sinha shared his vision of creating a niche for the Kashipur students. He further talks about the challenges that occur while matching up with the standards of IIMs.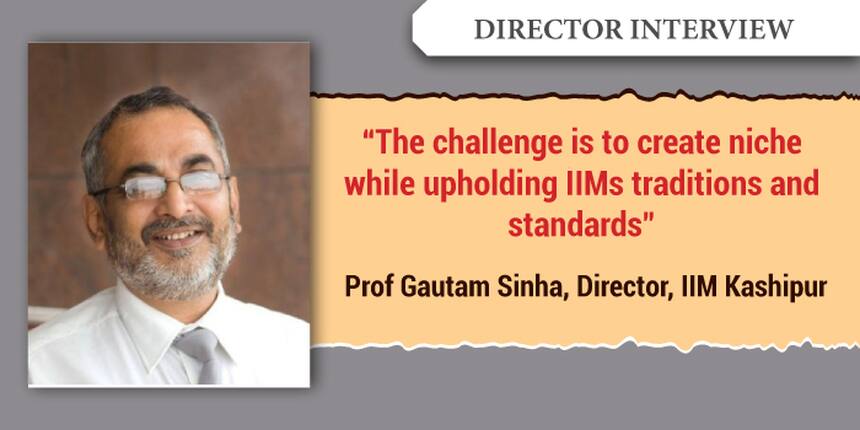 Director IIM Kashipur, Prof. Gautam Sinha also elaborates on the IIM Kashipur mission which is to drive academic excellence using innovative teaching methods, promotion of world-class research and enhancement of productivity through the practice of sustainable leadership.
Interview Excerpts:
Careers360: How has the value of management education in India changed in the last 3-5 years? How do you foresee the MBA programme scenario in the coming 1-3 years?
Prof. Gautam Sinha: The management scenario has undergone significant changes in the last decade, especially after the great recession. It is understood that our world is becoming increasingly uncertain and to survive in this uncertain world managers need to have the dynamic decision-making ability. India has started on the path to become a global force to reckon with, and today's Indian manager also needs to transform into the global manager. What the world of business needs today is a group of visionary leaders who can take the giant leap to make this transition happen.


The face of management research in India is currently undergoing a rapid change. Director IIM Kashipur further added, a greater emphasis on leadership, innovation, and organizational change is being placed on the business schools' curricula. A significant shift has also taken place as the leading B-schools have brought cross-cultural interaction into their classrooms. Another shift will be coming to management in general is regarding how to unlock the huge potential in India's rural sector. So far, this sector has been a sleeping giant, and with the coming wave in industrialization, urbanization, and capitalization of agriculture, we should see a booming rural economy in India. Today's managers will need a thorough understanding of how to navigate through this scene. We will also see the humane face of management more and more often. In the age of rapid information dissemination, we will see the rise of the socially conscious manager, whose target will be to maximize the socially optimal profit level for a firm.


Careers360: The number of MBA applicants has remained stagnant and it has fluctuated around 2 lakh for the last 4-5 years now (reflected in CAT application number). What could be the key reason for this?
Prof. Gautam Sinha: It is true that the number of MBA applicants has not increased significantly during the past few admission cycles. However, this year it has again reached a six year high at 2.18 lakh candidates. Even though it is lower than the 2008 figure of 2.76 lakh candidates, it is not too bad either considering that the global economy has recovered from the great recession. Several studies have found that people go back to school during the time of economic downturns. So we may not see the high number of CAT applicants in the near future, and that doesn't necessarily have to be a bad thing. What we want is a set of quality candidates signing up for management education, with clear understanding of how this training can enhance their decision-making prowess.
Careers360: What is the total intake in the flagship PG programme in Management in your institute? Please also mention annual fee (excluding hostel charges) for the same. Is there a change in the fee structure as compared to the last session?
Prof. Gautam Sinha: We will admit 210 students to the 2016-18 PGP batch. The total annual fee for the PGP course is Rs. 4, 13,700, plus hostel rent Rs. 1, 08,000 totalling Rs. 5, 21,700, excluding the food charges.


Careers360: How have been the placements at your institute for 2015 batch? Any sector/function specific trend that you noticed during the placement season this year?
Prof. Gautam Sinha: We had 126 students in the 2015 graduating batch. Out of this, 111 students were placed to campus recruitment drive, and 4 students were placed off-campus. In total, 56 recruiters participated in the process, and 115 offers were made. Maximum Domestic CTC offered was Rs. 16,50,000, Maximum International CTC offered was Rs 43,31,248 equivalent, Average Domestic CTC offered was Rs. 10,81,185, Average International CTC offered was Rs. 28,70,000.


Majority of the placements happened in the FMCG/Consumer Goods sector followed by Services & IT sector. Sales & Marketing emerged as the most sought after area. The profiles offered were Territory Sales, B2B, Brand Management, Market Research, Rural Marketing and Marketing Analytics amongst many others. The next most sought after was the domain of IT & Consulting.


Careers360: What will be the selection criteria for PGP academic session 2016? Is there any institutional emphasis on gender and academic diversity to accommodate more female and non-engineer students?
Prof. Gautam Sinha: We select candidates based on their CAT scores, Written Aptitude Test, and Personal Interview scores, as well as previous credentials. Various diversity elements are incorporated into the ranking formula to ensure that we get the optimal mix of diversity in the student body. Female candidates are also encouraged to join the programme through various incentive schemes. Incidentally, the CAT coordinator for this year, IIM Ahmedabad, has also implemented specific steps to increase the number of non-engineer students among the top percentiles of CAT applicants, added Director IIM Kashipur.


Careers360: What is the USP of your flagship management programme which differentiates it from the others? How do you plan to enrich your flagship management programme in the next 1-2 year?
Prof. Gautam Sinha: We emphasize the 'learning by doing' philosophy in our classrooms. Students learn through a plethora of simulations, live projects, and industry interactions. Our goal is to create well-rounded leaders who will not only enhance the potential of a firm, but also will bring and sustain disruptive changes in an industry. In this endeavor, we are also placing higher importance on developing entrepreneurial abilities in our students. We are making sure that all the courses get woven together through the common theme of entrepreneurship. At the same time, we are also ensuring that the students get the right amount of understanding of management concepts. This strategy should transform a student into a leader capable of taking and implementing prudent and visionary decisions through critical thinking and innovation.


Careers360: Any message to B-School aspirants?
Prof. Gautam Sinha: Your world is and going to become very different from ours. We hear about entrepreneurs, in India, who create a company and retire at 30, become VPs and CEOs before 30. Your IIM credentials would allow you to put your foot in the door. Whether the door opens, depends on whether you can convince the prospective employer about what you to bring to the table, with a promise to deliver. Director IIM Kashipur said that if you can convince the person that you have both the potential and the intent to deliver what the employer needs- you are in. Once in, you have to deliver what you promised, and more.
Also Read:
Top B-School Director Interview
Stay tuned to www.bschool.careers360.com for more news and special interviews with B-school directors.
IIM Kashipur Updates and Articles
Questions related to IIM Kashipur
Showing 20 out of 20 Questions