CMAT 2016 Topper Interview: How AIR 3 Mallikarjuna Mullangi got hooked towards a career in Management?


Pune boy Mallikarjuna Mullangi has secured a remarkable score of 296 to emerge as one of the toppers of CMAT 2016. Mallikarjuna, who has nabbed the third rank in the national level MBA entrance exam, was well in his way to establishing a career as a scientist when a stint at Sciensation – a media start up with focus on science communication- introduced him to entrepreneurs with fresh ideas on the marketability of science education.  His interactions with marketing minds in addition to his work in the logistical aspects of the organization pushed his interests toward seriously pursuing management as his career.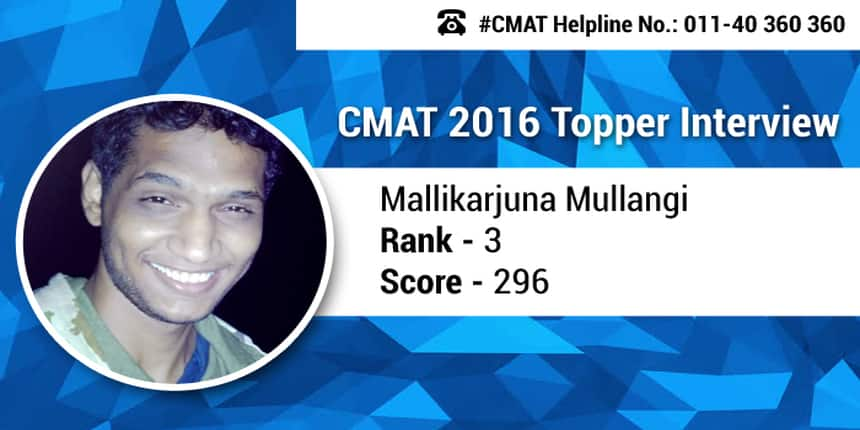 Recent Posts
What sets Mallikarjuna apart from many of his peers is also his passion for athletics with special interest in long-distance running. The graduate from IISER, Pune, takes pride in the fact that he has not only participated but also completed many half marathons and looks forward to more such events in the future as long distance running helps keep his mind fresh and open to new ideas.
In this interview with Careers360, Mallikarjuna talks about his simple yet effective strategy of taking mock tests that helped him to break into the CMAT toppers group.
Read below the edited excerpts from the interview:
Careers360: Congratulations on your CMAT Result! You scored an incredible 296. What are your thoughts? 
Mallikarjuna: Thank you! Honestly, I was not expecting this score, at least, not that I would be the third topper. Even my Father is surprised. However, my Mother says she did expect me to get a good score after my CAT results were out.
Careers360: That is great. How much did you score in CAT? And what other exam did you appear for?
Mallikarjuna: I got a 97.5 percentile in CAT. Actually, I just appeared for CMAT after CAT. It actually made CMAT preparation easier for me.
Careers360: That is an incredible score. Tell us how did you prepare for CMAT? Did you apply a different strategy for both the tests?
Mallikarjuna: I did not apply any specific strategy for any of the tests and my mode of preparation was same for both. First thing that I did was to get books from the 12th standard and get my fundamentals rights. It is important to get your concepts cleared since both CAT and CMAT are aptitude tests. Secondly, I took many mock tests. Mock tests show you the actual picture; in the sense, where you stand in your preparation.
Besides, having a Biology background helped me in the Reading Comprehension sections. I had the opportunity to read some very good books by incredible authors which helped a lot in shaping my language and understanding comprehension.
Careers360: Tell us something about yourself. What about your educational background?
Mallikarjuna: Basically, I was born and brought up in Pune where I even pursued my education at IISER, Pune. For five years, I was a hardcore science student and focused majorly in Biology, among other subjects, in my final two years in IISER. After I passed out of college I joined a Start-up called, Sciensation which, essentially, introduced me to business related aspects like logistics and recruitment.
Careers360: Being a science student what made you to switch your field to management?
Mallikarjuna: As I mentioned, in Sciensation, I was introduced to a world beyond Science. Besides my responsibilities in logistics and recruitment I had the opportunity to interact with many fresh entrepreneurs and I was amazed at the work that they were doing. You see, as part of my job I, along with a team, had to go to different schools and teach the students what Science really is. These kind of ideas pushed my inclination toward management. 
Careers360: Going forward which business schools do you want to join? Do you have any personal favorite?
Mallikarjuna: Of course, like any other MBA aspirant I, too, want to join IIM, Ahmedabad. Bangalore and Kolkata are also in my list. Actually, I have already got a call from IIMA.
Careers360: So have you started preparing for next rounds?
Mallikarjuna: Yes, I have. But basically, it is just reading and brushing my language. Also, I keep jotting points in my mind and question myself to boost my preparation.
Careers360: That was just about studies. Tell us what else do you enjoy? How is your World beyond academics?
Mallikarjuna: One thing that I enjoy the most is long distance running. Running relaxes me and keeps my mind open to ideas. In fact, I have even participated and completed many half marathons.
Also Read:
CMAT 2016 Topper Interview: AIR 1 Jivtesh Singh says mock test is the key to success
Top B-schools Accepting CMAT Scores
CMAT 2016 Participating Institutes
Other Feature Stories on B-School and MBA:
CAT GD-PI-WAT Topper Interview
Preparation Tips for GD-PI-WAT
Stay tuned to www.bschool.careers360.com for more news and updates
Questions related to CMAT
Showing 2852 out of 2852 Questions