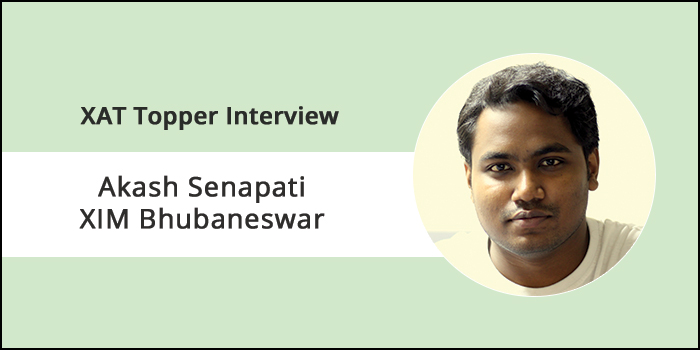 XAT 2018 Topper Interview – Not very often do we come across toppers who chase the MBA dream, but do not give up on their hobbies and interests alongside. While working in the profession of content writing, Akash Senapati with his hard work made it to XIM Bhubaneswar after cracking XAT 2018 with 91.4 percentile. This XAT topper interview is an ideal read for all aspirants of to know about his success mantra and devise XAT preparation strategy accordingly.
MBA/PGDM Admissions Open 2019
IFIM Business School
XAT Sample Paper
Download Free Sample Paper for XAT
Download Now
Besides appearing for XAT, Akash also cracked other competitive MBA entrance exams like CAT, SNAP, NMAT by GMAC and MICAT with flying colours. As he would get time for self-study after work hours during night, he broke sweat and followed a self-crafted preparation strategy which resulted in his success. He also utilised weekend coaching classes to find out where he stands in the competition and religiously took mock tests under the mentorship of experts. Meanwhile, under all this pressure, he made sure to pursue his hobbies and interests whenever needed to let off some steam.
To fill XAT 2019 Application form - Click here Or Apply from the window given below:
In this XAT topper interview, Akash recommends the books and study materials for XAT, online and offline resources, skills and all the tips and strategies that worked for him to ace a competitive exam like XAT. Read on to get more insights of his success mantra.
Excerpts from the interview:
Careers360: What was your XAT 2018 overall and sectional percentile? Apart from XAT, which other entrances you appeared for and what were your percentiles?
Akash: I scored 91.4 percentile in XAT 2018. My sectional scores in Quantitative Aptitude, Verbal Ability, and Decision Making were 72.67, 96.78 and 93.7 percentile respectively. I had also appeared for CAT, SNAP, NMAT, and MICAT. I secured 95.89, 97.8 and 94 percentiles in CAT, SNAP, and NMAT respectively. In MICAT, I achieved a score of 52.
Careers360: What was your preparation strategy? Please share section-wise strategy in detail.
Akash: Unlike other competitive exams, I believe XAT is a holistic examination which properly evaluates the managerial intellect of the prospective candidates. Instead of just focusing on Quantitative Aptitude, Verbal Ability, and Logical Reasoning, XAT incorporates the decision-making section which makes XAT a lot more challenging. My preparation strategy for XAT boiled down to three basic principles:
Clearing the basics

Daily practice

Frequent mocks
The first and foremost strategy to crack the verbal ability of XAT is to start taking reading seriously. For voracious readers, it will be a bit easier. But for prospective candidates who are currently in their final year of college, or even for working professionals, reading newspaper editorials is a must. For building an enviable vocabulary, I would suggest following 'How to build a better vocabulary' by Maxwell Nurnberg and Morris Rosenblum. I would also suggest keeping a small diary to jot down difficult words to remember. If possible, one can also use mobile apps like Knudge to further augment your vocabulary.
For quantitative aptitude, study material from any reputed institute would suffice, if done with proper diligence. I would also recommend remembering the squares and cubes of first 30 natural numbers, as they come really handy when you are running short on time. Also, one can also take help from sites like 'Lofoya', if the study material provided by the institutes is exhausted.
Coming to the decision-making section, its importance cannot be stressed enough; yet, it turns out to be the most neglected section by a large number of candidates. Interestingly, there are no well-defined resources for this section. For getting a rough idea about the section, solving the previous year XAT questions does help a lot. Also, getting a brief idea about XLRI/XIMB would really go a long way in developing the managerial instinct which will is helpful to get through this section.
Careers360: How did you prepare – Self-study or Coaching? Please explain which one do you think is better?
Akash: While preparing for competitive exams, I was working as a content writer for a start-up. It was a bit hectic to manage my schedule, so I had opted for weekend classes at a reputed coaching institute. In my personal opinion, coaching is the better alternative as classroom study gives you a very concise idea about the level of competition in these examinations. Also, competitive exams always encourage out-of-the-box thinking to solve questions, which is easier to gain with like-minded peers. But in the end, it comes down to the individual and should be best left with him/her to decide.
Careers360: When did you start preparing for XAT? Please share your month wise prepartion strategy.
Akash: Though I was always interested for MBA, it took a few months to dawn upon me about the importance of XAT and other related examinations. I started preparing for XAT in late April. At first, I started to lay down a strong foundation by spending a lot of hours on clearing my basics. It might sound like an adage, but a strong foundation stops a skyscraper from crumbling down.
Coming down to the timeline, I spent my first six months solving every question in the study material I had bought. In the last three months, I appeared for mock exams almost every alternate day so that I had enough time with me to minutely analyse them to work on my strengths and rectify my mistakes. In the last month, I spent most of my hours in remembering every formula and shortcut which I had devised in my months of preparation.
Careers360: What was your last minute preparation strategy?
Akash: The most important part of any competitive exam would be the last minute strategy, where one has to calm his/her nerves while still being able to keep the passion burning with the same vigour as it did on the first day of preparation. In my personal opinion, as the D-day approaches, one should take ample amounts of rest to keep the mental faculties at their peak levels. While appearing for XAT, in the last few days before the exam, I used to watch a lot of movies while keeping a tab on the important formulae. I would suggest doing anything which takes you to your happy place, bringing in a sense of serenity. But then, never ever lose focus, as it all boils down to one day where one has to be at his/her absolute best.
Careers360: How did you balance your preparation with studies or job? Please share your timetable.
Akash: As I was working as a content writer, my line of work wasn't as hectic as professionals who work in the IT or any other industry. Sometimes, my work did get a bit hectic and balancing my studies with the job became a bit challenging. I am not a morning person, so I had to schedule most of my studies after the midnight hours. Usually, I solved quantitative aptitude in the night as I found the silence to be quite helpful. During daytime, I solved reading comprehensions and grammar. I didn't adhere to a strict timeline, so I had to change my timetable after every week. I would suggest working on your weak sections either in the early morning or late at night, as these are only parts of the day with the least distractions.
Careers360: What was the one thing that you did consistently during your preparation According to you, what is the most important aspect of preparation?
Akash: The one thing I did consistently throughout my preparation was working on my strengths. No matter how many hours you spend on your weaknesses, it's always going to be your strengths which will help you win the battle. In my opinion, I think spending a considerable amount of time on the strengths would be a deciding factor for the success probability in any competitive examination.
Careers360: What are the best study materials for XAT?
Akash: As I used materials from T.I.M.E., I would be a bit biased towards them. I found them to be extensively exhaustive, leaving no blind spots. For newspapers, I followed The Hindu almost religiously, which helped me a lot in cracking the tricky reading comprehensions. I was also active on different online forums which let me hone my skills in quantitative aptitude. I had also bought the exam series from Career Launcher, which I believe is the closest simulation to XAT/CAT. In terms of my preferred materials, it would be offline as it takes a lot of willpower to stop one from clicking that 'new tab' to surf Facebook or YouTube.
Careers360: When did you start taking mock test and what was the frequency? How did you get it analysed and integrate it in your preparation?
Akash: I started taking mock tests mostly from the month of September. At first, I appeared for the mocks once a week. Then, I increased the frequency to twice a week and then, on every alternate day. I analysed the mocks very minutely with the help of my mentors from the institute.
The first step of analysing is to figure out your strengths and weaknesses. In the weak sections, I would suggest going back to the basics. In competitive exams, the questions are usually quite easy. It's mostly a test of quick thinking rather than intelligence. For the strong sections, one mistake which most people do is to take them for granted. Instead, one should think of newer and easier solutions to solve the questions in even lesser time. By practising these for months, the ability to detect the easier questions grows exponentially. In any exam, questions are meant to be flirted with. If it's not working, then always jump to the next one.
Careers360: What was your exam day strategy in terms of question selection, time management, accuracy and sectional attempts/cut-offs?
Akash: As mentioned above, I capitalised on my strengths to maximise my score. Question selection is something which comes with lots of practice. Coming to time management, it's a skill which can only be developed after appearing mock examinations. It happens often that candidates get stuck with questions while leaving out the easier ones. For every section, there are always going to be sitters which will easily help one to score past the cut-off. But to score that golden 90+, it's always advisable to sweat it out in the practice sessions, so that you don't bleed much in the battlefield.
Careers360: Preparing for XAT is a long and tiring process. How do you suggest one should keep his/her calm and confidence?
Akash: Preparing for XAT is definitely a long and tiring process. My mantra to keep one's calm and confidence in such high-pressure situations would be to never lose touch with one's hobbies and interests. I have always been interested in writing, reading, and travelling. During my preparatory months, I always found some time to indulge in my interests, so that my brain gets back to its peak performance after every tiring session of Quant, Verbal and Reasoning. Always be sincere towards your work.
Careers360: How should candidates with non-English education background prepare as the mode of the test is English?
Akash: For someone with a non-English background, it's going to be quite challenging as it's not just the examination which is conducted in English, but, the verbal section itself is quite challenging. But then, nothing is impossible. My suggestion would be to start reading newspapers almost religiously. Further, reading novels, writing and conversing in English with peers also help a lot in getting past the much-dreaded language barrier. The path is definitely arduous, but not impossible.
Careers360: What is your message for XAT 2019 aspirants?
Akash: My message for XAT 2019 aspirants would be to give your level best. Usually, the passion fades out midway through the preparations. For that, I would suggest leading a healthy lifestyle, keeping your body and mental faculties at your level best. Also, always be in touch with the things which make you happy. Never lose sight of the focus. There's a great surprise awaiting you at the end of this torturous journey. Just keep calm.
Also Read