SNAP 2020 Topper Shabbir Paghdiwala Says, "Believe in yourself, you will definitely achieve your dream score"
SNAP 2020 Topper Interview: It was like a dream come true for SNAP 2020 Topper Shabbir Paghdiwala who scored 99.94 percentile in SNAP 2020 exam. In this exclusive interview with Careers360, Shabbir Paghdiwala shared the winning formula that helped him get 99.9451 percentile in the most popular and difficult MBA entrance exam in the country. According to Shabbir, self-study with proper mentorship is the best way forward to clear the SNAP exam. SNAP 2020 Topper Shabbir Paghdiwala utilized the coaching institute and mock test series to prepare and excel in his preparation strategy. SNAP 2020 Topper Shabbir Paghdiwala started CAT 2020 preparation and became more focused, after the CAT, he shifted his entire focus to SNAP. His story serves as an inspiration to the millions of other aspirants vying for admission to institutes affiliated with SIU. Read the full interview of SNAP 2020 Topper Shabbir Paghdiwala to know more about his preparation strategy and what he did differently to score such a high percentile.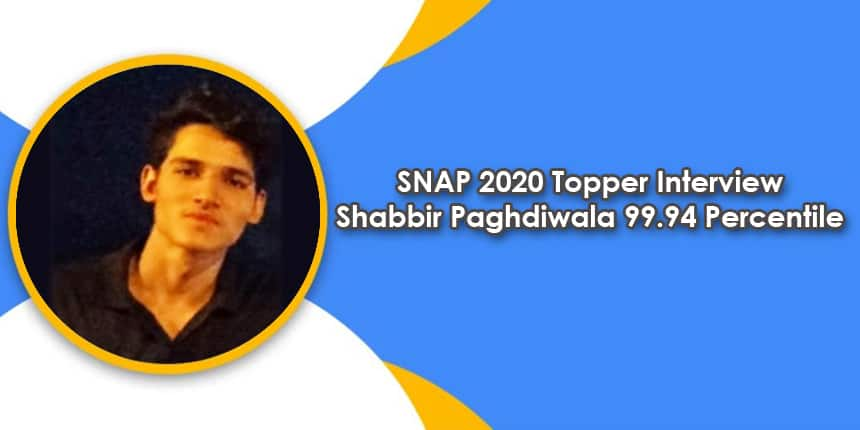 Also read
SNAP Cutoff 2020: Latest SNAP 2020 & Previous Year SNAP Cut off
How to prepare for PI-WAT rounds of top B-schools
Careers360: With the change in SNAP 2020 exam pattern did it affect your preparation strategy? Do you think it was appropriate to remove the General Knowledge section?
Shabbir Paghdiwala: In an exam like SNAP, having speed with accuracy was already important and further reduction meant that one has to have speed and the skill to leave questions within, say 30s, if unable to solve. So I started practicing with a timer and focused more on accuracy and gradually gained speed. I think this is the best way to increase your score. As the overall number of questions were reduced, I think inclusion of GK would not have been ideal. Including GK over and above the other 3 sections in a 60 questions paper would have considerably reduced the weightage of the other sections.
Careers360: How did you prepare - Self-study or Coaching? If you took coaching then from where? Please explain which one is better- self-study or coaching?
Shabbir Paghdiwala: I think enrolling in a coaching helps in strategizing one's preparation. Without proper guidance and exam strategy one may not be able to achieve his/her full potential and may miss out even after working hard. For this reason, I enrolled with a reputed institute. Their mocks were the closest to the actual SNAP papers this time. Having said that coaching, coaching can never be a replacement for self-studying. So, in my opinion, self-study with proper mentorship is the best way forward.
Careers360: When did you start preparing for SNAP? Please share in detail your month-wise preparation strategy for SNAP.
Shabbir Paghdiwala: As I was already preparing for CAT, I was aware of the basic concepts in the Quant and Logic section. The only section that needed extra attention was Verbal Ability as it is Vocab and Grammar heavy. So after I was done with my CAT exam on 29th Nov., I picked up 'Word Power-Made Easy by Norman Lewis for Vocab and started learning words with its root. This helped in better retention of words. For Grammar, topics like Subject-Verb-Agreement, Active-Passive, Spot the error etc. are very important so I just practiced them from 'Wren and Martin'. So I practiced Vocab and Grammar 2 hours every day for around 3 weeks until the exam.
Careers360: Are you working? If yes then how did you balance your preparation with a job? Please share your timetable.
Shabbir Paghdiwala: No. I am a fresher. After the online classes, I used to practice for 2 hours daily in the evening from 4-6, (Vocab and Grammar 1-1 hr each), post which I would write a mock from ~6-7 every alternate day. After that I would analyse it thoroughly which took me around 1.5 hrs. Before sleep I made sure to read at least 2 articles from Aeon Essays or The Atlantic.
Careers360: According to you, what is the most important aspect of preparation?
Shabbir Paghdiwala: The most important aspect of preparation according to me is being consistent. No matter how busy one is, devoting at least 2 hours everyday for any entrance exam should be the norm. Apart from this, one should try to give at least one mock every alternate day and thoroughly analyse it. Knowing your strengths as well as weaknesses helps you select doable questions, leaving out the time-sinkers. Getting stuck for 3-4 mins at a particular question or missing out on a sitter will be heavily detrimental to your scores.
Careers360: What are the best study materials for SNAP or other exams? Please name some study materials you had referred to during preparation which includes the names of books which you consulted for each section.
Shabbir Paghdiwala: The study materials I found useful were IMS Modules .One of its modules is specifically for speed based exams like SNAP and NMAT. It is a good start for getting acquainted with all the sections. Some other references which I referred to are:
Quantitative Aptitude- 'How to Prepare for Quantitative Aptitude' by Arun Sharma and 'Quantum CAT' by Sarvesh Kumar.
Verbal Ability and Reading Comprehension- 'Verbal Ability by Sujit Kumar' for VA and Past year papers/mocks for RC.
Logical Reasoning- Past year mocks/papers.
Also, Past Year Papers prove the best source to practice after you get reasonably comfortable with the material.
Careers360: How does one with non-English background prepare him/herself for the exam as the mode of the exam is only English?
Shabbir Paghdiwala: The best way to get comfortable with English is through reading. One can start off by reading standard newspapers like Times Of India as the language used is not so fancy and an increase in general awareness will be an add on. One needs to understand that this will not just help in exams but also during GD-PI. Speaking in English with friends and families also helps.
Careers360: What was your exam day strategy in terms of question selection, time management, accuracy and sectional attempts/cutoffs?
Shabbir Paghdiwala: My exam day strategy was simple- Solving questions gave me the easiest 1 mark.
I had planned to complete the VA section (excluding the RC) in around 5 mins. Next I had planned to solve QA, which was my strength in around 20 minutes. Finally I would solve LR, taking around 30 minutes which would leave me with 5 minutes for solving the RC questions.
But surprisingly, there were no RC questions and thus I was able to complete the VA section in around 7-8 minutes, adjusting whatever extra time I got in solving Quant.

Careers360: How do you suggest one should keep his/her calm and confidence during the long and tiring preparation process for a management entrance exam?
Shabbir Paghdiwala: Competitive exam preparations can be tiring and at times frustrating especially when you see your hard work not getting reflected in mocks. To ease pressure, I suggest that one should take up a hobby and devote sufficient time for it everyday. The preparation phase should be treated like a marathon rather than a sprint. Although mocks are a good way to assess yourself and know where you stand, they should always be treated as a learning tool and not as an absolute result. Being calm and confident is the key to performing in any entrance exam.

Careers360: What is your message for future SNAP aspirants?
Shabbir Paghdiwala: Practice-Practice-Practice, be it from any standard reference book or past year papers. Never stop preparing or stop giving mocks just because you don't get the desired results. I myself have scored below 60%ile once. If you are consistent and believe in yourself then you will surely achieve your dream score. And most importantly, enjoy the journey and don't let it become a burden.
Careers360: What is your take on the Changed exam pattern and reduced number of questions?

Shabbir Paghdiwala: Attempting the whole paper, even though the level was easy-moderate was a challenge but keeping the COVID-19 scenario in mind, I think it was justified to reduce the duration of the exam. However, with the risk of getting stuck and not being able to make up for the time lost was high in the new SNAP exam pattern.
Careers360: Do you think it is a good idea to have two attempts in the near future also?
Shabbir Paghdiwala: Yes, (assuming the duration remains unchanged) because in a 60min exam there is very little come back time for someone who picked up even 2-3 wrong questions in the beginning. It gives an extra chance especially to someone who has worked really hard but faltered on the exam day.
Careers360: How were the arrangements at the test centre for COVID 19?
Shabbir Paghdiwala: All the COVID-19 guidelines were followed at the test centre. Only candidates having normal body temperatures were allowed and Face Masks and Sanitizers were made compulsory.
Also read
SNAP 2020 Topper - Abhishek Choudhary Interview
Questions related to SNAP
Showing 708 out of 708 Questions