MAH CET 2016 Topper Interview: Focus on the visual reasoning section, says 99.99 percentiler Pranav Pant


An Electronics and Telecommunication Engineer hailing from Uttarakhand, Pranav Pant secured 99.99 percentile in MAH CET 2016. A cricket fan, Pranav has around 2 years of work experience and wishes to pursue an MBA to open new career opportunities for himself.
In this interview with Careers360, he shares the strategies that one requires to crack MAH CET MBA with a high percentile. According to Pranav, the uniqueness of MAH CET lies in its Visual Reasoning section and the aspirants must focus on this area to ace the test. He further shares the advantages of the changed pattern which helped him in developing a test-taking strategy.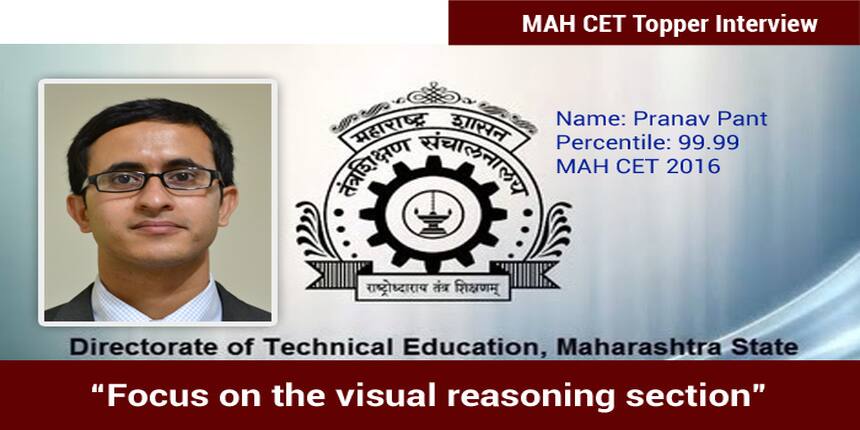 Pranav is targeting JBIMS Mumbai and is quite confident of getting an admission offer from this premier B-School. He advises future MAH CET aspirants to first analyze their ability and then prepare for the strong and weak sections.
Read interview excerpts below:
[How to ensure a positive outcome in your GD/PI. Click here and enroll to get Tips/Tricks and Smart Techniques to deal with situations smartly]
Careers360: Were you expecting to secure this high percentile of 99.99? What was your reaction after checking the result?
Pranav: My test was good so I knew that I'll score well but 99.99 percentile was beyond my expectation. The result was announced before the scheduled date and I wasn't aware of it. I came to know it two days after the announcement when one of my friends told me about it.

Careers360: Tell us something about yourself- your education, work experience, family, hobbies/interests etc., and why you want to pursue MBA?
Pranav: I hail from Nainital, Uttarakhand. I've done engineering in Electronics and Telecommunication. I have 1.5 years of experience in a real estate MNC and 1 year in an educational startup. My hobbies include solving puzzles and watching cricket. I look MBA as an opportunity to open new career opportunities for me.


Careers360: Which other MBA entrance exams have you appeared for?
Pranav: I appeared for CAT 2015 and secured 99.37 percentile.
Careers360: What was your preparation and exam day strategy which you followed? How was it different from the preparation of other MBA entrance exams?
Pranav: As I had prepared for CAT, the basic concepts remained the same. Yes, this exam is slightly different from other exams as it tests more on one's reasoning ability. The visual reasoning section of the exam is unique among the MBA entrance exams. Unlike CAT, it is a speed based exam; hence, one needs to practice accordingly.
Careers360: This year MAH CET exam pattern has changed as the section wise question numbers had been stated earlier unlike the previous years. Was that helpful?
Pranav: Yes, this helps in making the exam strategy. One needs to access his/her abilities and hence prepare accordingly. For example, there were 75 questions on reasoning so if someone is weak in reasoning he/she should focus on improving it as the section constitutes a bigger portion of the test.

Careers360: Which B-schools are you aiming through your scores?
Pranav: My target is JBIMS and I'm likely to get it.
Careers360: What would be your suggestion for the MAH CET 2017 aspirants?
Pranav: This is a generic advice for all competitive exams. Firstly analyze your ability. Focus equally on your strong and weak areas. The former boosts your confidence and the latter helps you maximize your score. Know the pattern of the exam, it helps building the strategy for the test.
On the test day, be relaxed. Attempt the set questions first (e.g. Data interpretation) rather than focusing on individual questions. If you get a set correct, you score in bulk. While practicing as well, focus more on topics that have set questions such as DI, seating arrangements, etc.


Also Read:
MAH CET 206 - Know the Toppers
Stay tuned to www.bschoo.careers360.com for more news and updates
Questions related to MAH MBA CET
Showing 18 out of 18 Questions