SNAP 2020 Topper Parikshit Mishra says, "Find a reason to get back onto the saddle"
Failures, small or big, impact us all. They dent our confidence. They derail our routine. They infact create self-doubs. They instill fear. Well, that's the negative part. On the other hand, they also have a positive part, that is, they make us strong. So here is SNAP 2020 Topper, Parikshit Mishra who scored 99.73 percentile in his first attempt, but before that, in other entrance exams he couldn't perform as per his expectations. In CAT 2019, he scored a mere 77 percentile. But gave CAT again this year and scored 95.54 percentile. SNAP 2020 Topper Parikshit Mishra's main strategy to ace the SNAP exam whirled around taking maximum mock tests. SNAP 2020 Topper Parikshit Mishra also believes every exam in India is very competitive so it is better to opt for coaching in order to have the right guidance from someone. Let us take a look at what Parikshit Mishra has to say in his interview with Careers360.
Quick Links -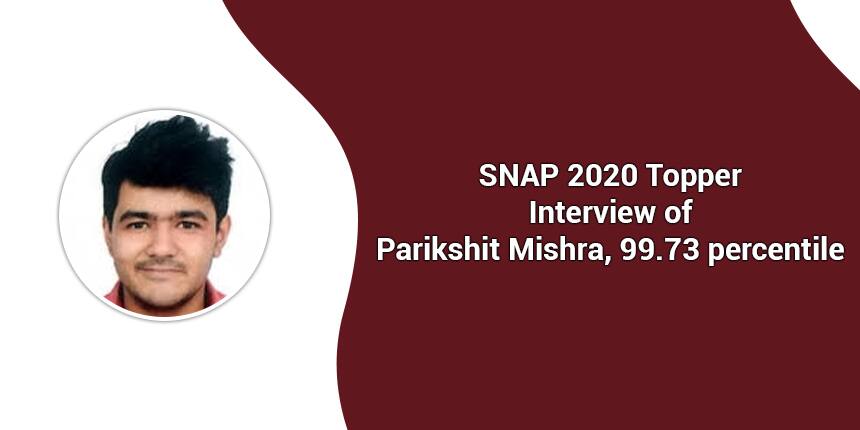 SNAP Cutoff 2020: Latest SNAP 2020 & Previous Year SNAP Cut off
How to prepare for PI-WAT rounds of top B-schools
Careers360: Tell us something about yourself.
Parikshit: My name is Parikshit Mishra. I graduated from VIT Vellore in 2017 with a Btech in Electrical and Electronics Engineering. After my graduation I worked for Deloitte Consulting as a Business Technology Analyst.
Careers360: What was your SNAP 2020 overall percentile? Apart from SNAP, which other entrance exams you appeared for and what were your scores?
Parikshit: My overall SNAP percentile was 99.7332. Apart from SNAP, I have so far appeared for CAT where I scored 95.54, XAT where I scored 94.95, NMAT where I scored 246 marks and GRE where I scored 325. I still have quite a few exams to appear for like IIFT, MICAT2, TISSNET and PGDBA.
Careers360: What were your sectional scores in SNAP 2020?
Parikshit: My sectionals in SNAP are 12.5/15 in Verbal, 19.75/25 in Logical Reasoning and 16/20 in Quantitative Aptitude. This totals to 48.25/60.
Careers360: For which SNAP slots did you appear?
Parikshit: I appeared for the December 20th slot of SNAP. I had also registered for the slot on 9th but I didn't write that exam as I had already tallied my score with the Gradeup memory based paper and was confident of getting 47+. As all the coachings were predicting a score of 44+ for SIBM Pune, I thought of skipping this exam and using the time for my GRE which was on 10th.
Careers360: What was your preparation strategy? Please share the section-wise strategy in detail.
Parikshit: My CAT hadn't gone as well as I had expected so I had to give my 200% to my other exams; the first of which was SNAP. I had 20 days to prepare for it. I knew my basics were fine so I only had to practice as much as possible and give as many mocks as I could. For practice I followed Iquanta's NMAT and SNAP group where we would have daily practice sessions on all the three sections. For mocks, I wrote 5 mocks of IMS and 10 mocks of Iquanta.
After a couple of mocks, I realised that SNAP was more about managing the time properly. Initially, I used to take 15 minutes for English, 20 minutes for Logical Reasoning and 25 minutes for Maths. Later, I realised that english can easily be done in 10 minutes and then I can devote 25 minutes each to the other two sections. Initially my score in the mocks were between 30-35 but after switching my timing to 10-25-25 I saw that my mock scores ranged from 38-44.
I would say that if you have a decent preparation for CAT then you just need to work on your strategy to get things right on the SNAP.
Careers360: With the change in SNAP 2020 exam pattern did it affect your preparation strategy?
Parikshit: This was the first time, I wrote SNAP so the new exam pattern didn't make much of a difference to me.
Careers360: How did you prepare - Self-study or Coaching? If you took coaching then from where? Please explain which one is better- self-study or coaching?
Parikshit: I took coaching at Iquanta. Apart from that I took test series by TIME and IMS. I would suggest that one should go for coaching. A lot of people say that it's just aptitude and one can prepare without taking any help. That might be the case for some. Personally, I feel that every exam in India is very competitive and its best to take guidance from someone.
If you search in the market today, you will find a plethora of material. But the thing is that you don't need so much information. This is where I feel coachings come most handy, as they filter out the unnecessary questions and textbooks. The second reason why I feel coachings are important is because when you are preparing on your own, you tend to take your own sweet time to complete the syllabus. This is not the case with coachings, they have a strict schedule of completing the syllabus in 3-4 months. The third and probably the most important reason as to why I would go for coaching is that they provide a peer group to compete with. When you prepare on your own, even if you are scoring good marks on the mocks, you aren't aware of how far you still need to go.
I think I made the right decision with Iquanta, as they fulfilled all the three aforementioned requirements. They gave me ample number of questions in their daily practice sessions and daily classes. They completed my syllabus by mid September. So, I only had to practice after that. Lastly, even with the pandemic going around they gave me a very vibrant and competitive peer group.
Careers360: Are you working? If yes then how did you balance your preparation with a job? Please share your timetable.
Parikshit: Yes, I am working. My work timings are 11-8. I would study every day in the morning from 7-1030. I would start my day with a couple of RC and LRDI sets everyday. After that, I would revise everything done in class the previous day. Throughout the day, I would solve the questions posted on the Iquanta group or read some articles from Aeon. My evenings at work stretched to post 9 on most of the days so I didn't have a lot of time for self study in the evening. I attended my classes from 10-12. This is how my weekdays were like. On weekends I would solve as many quants questions as possible and write a mock.
I followed this routine till August. Post this, as most of my syllabus was done, I started writing more mocks. By November, I had been writing 4-5 mocks per week. I would write mocks in the morning and if they were SAMCAT or TAKEHOME, I would analyse them in the evening as the answers to these mocks are available right after finishing the test. For other All India mocks, I would wait for the coaching to release the answers.
Careers360: According to you, what is the most important aspect of preparation?
Parikshit: I think the most important aspect of preparation for any exam is writing mocks and then analysing them. You can learn an infinite number of concepts but as long as you are not writing your mocks religiously, you won't perform well on the exam. The mocks are there to replicate the various scenarios you can fall into while writing the actual exams. So, it is important that one writes a mock. It was only after I wrote a couple of SNAP mocks did I realise that I could finish the verbal part in 10 minutes or less. This helped me dedicate 5 more minutes to my logical reasoning section. Another situation that I can remember is when I was writing a CAT mock. That paper was so hard that I had actually started crying. This situation repeated itself in the CAT DILR paper. But this time, I was prepared for it and kept my cool. This enabled me to solve one more DILR set and that made all the difference.
Mocks will dishearten you, humiliate you or worse; they might break you. But in the end they will make you strong enough to face the actual exam. So take mocks very very seriously.
Careers360: What are the best study materials for SNAP or other exams? Please name some study materials you had referred to during preparation which includes the names of books which you consulted for each section.
Parikshit: As everything that I had studied for CAT covered the SNAP syllabus as well, I didn't have to refer to any particular material for SNAP. I just took the IMS and Iquanta test series. They were more than sufficient. However, for my CAT preparation I referred to the following books/materials:
VARC: I completed the IMS RC99 book. Apart from that, I solved all the RCs on the Iquanta portal. I also solved all the RC and VA questions asked on the mocks and sectionals. For articles, I used to read them on the Aeon, Atlantic, TIME, the Economist and Aldaily.
DILR - I didn't follow any book for this. I solved all the sets in mocks repeatedly. Apart from this, I followed the DILR Master page on YouTube.
QA - I used Quantum CAT by Sarvesh Verma and Time study material for clearing my basics. After that I solved all the questions that were shared on Iquanta.
Careers360: How does one with non-English background prepare him/herself for the exam as the mode of the exam is only English?
Parikshit: Since I am from ICSE background, English has never been a problem for me. So, I really don't know how to answer this question. However, I would like to tell you that in CAT 2019, I had scored a measly 77 percentile in verbal. This had completely shattered my confidence and it took me some time to bounce back.
To prepare for the management entrance exams, I think one needs to read a ridiculously large amount of good English content. Some would suggest you to read novels but I think that it's just a waste of time. This is because we tend to pick up books which are according to our taste so that does not challenge us intellectually. And even if we do pick up from an eclectic set of genres, we only have 40-45 weeks to prepare. It takes almost a week for an average reader to finish a book. So by the end of the year one has only read on 40 different topics. I think reading essays on websites like Aeon is the best solution. Just pick up any article and start reading it. It will seem like an arduous task in the beginning but gradually you will develop a taste for it. The other thing which one can do is reading the RCs on the mock tests. Just go through the RC and then the solution and see where you deviated from what the author was saying. This goes on to reiterate the fact that mocks are the best way to improve.
For vocabulary, one can refer to the Word Power Made Easy. It's a beautiful book. I call it beautiful because it is based on the power of habit. As one might have heard, it takes 21 days to form a habit. WPME is divided into 21 sessions. So after 21 days, not only will you have a working set of vocabulary, but you will also have inculcated the habit of searching for new words.
Careers360: What was your exam day strategy in terms of question selection, time management, accuracy and sectional attempts/cutoffs?
Parikshit: My exam day strategy was completely based on what I had done in the mocks. I was determined to solve English in 10 minutes. Then solve Logical for 25 minutes and then give the last 25 minutes to Quants.
I had never attempted more than 50 questions on any of the mocks so that was my target. I was hopeful of managing a 90% accuracy. This would have given my 43.75 marks. At that time the predictions were saying that 42 should be enough for an SIBM Pune and SCMHRD call. Luckily the paper was bit on the easier side so I managed to solve 52 questions and got 49 of them correct.
Careers360: How do you suggest one should keep his/her calm and confidence during the long and tiring preparation process for a management entrance exam?
Parikshit: I think it's a very difficult task to maintain one's confidence during the preparation. Especially since one gets humiliated every week in the mock. But one starts this journey with the aim that one has to get into the best possible college. So somehow or the other one has to find the reason to get back into the saddle.
Careers360: What is your message for future SNAP aspirants?
Parikshit: I would say that it's a fun exam to write. It's just a 60 minute exam with 60 questions. Moreover, the questions are relatively easier than CAT. So just practice as many basic questions as you can and it won't be very difficult to score well in the exam.
Questions related to SNAP
Showing 706 out of 706 Questions