SNAP 2020 Topper Interview Supratim Chatterjee says "Relax yourself, get back and conquer"
SNAP Exam 2020 Topper Interview - SNAP results are out a day ahead of the scheduled date and it brought smiles on face of those who had slogged hard for the exam. One such person is SNAP 2020 topper Supratim Chatterjee who scored 99.83 percentile in the exam. It is through sheer grit and determination that SNAP 2020 topper Supratim Chatterjee has set a benchmark for the future aspirants of SNAP. SNAP topper Supratim Chatterjee is of the view that "English plays an important role in your daily communication when you go into a B-school or for that matter, in a corporate firm." He further adds that during the course of SNAP preparation, one needs to have patience and maintain consistency. In an exclusive interview with Careers360, SNAP 2020 topper Supratim talks about his preparation journey and talks about how he handled pressure and provided other vital tips for future aspirants.
Latest SNAP update - SNAP 2020 result was declared on January 21, 2021. Also, check details about the SNAP 2020 cutoff.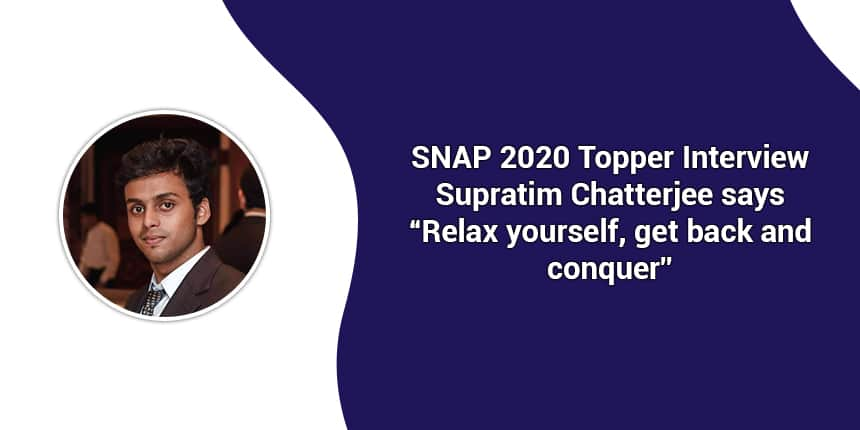 Careers360 - What was your SNAP 2020 overall percentile? Apart from SNAP, which other entrance exams you appeared for and what were your scores?
Supratim Chatterjee - My overall percentile was 99.8335. I had also answered CAT (75.99 %ile), XAT (86.1%ile) and NMAT (256/360).
Careers360 - What was your preparation strategy? Please share the section-wise strategy in detail.
Supratim Chatterjee - I had been associated with Iquanta (A coaching institute) since October. After a devastating CAT exam, I analysed myself to spot out the lacunae in my preparations. Iquanta and Halfwit School had strengthened my fundamentals. I knew I just needed to work on my time management, speed and accuracy for NMAT and SNAP.
Also read -
GD PI WAT Preparation Tips from Toppers and Experts
For VARC – Akash Pandey from Iquanta has always been a mentor and an elder brother. I religiously followed him. To begin with, I revised the basics – parts of speech, figures of speech, compound words and so on. I listed down over 500 Idioms and prepared vocabulary from The NMAT Official guide. The daily free sessions on Elite Grid's Facebook platform has also helped me a lot. I used to dedicate 2-3 hours every evening to it.
For LR – It has always been my favourite section because of its brain teasing nature. Practise is the key. I used to pick up questions from every possible source and practise. Questions posted as doubts on Iquanta's FB page played a crucial role. I generally prepared this section for a couple of hours before I hit the bed.
For QA – Well, the key to this section is to practise as many types of questions as possible. SNAP tests your reflex to a question, the strength of your fundamentals and your Emotional Quotient. Most of the preparation for this was already done while preparing for CAT but I dedicated 3-4 hours every morning to it. Elite Grid's practise sessions have played a very significant role in this.
Careers360 - With the change in SNAP 2020 exam pattern did it affect your preparation strategy? Do you think it was appropriate to remove the General Knowledge section?
Supratim Chatterjee - I hadn't appeared for any management test earlier and the change in the exam pattern was a boon in its own way. The preparation part is obviously important but with experience, you get acquainted with the test taking strategies. Not to sound like a sadist, but it aided my confidence that the exam pattern was new and there won't be any veterans in there. General Knowledge and Vocabulary have no bounds. You may study in detail about 1 thousand events around the globe and yet there's no guarantee you'll do well in this section. It worked in my favour that this section was scrapped.
Careers360 - How did you prepare - Self-study or Coaching? If you took coaching then from where? Please explain which one is better-self-study or coaching?
Supratim Chatterjee - I had joined the paid courses of Iquanta and Halfwit School while preparing for CAT. This helped me get my fundamentals right. Coaching plays a role in your preparations if you are someone like me – starting from square one. I needed that personalized attention because I couldn't recall even the most basic concepts from my std. IX or X.
That being said, no matter how much ever someone guides or mentors you, If you do not give it your all, You will never succeed. Nothing can be spoon-fed when it comes to the management entrance exams. Ashish sir from Halfwit School made sure I use a timer to practice every question since the day-1 of my preparations. I put in 10-12 hours every day for the past 3 months hoping to succeed at least in one exam. Both self-study and coaching go hand in hand.
Careers360 - When did you start preparing for SNAP? Please share in detail your month-wise preparation strategy for SNAP.
Supratim Chatterjee - If a person understands the importance of mock taking, his results are bound to be good. The day my response sheet for CAT was out, I was very disheartened. I had put in two months religiously for this exam and still messed up. But I stood back up the next morning. Since then, I have exhausted every single freely available mock on the internet. December was the only month I dedicatedly prepared for SNAP and NMAT. When I heard Career Launcher's mocks are one of the most difficult ones, I deliberately purchased them. I wanted to be prepared for the worst case scenario. After 20 th December every review read that the exam was a cakewalk. I had mine on 6 th and 9 th . I never got complacent. And on 6 th , when everyone was complaining about the rise in the LOD of the paper, my "be prepared for the worst '' strategy helped me. I have mentioned my section wise preparations above.
Careers360 - Are you working? If yes then how did you balance your preparation with a job? Please share your timetable.
Supratim Chatterjee - I had been working for the past 24 months but I quit my job and came back home to dedicatedly start preparing for MBA. I was very sure that now was the right time and I didn't want to do anything other than MBA. To have a job had only one demerit – I had a backup. It made me comfortable. Knowing that I do not have any backup option now, fills me up with the desperation to get through.
Careers360 - According to you, what is the most important aspect of preparation?
Supratim Chatterjee - During this journey, I realized that there is no completing the portion. My mistake with CAT was that I focused on the projected cutoffs and prepared accordingly. Regardless of the LOD of the mocks, my focus used to be on whether I was crossing the cut-offs. My attitude changed while preparing for SNAP. I wanted to get every single question right. Regardless of the difficulty level, I used to be too harsh on myself for making the smallest mistake. Another important factor is the ambience in which one prepares. My parents constantly supported me, completely trusted my capabilities and always motivated me. My mentors – Akash Pandey and Ashish Sir believed in my when I myself didn't.
Careers360 - Question- What are the best study materials for SNAP or other exams? Please name some study materials you had referred to during preparation which includes the names of books which you consulted for each section.
Quick links
Supratim Chatterjee - I would blindly point towards Iquanta. There shouldn't be any dedicated material for any particular exam at the nascent stage of preparations. The same basics will help you sail through every exam. Rest of it all depends on your practise. Halfwit school perfected me in my test taking strategies – Answering questions with a timer set, finding out easy approaches for complex looking questions and the art of eliminating wrong options.
Apart from that I would also recommend Arun Sharma's "How to prepare for Quantitative Aptitude", 3D learning academy's and Knowvation's Youtube channels and Sameer Sardana's practise sessions.
Careers360 - How does one with non-English background prepare him/herself for the exam as the mode of the exam is only English?
Supratim Chatterjee - Everyone is proficient at some sections and weak at others. People with non- English background should treat English as a subject and these entrance exams as an opportunity to learn it. English plays an important role in your daily communication when you go into a B-school or for that matter, in a corporate firm.
Careers360 - What was your exam day strategy in terms of question selection, time management, accuracy and sectional attempts/cutoffs?
Supratim Chatterjee - I had followed C2C mentors' Ketan KG sir who preached the strategy of 30-20-10. This was supposed to be the way we divide our 60 minutes of SNAP test.
I improvised a bit. I followed a 40-10-10 rule. The first 40 minutes were my maximizers. I didn't even touch any question which was lengthy to read or looked complicated. The next 10 minutes were when I took the LR questions involving puzzles or seating arrangements, or lengthy questions which I had left earlier. The last 10 minutes, I tried solving the questions which looked a little twisted or complicated or were difficult to comprehend. I never considered cutoffs. My goal was to solve every question on the screen and maintain my accuracy. I attempted 54 questions on 6 th and still scored just 49.
Careers360 - How do you suggest one should keep his/her calm and confidence during the long and tiring preparation process for a management entrance exam?
Supratim Chatterjee - Regardless of all the preparations or practices, if you cannot maintain your emotional quotient on the D-Day, you've lost half the battle. This was the first lesson I learnt on 29 th November, my first management entrance exam ever. The day before the exam, one must stay relaxed, hydrated and trust himself. A good 6+ hours of sleep is absolutely important. En route to the test centre, you must give yourself some good pep talk. I used to tell myself that I am going to give my 100% to this exam come hell or high water. If you feel that the exam is difficult, close your eyes for a couple of minutes, take a deep breath and tell yourself that if it looks difficult to you, it's bound to be difficult for everyone else. Relax yourself, get back and conquer.
Also read - SNAP 2020 cutoff
Careers360 - What is your message for future SNAP aspirants?
Supratim Chatterjee - The trickiest part of this exam is that it is scheduled at a time when you've either lost all hopes or become too complacent. I wouldn't know about the latter. I have been at a point when I felt that hopelessness. You have to believe in yourself. It's not important to perform exceptionally in every exam. You need just one exam to prove it to yourself and the ones who underestimated you. This exam season is more about your emotional stability than your concepts. So never lose hope, never give up and more importantly, never give in. You have to fall to stand back up stronger.
SNAP checks the width of your knowledge rather than the depth of it. It checks your reflex. It checks your proficiency. It checks your pressure handling capabilities. It checks your mental and emotional stability. It is a very smart exam. And once you know the hack, it's a cakewalk.
Careers360 - What is your take on the Changed exam pattern and reduced number of questions?
Supratim Chatterjee - Even if it were 2 hours and 120 questions, the game would have been just the same. I believe it's not the questions but that timer on the right side of your screen which intimidates you. In that way, SNAP has upgraded its tests. The questions however, have become more doable. I think this pattern tests much more than your concepts and plays a significant role in testing one's managerial capabilities.
Careers360 - Do you think it is a good idea to have two attempts in the near future also?
Supratim Chatterjee - The idea of 2 attempts is a bonus for test takers. Not every D-day is your day. A lot of things do not work out on a certain day – the superstitious ones will know it the best. So the idea of a second attempt serves as a motivation for people and also gives test takers an opportunity to work on their concepts after their first experience with the exam.
Careers360 - How were the arrangements at the test centre for COVID 19?
Supratim Chatterjee - Jamshedpur being Jamshedpur, everything was very well arranged. Be it sterilization or social distancing or proper electricity backup, everything was on point. I didn't face the slightest of the inconveniences.
Quick link -
Questions related to SNAP
Showing 714 out of 714 Questions