SNAP 2020 Topper, Prince Mahajan says, "Consistency is the key"
Prince Mahajan, who scored 99.49 percentile in SNAP 2020, firmly believes that if one is consistent, then no matter one is good or bad in studying, he/she will definitely cross the line and come out with flying colours. Prince completed his B.tech Electronics and Communication Engineering from Guru Nanak Dev University, Amritsar in 2012-16 and currently works as an Account Manager in Travel Triangle. Belonging from a business background, he had a passion for doing business and hence decided to go with it. In order to balance his work life and preparation for SNAP, he preferred giving two hours on weekdays and six to eight hours on weekends. In an exclusive interview with Careers360, Prince Mahajan shares his tips on how he cracked SNAP 2020 in his first attempt.
Also Read-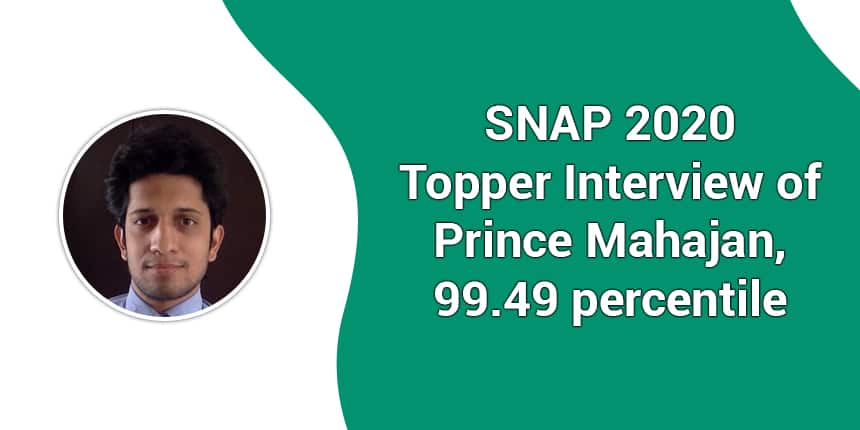 SNAP 2020 Topper Parikshit Mishra interview
SNAP 2020 Topper Abhishek Choudhary Interview
Careers360: Tell us something about yourself.
Prince Mahajan: My name is Prince Mahajan. I belong to Amritsar,Punjab. I have completed my Graduation in B.tech Electronics and Communication Engineering from Guru Nanak Dev University, Amritsar in 2012-16. In 2017, I started my Job with a company named Travel Triangle in Jan'17 in Sales and Operations at the designation of Travel Consultant. I achieved 2 annual promotions and 3 Appreciation awards related to my work during my tenure of 3.5 yrs in the company and currently I am working at the designation of Account Manager.
You may be surprised about my change of field (from Engineering to Sales and Operations) but it was very much a calculated shift on my end. I belong to a family of Businessmen and my father runs a Business of clothing. After the first 2 years of B.tech I realised that Engineering is very much linked with my interest but doing Business is very much linked with my Passion and consequently I decided to go ahead with it.
Careers360: What was your SNAP 2020 overall percentile? Apart from SNAP, which other entrance exams you appeared for and what were your scores?
Prince Mahajan: My overall percentile in SNAP 2020 was 99.4948 with an aggregate score of 47 out of 60. Apart from SNAP, I appeared in NMAT 2020. My overall NMAT score was 249 (I am going to write retake of NMAT on February 02, 2021)
Careers360: What were your sectional scores in SNAP 2020?
Prince Mahajan: My Sectionals in SNAP 2020 was like
Verbal Ability - 15/15

Logical Reasoning - 17/25

Quantitative Ability - 15/20
Overall - 47/60
Careers360: For which SNAP slots did you appear?
Prince Mahajan: I had appeared for 2 Slots, First on 20th Dec 2020 and second on 9th January 2021
Careers360: What was your preparation strategy? Please share the section-wise strategy in detail.
Prince Mahajan: My preparation strategy was straight-forward from the very first day of preparation.It was 'Learn the Basics of every concept' because if your basics are clear, then it doesn't matter how many questions (whether 100 or 1000 ques) you are solving before the actual exam. So, the first step is to Learn the Basics thoroughly. After your basics of every concept get cleared, then you can check the pattern of any Exam that you are going to appear for and can work on your strategy related to that exam. At that juncture of time, one can give as many mocks as one can until one zeroed in on the final strategy that will be applied on the actual exam.You can check my Section-wise strategy that I had applied during my preparation days-
For Verbal Ability Preparation -
Read and Learn every basic concept related to Grammar (10th Level),

Build your Vocabulary (I did it from TIME's Cue Cards),

Practise RCs and Para Jumbles (Although RC was not there in SNAP 2020 but may be it will get appear again in 2021)
For Logical Reasoning -
Learn Basic concepts of Coding-decoding (Numerical and Verbal), Blood relations, Clocks and Calendars, Venn Diagrams, Syllogism, Number and Letter series, Odd man out, Input-Output and Analytical Puzzles (Linear, Circular arrangements)

Practise some Critical Reasoning concepts related to Strengthening/Weakening the argument, Assumptions, Inference, Course of Action and Conclusion based questions etc.
For Quantitative Ability -
First of all, Memorise the values of the squares of No's from 1-50, cubes from 1-20 and percentages from 1/2 to 1/12 (like 3/8 - 37.5%, 5/9 - 55.55%)

Learn the Concepts majorly of Arithmetic section (45-50% ques in SNAP 2020 were from this section), Algebra, Probability, Permutation & Combination, Numbers (Basic and remainders), Mensuration and Geometry section (including co-ordinate geometry and trigonometry) Need to learn the basic level of all these sections if I talk about SNAP only.

Practise some questions of DI related to Line / Bar Graph and Pie Chart.
Careers360: With the change in SNAP 2020 exam pattern did it affect your preparation strategy?
Prince Mahajan: Honestly speaking, it did not affect my Preparation Strategy. Since, every exam of MBA requires a different strategy to attempt, so anyone can adapt oneself related to any pattern by practising 3-5 mocks(depends on individual) of that pattern.
Careers360: How did you prepare - Self-study or Coaching? If you took coaching then from where? Please explain which one is better- self-study or coaching?
Prince Mahajan: My preparation consists of both Self-study and Coaching. Firstly, I took Coaching when I started my preparation for MBA entrances. My motive to take coaching was to know about exams, about syllabus, need to practise ques in time constraints and most importantly need a push to study/learn and complete assignments in stipulated time period and once it gets done (after 6 months), i switched myself into self study mode and strategize my own Time Table and got stuck with it. I took class-room coaching from TIME, Mock test series from both Career launcher and TIME.
If you want to brush-up your basics and feels that your basics are not clear then go for coaching. But if your basics are clear, motivated enough to do preparation without any external push and most importantly if you can follow your self designed Time Table honestly, then take one or two test series from different coaching centres and go ahead with self preparation.
Careers360: Are you working? If yes then how did you balance your preparation with a job? Please share your timetable.
Prince Mahajan: Yes, I am a working professional. I have been working with Travel Triangle since Jan 2017. My daily schedule was to give 2 hours per day on week days and 6-8 hours on weekends. Solve the concepts and give sectional tests on weekdays and give Full length Mocks & revise the concepts that I had learned that week on weekends was my schedule and I followed it continuously for 5-6 months before exam.
Careers360: According to you, what is the most important aspect of preparation?
Prince Mahajan: Consistency is the key. If you are consistent, then no matter how much you are good or bad in study, you will definitely cross the line and come out with flying colours.
Careers360: What are the best study materials for SNAP or other exams? Please name some study materials you had referred to during preparation which includes the names of books which you consulted for each section.
Prince Mahajan: I had a study material from TIME that I usually followed to brush-up my concepts. TIME's study material consists of all books related to every section and every exam. Since, I had not used any other coaching's study material, so I cannot give you any idea apart from that. Also, Career Launcher's dashboard is very much student friendly if you want to opt for any test series.
Careers360: How does one with non-English background prepare him/herself for the exam as the mode of the exam is only English?
Prince Mahajan: Since every MBA exam's mode is English, one has to prepare oneself for that mode only.
Careers360: What was your exam day strategy in terms of question selection, time management, accuracy and sectional attempts/cutoffs?
Prince Mahajan: My exam day strategy for SNAP 2020 was to start with my favourite section and subsequently move on to others. It was like to give the first 20 minutes to LR, next 20 mins to QA, then 10-12 mins to VA and last 8-10 mins to any section in which I will maximise my score. But as we know, every MBA exam comes with a surprise element, so everyone should remain flexible with one's strategy.
I started with LR but after 8-10 minutes of exam, I realised that I will have to move on to Quants which was fortunately an easiest section of all, I attempted around 18 ques in 20 mins and then moved on to VA. In VA, I was expecting RCs but for an utter surprise, there was no RC and all 15 ques were from Grammar, Vocab and PJ. I attempted all 15 ques in hardly 8-10 mins. Now the timer was showing 20 mins left and I was done with VA and QA. Then I came back to LR which was somewhat on the tougher side but I managed to attempt 22 ques out of which 18 were correct at the end.
So, Takeaways from the exam was - Always go with your secondary plan to handle the exam, It's not necessary that your strongest section will be your score booster on D-day (I got 17/25 in LR but 15/15 in VA), do give every question an equal respect in terms of time, do maintain your accuracy in QA and lastly, go through the questions before choosing the ones in particular section that you are going to solve. It will give you an idea of an exam related to its difficulty level.
Careers360: How do you suggest one should keep his/her calm and confidence during the long and tiring preparation process for a management entrance exam?
Prince Mahajan: Take every day as an only day in which you will have to follow your time table of study. Don't think of how many days left for an exam (to get free from this hard phase of learning etc) as it creates an unnecessary pressure and leads to demotivation. Prepare your time-table of 1 month in terms of how much concepts/lessons you will cover in that month's time, break it into weeks and then into days and stick with that. If you are able to follow your Time Table then everything else (demotivation, stress, pressure) will be redundant.
Careers360: What is your message for future SNAP aspirants?
Prince Mahajan: My message for future aspirants will be to take any MBA Exam as a normal exam that you gave in your school/colleges. Don't create unnecessary pressure by thinking like if I will clear SNAP then i will get entered in SIBM-Pune / SCMHRD which is one of the top B-school etc etc. Never prepare with that aspect as it will (may) lead to unnecessary pressure on D day.
As I already told you that Consistency is the key. Stay consistent and honest with your preparation and work hard (and smart at same time) until you get an admission in your dream B School!! Best of Luck!!
Questions related to SNAP
Showing 708 out of 708 Questions