SNAP 2019 Topper Interview: "Be persistent and you will score well," says Chirag Kumar 99.87 percentiler
SNAP 2019 Topper Interview: Perseverance, hard work, and consistency paid for Chirag Kumar who is the SNAP 2019 topper and scored 99.87 percentile. Highlighting the importance of the mock tests, SNAP 2019 topper, Chirag Kumar stated that one must learn from their mistakes after they analyse the errors that they have made. The other important point which Chirag stressed on is that while preparing if one gets stuck at some particular point, then they should move forward and not waste time on those topics. SNAP 2019 topper, Chirag also highlighted the need of focussing on accuracy rather than attempting more questions. Read the full interview of SNAP 2019 topper, Chirag Kumar to know all the aspects of the preparation strategy of SNAP.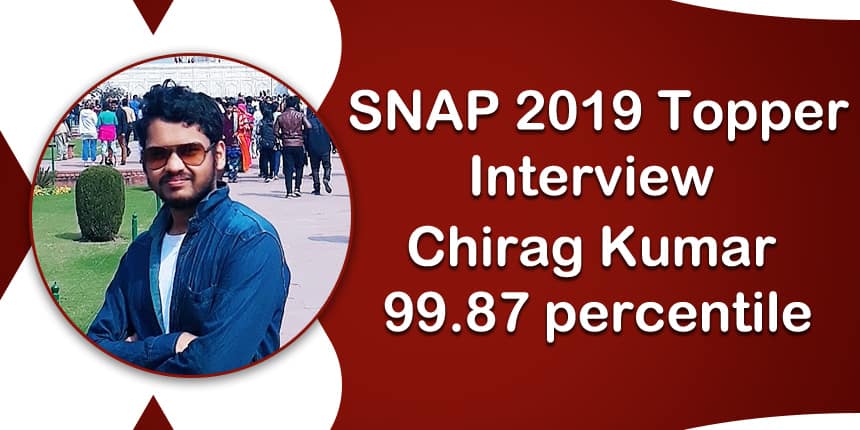 Latest: Authorities released the SNAP result 2019 on January 10, 2020. Check the full list of SNAP 2019 toppers.
Careers360: What was your SNAP 2019 overall percentile? Apart from SNAP, which other entrance exams you appeared for and what were your scores?
Chirag Kumar: My overall percentile in SNAP 2019 is 99.87. Apart from the SNAP, I have prepared for CAT in which I scored 96.87% percentile.
Careers360: What was your preparation strategy? Please share section-wise strategy in detail.
Chirag Kumar: I never studied a single subject at a time. After studying a subject for a while, I started preparing for the other subjects so that I do not lose interest. If I go into the section wise details, I read newspapers(The Hindu) main focus was on the editorial page and novels for enhancing my knowledge and literature and with time, I was able to comprehend all the passages thoroughly. For logical reasoning and quantitative ability, practice is the most important part. The more variety of questions one solves, one will be able to get a good result. Analyzing one's performance in the mock test is a must. Also, candidates must solve previous years' exam questions.
Careers360: With the change in SNAP 2019 exam pattern did it affect your preparation strategy? Do you think it was appropriate to remove the General Knowledge section?
Chirag Kumar: No, the same did not affect my preparation strategy that much. The only affect of it is that I was able to devote more time on my other subjects. I don't think that it was appropriate to remove the GK section. Because to an extent, it is good for everyone to have the knowledge of their surroundings.
Careers360: How did you prepare – Self-study or Coaching? If you took coaching then from where? Please explain which one is better- self study or coaching?
Chirag Kumar: I have taken coaching for the CAT from TIME institute along with Test series from IMS. I think self study is more important as compared to coaching. For me, the motive of the coaching is to guide a student. It is upto us how much time an individual gives for the preparation of the exam. A lot depends on how much hard work we are willing to put in. One needs to be well versed with everything to clear this exam.
Careers360: When did you start preparing for SNAP? Please share in detail your month-wise preparation strategy for SNAP.
Chirag Kumar: There is no difference in the way you prepare for CAT and SNAP. I started my preparation in February for CAT. I worked on concepts first, solved questions from handout and modules,took mock tests. By June my concepts were clear and I focused on mocks. I took 2 mocks every week - 1 from TIME and other from IMS. This was my strategy till November. Just focus on Vocabulary as it contains 2-3 questions in SNAP but not in CAT.
Careers360: Are you working? If yes then how did you balance your preparation with a job? Please share your timetable.
Chirag Kumar: No, I am not working.
Careers360: According to you, what is the most important aspect of preparation?
Chirag Kumar: The most important aspect of the preparation is being self motivated, persistent and consistent. I think while preparing for the exams, many times we get demotivated because we score low marks in mocks, it is at that time we don't have to give up. Analyze the mock in which one has not performed well and learn from your mistakes and move on.
Careers360: What are the best study materials for SNAP or other exams? Please name some study materials you had referred to during preparation which includes the names of books which you consulted for each section.
Chirag Kumar: For SNAP, the syllabus is the same as that of CAT. I didn't feel like doing anything extra for SNAP except for 1 or 2 topics especially after the GK section was removed this year. Just give mocks for SNAP, analyze them and it will work
Careers360: How does one with non-English background prepare him/herself for the exam as the mode
Chirag Kumar: One with a non English background should prepare himself by making continuous efforts. He should start studying from the basic English and then increase the level therefore.
Careers360: What was your exam day strategy in terms of question selection, time management, accuracy and sectional attempts/cutoffs?
Chirag Kumar: Start the section with which you are most comfortable, since there is no mandatory order of section you have to attempt first. Don't waste too much time on any question even if it is there in the section you are most comfortable with. In the verbal section with questions on vocabulary, fill in the blanks, grammar correction, either you know an answer or you don't. Don't waste much time on these. In RCs the passage may be long in SNAP, but easy to read, so read the questions first, if they are direct, it will be a bonus for you,just go through the lines and the part related to that question.
For question in quants, speed and accuracy are most determining factors. Don't get stuck on any question. If the question is long to read, it doesn't necessarily mean it is tough, read it, sometimes these questions are very easy to solve. Attempt the questions which you are confident with. Give 40-45 minutes for quants, 30-35 minutes for verbal the rest of the time for LR. Don't attempt questions because you think you attempted less number of questions. Accuracy is key. If you attempt less number of questions but the accuracy level is high and is somewhere around 90-95, then one will be able to get a good score.
Careers360: How do you suggest one should keep his/her calm and confidence during the long and tiring preparation process for a management entrance exam?
Chirag Kumar: It is very important that you don't feel nervous, try to be as calm as possible. Treat D day like any other day when you are taking a mock.
Careers360: What is your message for future SNAP aspirants?
Chirag Kumar: Brush up your basics, concepts and practice different types of questions, take mocks and analyze them. Try to read as much as possible even if you aren't an arduous reader before. Be persistent and you will get a good percentile.
Questions related to SNAP
Showing 678 out of 678 Questions