SNAP 2019 Topper Interview - "work hard and keep believing in yourself" says Yash Agarwal
SNAP 2019 Topper Interview: Symbiosis International University declared the SNAP 2019 Result on January 10, 2020 in online mode. SNAP 2019 topper Yash Agarwal scored 98.439 overall percentile in his very first attempt. Breaking the old saying that one cannot crack a competitive exam like SNAP while working, Yash shares with us his exam preparation strategy, how he managed his professional life with SNAP preparation. Being a working professional, Yash focused primarily on the class notes of Elites Grid Online coaching classes alongside his rigorously practising during the weekends. Being an enthusiast about being true to oneself with respect to the efforts put in, SNAP 2019 topper, Yash highlighted that having a right attitude towards life coupled with humility and honesty makes success taste sweeter. Read the complete article to know more about SNAP 2019 topper Yash Agarwal.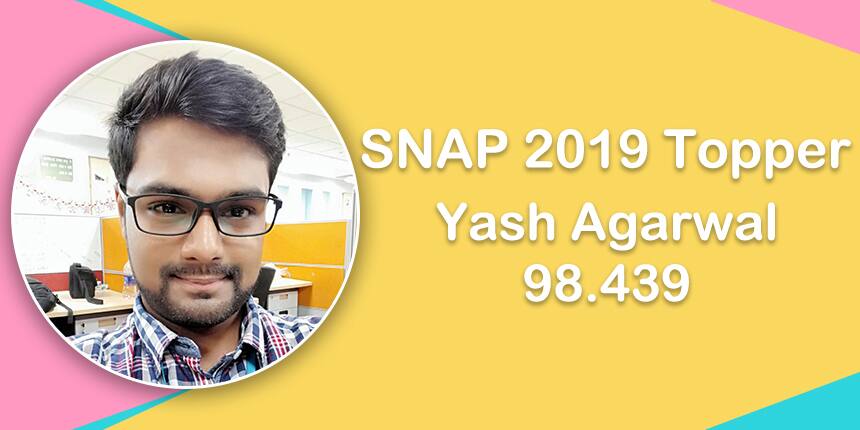 Latest: Know all Details about SNAP Result 2019. Also, check the topper of SNAP 2019.
Careers360: What was your SNAP 2019 overall percentile? Apart from SNAP, which other entrance exams you appeared for and what were your scores?
Yash Agarwal: My SNAP overall percentile is 98.439. Apart from SNAP, I have appeared for CAT and XAT. In CAT, I have scored 97.40 percentile, while I am still awaiting results for XAT.
Careers360: What was your preparation strategy? Please share the section-wise strategy in detail.
Yash Agarwal: I have been preparing for quite some time now but what I have realized over the years is the fact that perseverance and consistency pay off sooner or later.
I was consistent with SNAP specific mocks and made it a point to develop my reading habits(The Hindu is a great place to start from), which helped a great deal in the VARC section of SNAP. As a result, vocabulary questions were a cakewalk and I finished the VARC section in under 20 minutes.
For the QA section, I focused mainly on clearing my basics with special emphasis on Arithmetic, Algebra and geometry. I followed a handful of groups on Facebook which gave me an opportunity to solve a wide range of questions alongside getting my doubts clarified.
The LR section was the game-changer in SNAP. Since I prepared for CAT and XAT, I found the LR section of SNAP quite manageable. Though I placed a special emphasis on SNAP specific LR topics such as Blood relations, Input/Output, Coding-Decoding, Analogies, Visual reasoning and pattern recognition.
Careers360: With the change in SNAP 2019 exam pattern did it affect your preparation strategy? Do you think it was appropriate to remove the General Knowledge section?
Yash Agarwal: The change in the SNAP 2019 exam pattern came as a boon for a huge number of students. The scrapping of the GK section meant that the students could channelize their efforts in a particular section and it meant that those preparing for CAT would not have to prepare any substantially different for SNAP.
Also, the questions for the VARC and LR sections had a greater weight-age of 1.5 marks per question. This meant that students good in these sections were able to maximize their scores.
Careers360: How did you prepare – Self-study or Coaching? If you took coaching then from where? Please explain which one is better- self-study or coaching?
Yash Agarwal: I was enrolled with Elitesgrid Online coaching classes for SNAP and for CAT.
The support which I received from the mentors at Elitesgrid was impeccable, starting from online classes, doubt clearing sessions, regular SNAP specific practice events, concept clarifications and much more. I owe just as much of my success to my perseverance as to the efforts of Elitesgrid mentors.
Careers360: When did you start preparing for SNAP? Please share in detail your month-wise preparation strategy for SNAP.
Yash Agarwal: I had started preparing for SNAP round about the month of September 2019 (as I already had my basis done for CAT), starting with SNAP specific LR and VA Questions. For September and October, I made sure to devote ample time to get my bases covered and started with SNAP mocks from the month of November.
Careers360: Are you working? If yes then how did you balance your preparation with a job? Please share your timetable.
Yash Agarwal: Yes, I have been working in Wipro Technologies for the past 1 year. Elitesgrid gave us the comfort of night classes which meant that I could easily attend the classes after returning from work. I put in more effort during the weekends, making sure I follow up on everything that I might have missed during the weekdays.
Careers360: According to you, what is the most important aspect of preparation?
Yash Agarwal: The most important aspect of preparation lies in the old adage- "work hard, back your strengths and keep believing in your self". Being true to oneself with respect to the efforts put in, being honest when going off track and a never say quits attitude is sure to land an individual to great heights.
Careers360: What are the best study materials for SNAP or other exams? Please name some study materials you had referred to during preparation which includes the names of books which you consulted for each section.
Yash Agarwal: I had focused primarily on the class notes of Elitesgrid alongside rigorously practising from past year SNAP question papers. The concept videos posted by Elitesgrid on their Youtube channel also helped me a lot. I made sure that there were no gaps left in my preparation.
Careers360: How does one with non-English background prepare him/herself for the exam as the mode of the exam is only English?
Yash Agarwal: For a non-English background student, it is imperative to develop a regular reading habit. For starters, one can begin with reading up of newspapers like Times of India or the Telegraph before jumping into newspapers such as The Hindu or Mint. Also, engaging oneself in short vocab quizzes online would help one build one's vocabulary as vocab plays a huge role in SNAP.
Careers360: What was your exam day strategy in terms of question selection, time management, accuracy and sectional attempts/cutoffs?
Yash Agarwal: I had a devised strategy in my mind before going into the exam centre wherein I would try to finish off the VARC section as soon as possible and with accuracy so that I could devote time to LR and QA as these are time demanding sections. Also, since VARC and LR questions have a greater weight-age per question, it was wise to maximise the score in these sections. Hence I devoted a big chunk of my time to LR, leaving about 50 minutes for the QA section. I almost all the questions in the VARC and LR sections and about 60% of the questions from the QA section.
Careers360: How do you suggest one should keep his/her calm and confidence during the long and tiring preparation process for a management entrance exam?
Yash Agarwal: One has to keep in mind that life is a journey and so is the preparation process for management entrance exams. There are going to be times when one will have to come to terms with momentary failure but how one emerges from the ashes and pulls up one's socks largely determines the eventual outcome of the beautiful journey.
Careers360: What is your message for future SNAP aspirants?
Yash Agarwal: Keep believing in yourself even if all others around you have thoughts otherwise. Take everything as adding a new page to the book of your knowledge. Having the right attitude towards life coupled with humility and honesty makes success taste sweeter.
I hope I have been able to throw some light towards achieving one's long-cherished goals. Let us all get down to pursue our dreams and join hands to make the world a wonderful place again.
Questions related to SNAP
Showing 678 out of 678 Questions