AP ICET Preparation 2022 - Know 10 Tips, Tricks & Strategies
AP ICET Preparation Tips 2022: Right after enrolling for any competitive exam, candidates start searching for study material and best books to prepare for the entrance test. But, it is necessary to prepare a full proof plan prior to buying study material. Since, AP ICET is a gateway to take admission into MBA and MCA programmes offered by the participating institute.
Latest Updates for APICET
Stay up-to date with APICET News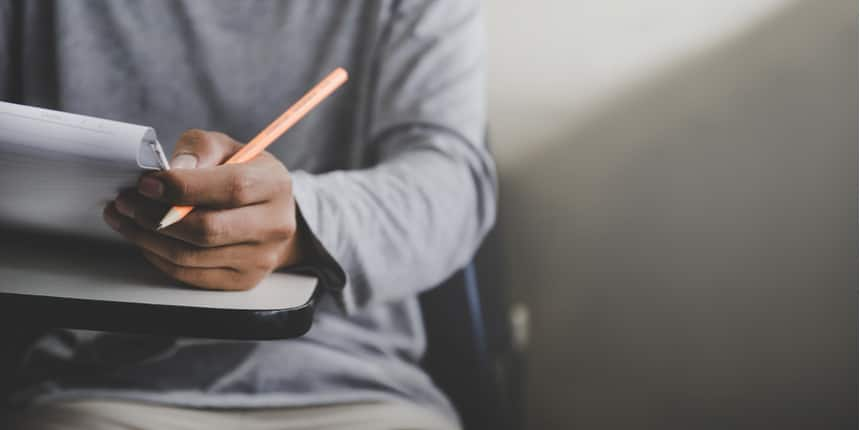 If a candidate is targeting to ace AP ICET 2022, then they should start their preparation at the earliest to get shortlisted and mark their name in the final merit list of AP ICET. In order to start preparation, one should do their AP ICET preparation 2022 systematically and in a well planned manner. Andhra Pradesh ICET entrance exam assesses a candidate's analytical ability, mathematical skills, and communication of a candidate. Read the full article by Careers360 to know the top 10 tips, tricks & strategies for AP ICET 2022.
Understand the AP ICET Syllabus and Exam pattern before starting the preparation
One cannot tell how a mango tastes until and unless they eat it. Similarly, aspirants preparing for any competitive exam cannot determine how good their preparation would be if they don't get familiar with the syllabus and pattern of the exam they are preparing for. So, it is very much important for students to understand the syllabus for AP ICET 2022 before starting preparation of the same. Understanding the syllabus and exam pattern helps one to know about the important features of the exam.
Plan your preparation as per the given time
Once you mentally prepare yourself to write the AP ICET paper and after thoroughly understanding the syllabus, prepare a study plan for yourself to ascertain what time it will take you to cover the whole syllabus. Since from now onwards, aspirants have the time of approximately one year to prepare. Hence, therefore it is important for them to prepare a proper study plan that would help them to not only cover the syllabus but also will allow them to practice as much as they want along with the revision in the last 2-3 months.
5 min read
Mar 05, 2022
Read More
5 min read
Mar 05, 2022
Read More
Sharp your basics
For the effective preparation of each and every section, it is necessary for aspirants to sharpen the basics of each topic in the syllabus. Better understanding of basics helps one to solve even the most difficult questions. Therefore, it is advised that at the initial stage of preparation since students have ample amount of time, they should focus more on strengthening their base.
Know your strength but do not ignore your weakness
A paper comprises easy, moderate and difficult questions and to improve an aggregate one has to attend all three types of questions of each section. Therefore, aspirants must work even hard on their strong areas but at the same time it is equally important for them to pay attention to their weak areas because to score well in such a competitive exam like AP ICET, candidates cannot afford to escape the questions which seem difficult to them.
Prepare notes while studying
Note taking is a sign of an active preparation. Aspirants should pen down the things whatever they study at a particular time to retain it for a long period of time. Preparing short notes or notes in bullet points on the related topic also helps one during the revision at the last moment.
Check your progress through mock tests
To check their progress, students must take 1-2 AP ICET mock tests in a week at their initial stage of preparation. In starting, they should go for sectional mock tests or the mock tests which consists of questions related to the topics they have studied in a particular week. This way, along with their progress, the candidates will also be able to know whether they are clear with basic concepts or not.
Practice from previous years papers
Aspirants must practice from at least 6-7 years previous papers to understand the difficulty level of the paper. The AP ICET previous year paper also provides one with lots of different questions based on a specific topic which makes the preparation even more effective.
Keep a track of time while practicing
Since like all the entrance exams, AP ICET is also a time-bounded paper so it is very much important for the candidates to keep a track of time while studying or practicing. The time- bounded preparation would help the candidates to know in which section they are investing their major part of the given time and how they can reduce it. It will also help them to know what question they are able to attempt in a minimum amount of time and what type of question they are unable to solve even after spending so much time.
Maintain a good health
It is a well-known saying, "The mind and body are not separate, what affects one, affects the other" therefore, it is important for one to keep themselves healthy, not only during the preparation for an exam but always. A good health will lead you to have an active mind. Therefore, it is suggested that throughout the preparation, aspirants should take proper care of their health.
Revise in last 1-2 months
The revision is an indispensable part of any exam's preparation therefore, it is important to revise the syllabus you have covered throughout the journey of your preparation. Also, at the last moment, aspirants should try to avoid studying the topics which are new to them as it could lead to the wastage of their precious time for revision.
Frequently Asked Question (FAQs) - AP ICET Preparation 2022 - Know 10 Tips, Tricks & Strategies
Question: How many sections are there in AP ICET 2022?
Answer:
There are three sections in AP ICET 2022 namely, section A: Analytical Ability, section B: Mathematical Ability, and section C: Communication Ability.
Question: What is the medium of AP ICET 2022?
Answer:
For Section C, it will only be English, and for Section A and Section B English and Telugu.
Questions related to APICET
Showing 2596 out of 2596 Questions