SNAP 2020 Topper Amit Sethe says "Time management and right strategy is important to crack the exam"
SNAP 2020 Exam Topper Interview - Hailing the changed exam pattern, SNAP 2020 Topper Amit Shete came out in flying colours in the management entrance test which was held in three rounds. SNAP 2020 Topper Amit Shete who scored 99.81 speaks about his stupendous performance in the exam which was conducted amidst COVID 19. According to Amit, in order to score such a high percentile in SNAP 2020, one needs to adopt the right kind of time management strategy. SNAP 2020 Topper Amit Shete is also of the view that one needs to work on each section, depending upon their strengths and weaknesses. Having good accuracy rate and momentum will lead to goal accomplishment. SNAP 2020 Topper Amit Shete also shares the importance of mocks while preparing for the national level entrance test. He also believes that coaching is always better than self study, as candidates can get the guidance from experts who know very well the nature of the particular entrance exam. Read the full interview of SNAP 2020 Topper Amit Shete with Careers360 and know about his SNAP preparation strategy, what all other management entrance exams he appeared for, his message for future aspirants etc.
Latest SNAP Update - SNAP 2020 result released on January 21, 2021. Also, check details pertaining to SNAP Cutoff 2020.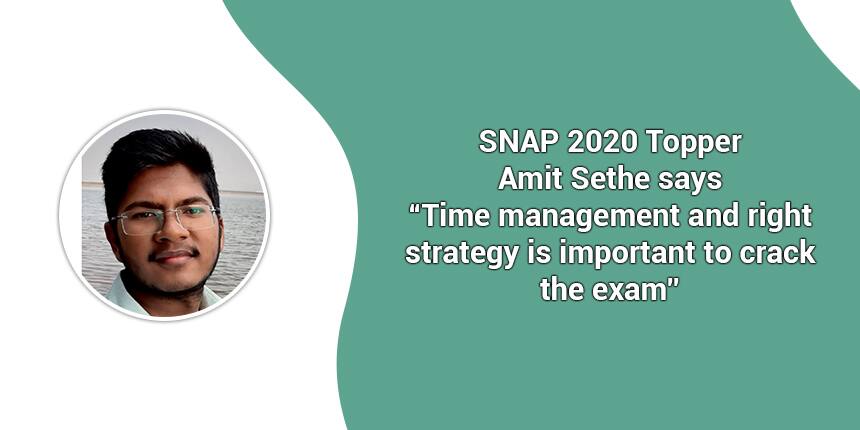 Careers360 - What was your SNAP 2020 overall percentile? Apart from SNAP, which other entrance exams you appeared for and what were your scores?
Amit Shete - My SNAP 2020 percentile is 99.8108. Apart from this, my other percentiles and scores are CAT - 98.69, XAT - 97.9264, NMAT - 262.
Careers360 - What was your preparation strategy? Please share the section-wise strategy in detail.
Amit Shete - I did not prepare separately for SNAP as most of my concepts were clear due to my CAT preparation. So my strategy was to give as many mocks in order to get used to the pattern as quickly as possible. I gave around 15 mocks for SNAP and while giving them I understood that my accuracy in General English was low but my speed was high, hence I used to attempt all 15 questions from this section within 10-12 minutes. The second section 'Analytical and Logical Reasoning' was my strongest section and I gave most of my time to this section. But if I found any roadblocks in this section, I would mark those for review and see it after the Quant section. The Quant section was comparatively quite easier as compared to CAT and I used to attempt all its questions within 16-18 minutes.
Careers360 - With the change in SNAP 2020 exam pattern did it affect your preparation strategy? Do you think it was appropriate to remove the General Knowledge section?
Amit Shete - The change in SNAP 2020 exam pattern did not affect me at all as this was my first attempt. I think it was appropriate to remove the GK section as it made the test more aptitude based rather than knowledge based.
Careers360 - How did you prepare - Self-study or Coaching? If you took coaching then from where? Please explain which one is better- self-study or coaching?
Amit Shete - I am a student of iQuanta coaching and they helped me a lot in understanding the pattern and clearing my concepts. Their mocks were also quite good. I personally think coaching is better than self study as you get the guidance of experts who know very well what is the nature of that particular exam.
Careers360 - When did you start preparing for SNAP? Please share in detail your month-wise preparation strategy for SNAP.
Amit Shete - I started my SNAP preparation from December 7th onwards. Till then I was busy with other exams as I had my CAT on November 29th and NMAT on December 6th. Once I started my prepration, I gave almost 1 SNAP mock per day till the day of my exam i.e 20th December. As my 20th December SNAP attempt went well, I hardly gave 3-4 mocks for my 6th January SNAP attempt.
Careers360 - Are you working? If yes then how did you balance your preparation with a job? Please share your timetable.
Amit Shete - Yes, I am working in an IT company. I balanced my preparation with my job by studying at night for 3-4 hours after my job ended in the evening. My rough schedule was 10:30am - 8:00pm Job and then 9pm - 1am study.
Careers360 - According to you, what is the most important aspect of preparation?
Amit Shete - As SNAP is just an 1 hour exam, I personally believe time management and sectional strategy is the most important aspect of the exam. However, if one feels that some of their concepts are weak, they should first practice a lot of questions from standard books,material and previous year papers.
Also read-
GD PI WAT Preparation Tips from Toppers and Experts
Careers360 - What are the best study materials for SNAP or other exams? Please name some study materials you had referred to during preparation which includes the names of books which you consulted for each section.
Amit Shete - I think the best study materials which worked for me were iQuanta mocks and IMS mocks. Both these mocks were quite close to actual SNAP. I did not consult any books particularly for the SNAP exam, but if I had to suggest, Arun sharma's books(LOD 1) and RS agarwal's books would be good for SNAP.
Careers360 - How does one with non-English background prepare him/herself for the exam as the mode of the exam is only English?
Amit Shete - My suggestion would be to read a lot of articles everyday from english newspapers and outlets. Other than that candidates can always take help of youtube videos to strengthen their Grammar concepts. I also used a play store app named Barron's 800 to prepare for Vocabulary.
Quick links-
Careers360 - What was your exam day strategy in terms of question selection, time management, accuracy and sectional attempts/cutoffs?
Amit Shete - So in my first attempt, I started with the 'General English' section and found that there is no RC in the paper but lots of grammar and vocabulary questions, so I quickly attempted this section within the first 8 mins. Then I went to the 'Analytical and Logical Reasoning' section and spent 25 minutes there. I found that around 5-6 questions were extremely tricky and tough so I moved on to the 'Quant' Section which was quite easy and I finished the entire section in 18 minutes. Then I came back to the 'Analytical and Logical Reasoning' section and completed all the tough and tricky questions within 6 minutes. At the end of all this, I had attempted all 60 questions and I was left with 3 minutes so I just rechecked all my 'General English' section answers.
Careers360 - How do you suggest one should keep his/her calm and confidence during the long and tiring preparation process for a management entrance exam?
Amit Shete - I have been trying to ace management entrance exams for the last 2-3 years and on the basis of that I would suggest candidates not to get anxious as that only leads to bad performance. Also, understand that you only need one good day to get into a good B-School, hence keep on trying consistently. Apply for multiple exams so that you don't get stressed about any 1 particular exam.
Careers360 - What is your take on the Changed exam pattern and reduced number of questions?
Amit Shete - I like the current exam pattern and I feel it is a good judge of students aptitude abilities. Given the covid scenario, I feel it was a good decision by SNAP officials to conduct a 1 hour test and to reduce the number of questions.
Careers360 - Do you think it is a good idea to have three attempts in the near future also?
Amit Shete - Yes. I think this trend should continue and should be followed by all exams in future. Many candidates face some or the other problem on their exam day. To do away with this issue, I think having multiple attempts is a good idea. Also this reduces the number of students on 1 particular test day, hence it is easier to manage for authorities. However, going ahead with this pattern, the officials should ensure that there is proper normalisation across all papers.
Careers360 - How were the arrangements at the test centre for COVID 19?
Amit Shete - The arrangements were proper and good. All students were compulsorily told to wear masks and sanitize their hands. Proper social distancing was ensured inside the centre.
Careers360 - What is your message for future SNAP aspirants?
Amit Shete - Give a lot of mocks and identify your strengths and weaknesses. Accordingly, plan and strategize how you are going to attempt the entire paper. Definitely apply for multiple SNAP attempts as it calms you more and gives you a shot at redemption.
Quick links-
Questions related to SNAP
Showing 708 out of 708 Questions