SNAP 2020 Topper Interview, Abhishek Choudhary says, " Try to focus on both speed and accuracy"
SNAP 2020 Topper, Abhishek Choudhary, who scored 99.93 percentile in SNAP exam is currently working as a Data Analyst in Bangalore. Abhishek is a native of Bhopal and has done his engineering in IT from Indore. For SNAP 2020 Topper, Abhishek Choudhary, the basic strategy to clear the SNAP exam revolved around solving maximum mock tests and analysing each and every section along with what his strong and weak areas were. In addition to this, SNAP 2020 Topper, Abhishek Choudhary scored 98.66 percentile in CAT and 95 percentile in XAT. He prepared assiduously for SNAP by practicing a number of mock tests daily and not giving up even if he scored low percentile in mocks. SNAP 2020 result was declared on January 21, 2021. In an exclusive interview with Careers360, Abhishek Choudhary shares his noteworthy tips for future MBA aspirants.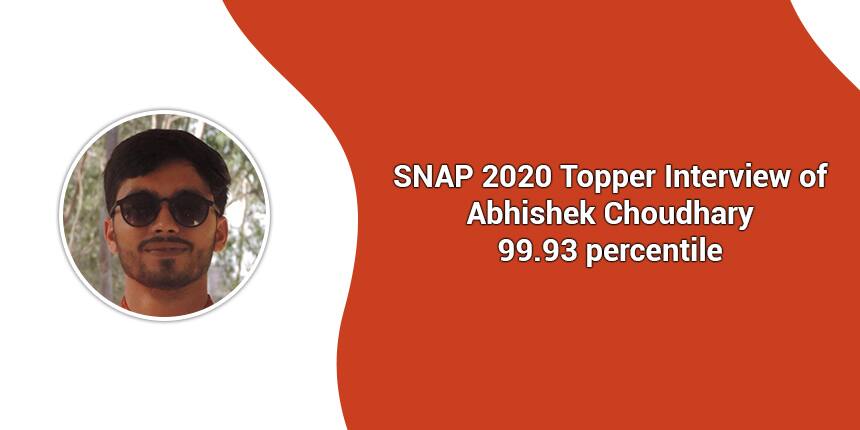 Quick Links -
SNAP Cutoff 2020: Latest SNAP 2020 & Previous Year SNAP Cut off
How to prepare for PI-WAT rounds of top B-schools
Careers360: Tell us something about yourself.
Abhishek: I am an Engineering graduate and I passed out in 2019. I did my engineering from IET DAVV, Indore and schooling from Bhopal. I work in an Analytics firm in Bangalore.
Careers360: What was your SNAP 2020 overall percentile? Apart from SNAP, which other entrance exams you appeared for and what were your scores?
Abhishek: I appeared for CAT 2020, XAT 2021 and SNAP. I will appear for IIFT on January 24. In CAT I got 98.66 percentile. In XAT I got 95 percentile and in SNAP I got 99.93 percentile.
Careers360: What were your sectional scores in SNAP 2020?
Abhishek: In English, out of 15 marks, I scored 11.5, in analytical and logical reasoning out of 25, I scored 20.25 and then Quant and DI, 19 out of 20. This makes 50.75 out of 60.
Careers360: For which SNAP slots did you appear?
Abhishek: I appeared in SNAP slot 1 that was conducted on December 20 and for slot 3 on January 09, 2021.
Careers360: What was your preparation strategy? Please share the section-wise strategy in detail.
Abhishek: This was my third attempt for CAT and XAT. I appeared for CAT and XAT in 2018, 2019. SNAP was my second attempt. Last year also I appeared for the SNAP exam and scored 97 percentile. But I only applied to SIBM Pune and I didnt get a call. I took coaching during my college days but mostly for the last two years with the job, I enrolled in test series and I used to give various tests. Based on my mocks, the analysis helped me. This year SNAP exam was reduced to one hour and earlier it was two hours and with the change in SNAP pattern with 60 questions in 60 minutes, it was more like a sprint race. So you need to solve questions as fast you can. You do not have time to analyse whether I have to attempt or not because on an average it took one minute to solve the question.
Careers360: With the change in SNAP 2020 exam pattern did it affect your preparation strategy?
Abhishek: No it did not affect my preparation. But in order to make myself familiar with the changed pattern, I took as many mock tests as possible. I appeared for five to seven mocks and it was a couple of mocks by the time I appeared for the SNAP test so I got comfortable with the SNAP pattern. I got to know in order to get a high score, solve as many questions as you can. Specifically if you are looking at the level of SNAP compared to CAT, it is the easiest, you can solve the questions pretty much easily.
Careers360: How did you prepare - Self-study or Coaching? If you took coaching then from where? Please explain which one is better- self-study or coaching?
Abhishek: During my initial days, two to three years back, I took coaching from TIME Indore and it helped me in my initial level of preparation. But one should not be just dependent on coaching itself, one should try to attempt as many mock tests as one can. This is what I have been doing for preparation from past years, giving mocks and analysing the paper after the test.
Careers360: Are you working? If yes then how did you balance your preparation with a job? Please share your timetable.
Abhishek: Yes I am currently working. I just tried to manage the couple hours during the weekdays. On the weekend, I used to take 5-6 hours at least for my preparation. I mostly prepared for CAT because CAT is a comprehensive exam. Once you have prepared for it , then for any management entrance test you need not prepare much.
Careers360: According to you, what is the most important aspect of preparation?
Abhishek: According to me, the most important aspect of preparation is like in between you might feel rejected by getting a low percentile in mocks, you might get demotivated after some time. But just hold on to it, keep preparing. Get the feedback from the experts, try to figure out your weaknesses, your strengths. Most importantly I would like to say that, take a chill pill and appear for the examination because I assume under pressure most often people who are prepared as well tend to stumble under pressure and under perform in the exam. Don't let that pressure affect you.
Careers360: What are the best study materials for SNAP or other exams? Please name some study materials you had referred to during preparation which includes the names of books which you consulted for each section.
Abhishek: Not any book as such. For me the whole study material was the mock that I used to write. Mock tests and the previous year papers are the best source. For SNAP also, I analysed my strong and weak areas with the help of mock tests and how to go about the paper.
Careers360: How does one with non-English background prepare him/herself for the exam as the mode of the exam is only English?
Abhishek: Obviously for someone who is from a non-English background preparing from scratch will definitely take some time. But I dont think it's impossible. I have seen various other candidates as well who have done this and did the exam very well. The only thing is they need to practice regularly. Developing your English skills is not something that can be done in one month. So by reading daily newspapers, blogs, articles, books, within some period of time they will have good command over the language. So I think practicing daily for a longer term may actually work.
Careers360: What was your exam day strategy in terms of question selection, time management, accuracy and sectional attempts/cutoffs?
Abhishek: I decided if the paper will be on the easier side then for example there are 15 questions in English section, I have to finish this section in seven to eight minutes. Out of 15, if I am attempting 12-13 questions in 7 to 8 minutes then I have an extra edge in other sections. If you are then left with time, you can devote it to other sections like DILR and maths. So like there are questions in QA and LR which might take more than 2 minutes to solve. So on an average if you are looking at the paper, you only have one minute to solve each question. So the time you save from each section, you can use it in another section.
Careers360: How do you suggest one should keep his/her calm and confidence during the long and tiring preparation process for a management entrance exam?
Abhishek: Take a break for a couple of days. Go out with friends, party, take a vacation because considering this covid situation, it was pretty much mentally challenging all throughout your day you are sitting at home, you are studying, doing office. There are not many activities to do and there are no any such places to hangout. But a person who feels bound up in between his/her preparation, I would suggest to take a break for a couple of days and enjoy with friends.
Careers360: What is your message for future SNAP aspirants?
Abhishek: My message for future SNAP aspirants or for anyone appearing for MBA exams is that you just need to improve your speed and accuracy. Try to focus on both of them. And compared to CAT this is a very easy exam and we have to solve as many questions as we can.
Questions related to SNAP
Showing 712 out of 712 Questions