SNAP 2019 Topper Interview - "Purposeful practice is a key to success", Says Soumya Roy
SNAP 2019 Topper Interview - Soumya Roy Choudhury who bagged 99.84 percentile in SNAP 2019 speaks to careers360 about his wonderful performance in the exam. According to Soumya, clearing SNAP 2019 required being focused to perceive which were his strong areas and where less time was required. Being a graduate he cleared SNAP 2019 in the first go. Having good momentum and accuracy while preparing will lead to goal accomplishment. Soumya prepared diligently for the SNAP 2019 by practising on a daily basis with a strict time schedule as per the exam timing. SNAP 2019 result was announced on January 10, 2020, by Symbiosis International Deemed University. Following is a sneak peek of conversation between Soumya Roy Choudhury and careers360 about his preparation strategy, what all exams he appeared for, his message for future aspirants, etc.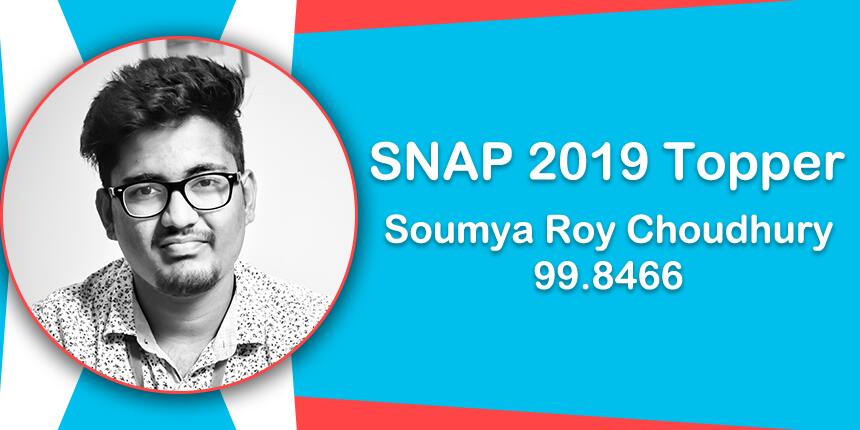 Latest: Check the complete list of SNAP 2019 toppers
Careers360: What was your SNAP 2019 overall percentile? Apart from SNAP, which other entrance exams you appeared for and what were your scores?
Soumya Roy - My SNAP Percentile is 99.8466%. I appeared for CAT where I got 83% because I flunked VARC marks badly. I appeared for NMAT where I got 192 marks and in MAT I got 99.4%.
Careers360: What was your preparation strategy? Please share the section-wise strategy in detail.
Soumya Roy - I had my timing fixed for each section: 25 mins for English, 40 mins for LR and rest for quants. With this strategy, I used to score high in mocks as well. After my CAT screwed up SNAP was the only aim I had. There was no separate preparation for SNAP except grammar and Vocabulary.
Careers360: With the change in SNAP 2019 exam pattern did it affect your preparation strategy? Do you think it was appropriate to remove the General Knowledge section?
Soumya Roy - Changes in the exam pattern did not hamper my preparations. I was determined for what I had to achieve. My major area of Focus was not the general knowledge section so I don't think the removal of the general knowledge section acted as a drawback for me while preparing for SNAP 2019.
Careers360: How did you prepare - Self-study or Coaching? If you took coaching then from where? Please explain which one is better- self-study or coaching?
Soumya Roy - I took coaching from TIME Chandmari and I was a part of an online Facebook group Iquanta which brushed my basics to perfection.
Careers360: When did you start preparing for SNAP? Please share in detail your month-wise preparation strategy for SNAP.
Soumya Roy - Just after my graduation I started preparing for the exam I wished to appear for. CAT and SNAP preparation went hand in hand. Just after CAT, I studied the extra topics which were included in SNAP syllabus.
Careers360: Are you working? If yes then how did you balance your preparation with a job? Please share your timetable.
Soumya Roy - Currently, I am not working with any organization. I have just passed my Graduation in August 2019. My focus after my graduation was to prepare well for the competitive exam and get admission in any of the top B-schools of India.
Careers360: According to you, what is the most important aspect of preparation?
Soumya Roy - Daily practise is the key to the result. I used to practice daily without skipping any day. If you want you can take a break for a day but not more than that. It will make your goal a bit harder to achieve. I always focused on studies while studying. Kept the phone out of reach during my study times.
Careers360: What are the best study materials for SNAP or other exams? Please name some study materials you had referred to during preparation which includes the names of books which you consulted for each section.
Soumya Roy - I prepared very hard to crack SNAP with good marks. Along with self-studies, I referred the notes of TIME as well as Iquanta group. Their study material was good enough for me to accomplish my goal.
Careers360: How does one with non-English background prepare him/herself for the exam as the mode of the exam is only English?
Soumya Roy - Practise is the key. If you practice daily with a fixed time schedule and determination, you can achieve your goals. Nothing, I repeat nothing can hamper your growth if you work with complete dedication.
Careers360: What was your exam day strategy in terms of question selection, time management, accuracy and sectional attempts/cutoffs?
Soumya Roy - My exam day strategy was to leave a minimum number of questions and attempt maximum no of questions with great accuracy. This is possible only with continuous practice. Also, I had my sectional timing in my mind. While preparing I made sure to answer the questions within time deadline.
Careers360: How do you suggest one should keep his/her calm and confidence during the long and tiring preparation process for a management entrance exam?
Soumya Roy - Preparing for competitive exams may lead you to feel exhausted due to tight schedule. But being focused and determined will help you achieve whatever you aim for. Don't be nervous and answer all questions confidently. Start with your strongest part of the question paper and then move to the other areas.
Careers360: What is your message for future SNAP aspirants?
Soumya Roy - If you wish to achieve something, you will get it for sure. You just need to focus. It is not hard to clear SNAP. You just have to increase your speed and accuracy. Keep your basics clear. Prepare section-wise and work on your area of improvement. Try not to leave any question unanswered in SNAP exam. Rest all is good. All the best!
Questions related to SNAP
Showing 675 out of 675 Questions
Symbiosis National Aptitude Test (SNAP)