Pooling faculty from schools abroad
B-Schools say foreign faculty helps to instil global competence among students
Even as global competence and international outlook become core areas for recruiters to map MBA graduates' ability to perform in a globally competitive environment, a set of Indian B-Schools are heavily integrating foreign faculties into their delivery model. The international pursuit of Indian B-Schools is not a new phenomenon. Almost all top B-Schools including the IIMs have tie-ups with foreign universities and colleges to engage in cross-cultural learning and building peer connect.  Besides student and faculty exchange programmes, joint research with foreign institutions, foreign study tours, many B-Schools like SPJIMR have even introduced a term-abroad concept with their associate B-Schools outside India to enhance their own international exposure. Going a step further, many B-Schools have built a base of foreign faculty to take regular classes.

Foreign faculty, a USP
Institutes like MYRA School of Business, Great Lakes Institute of Management, MISB Bocconi have brought in majority of faculty members with academic background from either top foreign Universities or work experience with international firms. These B-Schools are also making it a point that a strong foreign faculty base, who conduct regular classroom lectures and teach case studies, becomes their USP. For example, out of 31 faculty members listed on MYRA School of Business website, 29 have done PhD from renowned universities in countries like the USA, France and Canada.

Ivy league pedigree
"A distinguishing feature of our faculty is that they are actually based at major business schools in the US and Europe.  As such, they conduct all their teaching and research in an international milieu. In addition, the pedagogical approaches used by our faculty are based on years of teaching, research and consulting experience with multinational corporations," says Rajiv Sinha, Dean - MYRA School of Business. The institute says that its curriculum is designed to expose students to cross-cultural business dynamics in a rapidly globalizing marketplace. At Great Lakes Institute of Management, about one-third of the courses are taught by faculty from the US. Among the full-time faculty, the institute has at least 10 out of nearly 35 faculty members who are doctorates from some of the leading US schools. In addition, of the 35 full-time faculty members, at least 15 have prior work experience of teaching in the USA or Europe.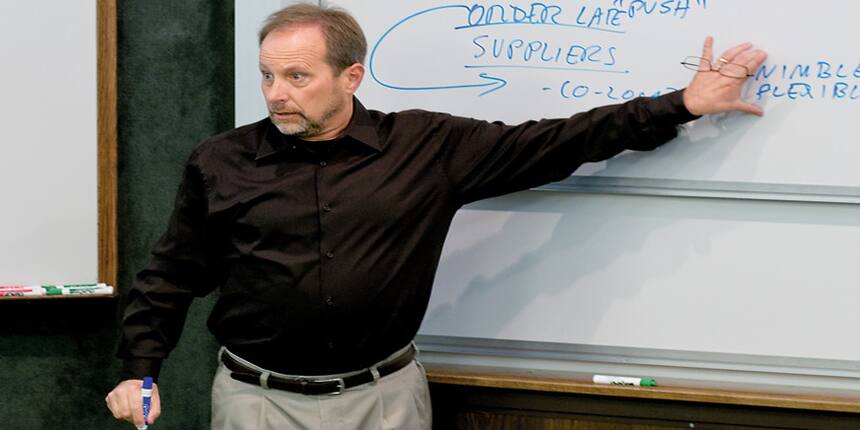 Prof V K Menon
Senior Director Careers, Admissions at ISB

We have 48 resident faculty and around 150-160 international faculty coming from ISB's associate schools – namely Wharton School, Lellogg School of Management, London Business School, amongst others



Students after spending the first year of their studies in Hyderabad campus, will move to Schulich campus in Toronto
                                                                                                                                            Dr V Raghunathan
                                                                                                                    CEO, GMR Varalakshmi Foundation
Prof Sriram S
Great Lakes Institute of Management, Chennai

In a short span of nine years of existence, we have over 250 of our alumni working abroad who are all doing very well professionally. This is  more than 10% of the alumni population

Most of our faculty members have engaged in consulting activities at top levels all over Europe and the USA
                                                                                                                                            Alessandro Giuliani
                                                                                                                         Managing Director, MISB Bocconi
More veteran faculty
ISB also invites faculty members from its 42 partner schools from countries such as the US, France, Singapore, UK, Canada. "At present we have 48 resident faculty and around 150-160 international faculty coming from ISB's associate schools – namely the Wharton School, the Kellogg School of Management, and the London Business School as well as from other leading business schools around the world to teach students of our one year PGP in Management," shares VK Menon, Senior Director – Careers, Admissions at ISB.  In the last couple of years, the institute has further increased its efforts on hiring senior level faculty from top international B-Schools with the help of existing faculty from different countries.

International B-Schools set up shop in India
Italy's top B-School SDA Bocconi School of Management last year opened a campus in Mumbai and brought in its faculty base of international repute to India. "We have faculty members from eight different countries ranging from China to the USA. Most of them have taught and lectured in several countries. Also, most of our faculty members have engaged in consulting activities at top levels all over Europe and the USA," says Alessandro Giuliani, Managing Director, MISB Bocconi. A similar initiative comes from GMR Group, which has set up a Schulich campus in Hyderabad in collaboration with Canada's Schulich School of Business, which has majority of the faculty members coming from Canada campus. According to the plan announced by the group, Schulich is responsible for developing learning environment and academic infrastructure while the GMR Group will provide land and physical infrastructure. "Students after spending the first year of their studies in Hyderabad campus will move to Schulich campus in Toronto," says, Dr V Raghunathan, CEO, GMR Varalakshmi Foundation.

Why foreign facultyB-Schools say that recruiters today increasingly look for students' ability to take initiative and function in a cross-cultural environment. ISB had much earlier realised this need and the institute in 2001 established threads with different top universities and B-Schools abroad. The model has been successful with ISB gaining the leading business school status in India and competing with even top IIMs. Now, other B-Schools are also picking a similar thread. "With competition becoming global, the boundaries are blurring. To compete even in Indian market you need global perspective as global players are your competitors in the local market," says Professor Sriram S, Executive Director and Professor, Great Lakes Institute of Management.

Advantages of developing global competence
B-Schools say that their foreign faculty base helps their students acquire knowledge and understanding of international issues, ability to learn and work with people from diverse cultural backgrounds, and develop skills to function in an increasingly interconnected world. But, how does this global dimension during the 'delivery process' for MBA programme help students develop global competence? "Our curriculum and the business cases are developed on truly international settings, and students are confronted with international practices. The semester exchange in Bocconi Milano, and the Campus Abroad with one full course in USC, NYU, Beijing, Shanghai or Singapore, enriches students' insight," explains Alessandro Giuliani of MISB Bocconi. Professor Rajiv Sinha of MYRA says that most of the course work at his institute emphasize the global aspect of business decisions via the use of the latest case studies and related pedagogical tools that are built around decision-making in an international context.


B-SCHOOL MAINTAIN that teaching by foreign faculties help students get global perspectives
Focus on international case studies
"Cases taught by foreign faculties on the global companies help students get a global perspectives and context," explains Professor Sriram S of Great Lakes, Chennai. The institute maintains that its programme has a clear-cut focus on emerging economies and also their growth as its PGDM course offers a coverage of the economies of China, Far East, Latin America and also Africa in comparison to the India growth story, thus developing understanding of students on complex business requirements in a fast changing global business environment.

Global tag has a premium
When such B-Schools promise curriculum delivery with foreign faculty members on board, they also attach a premium price tag to their programme. For example, ISB's one-year programme costs Rs. 25.23 lakh. MISB Bocconi has a price tag of Rs 18-19 lakh for their 2-year programme. Great Lakes Institute of Management has a fee structure of Rs. 12.4 lakh for its one-year PGPM  programme and Rs. 9.3 lakh for the 2-year programme. MYRA school of Business offers its programme for Rs. 10 lakhs.

Do such programmes produce global managers?
Prof Sriram S of Great Lakes proudly puts forth the fact. "In a short span of nine years of existence, we already have more than 250 of our alumni working abroad who are all doing very well professionally. This is more than 10 percent of the alumni population," he said. He adds that most of the recruiters coming to the campus look for talent that can work across boundaries of geography and culture. "For our last batch, there were 17 International placement offers from six corporates in Dubai, UAE, Indonesia and Nairobi. Besides these, MNC majors like Microsoft, Deloitte-US, Citibank, Dell International, Ford Motors. Bank of America, Bank of New York Mellon, ADP, ZS consulting have also made several offers," he says.

International recruiters
According to ISB, the institute gets around 425 recruiters to participate in placement process and around 65 of them are international recruiters from a diverse set of industries and markets. "We have a large set of international recruiters. Many of these are recruiters who go only to the top schools in the world," says ISB's Prof VK Menon.
While Greats Lakes and ISB claim that their delivery process with foreign faculty is yielding results, some B-Schools are yet to substantiate their claim. For example, MYRA Schools of Business is yet to see its first passing out batch. "As such, we cannot make any claims of our students have achieved leadership positions yet as none of them have entered the job market yet," says Prof Sinha.
MISB Bocconi's MD also says that the institute is yet to see how its placement season will go as the first batch is yet to pass out. "All of our first batch is still in their second year, actually in an exchange programme in Milano, Italy," he explains. He, however, says that developing global competence among the students should not be related to getting global recruiters as even domestic companies today need managers who can work with their global partners.
V K Menon of ISB agrees, "Today the marketplace is global and there is a war on for talent. Many of the domestic companies who recruit at the ISB are strong players in the global markets. They need employees who understand the current marketplace dynamics and are comfortable working with global teams and clients," he says.
"An indicator towards this trend could be the number of offers that are made at the ISB for Global Leadership Programmes. Last year saw around 85 offers in this space, amongst both domestic and international companies. In fact, most companies who hire look for students who are comfortable working in global environments," he adds.